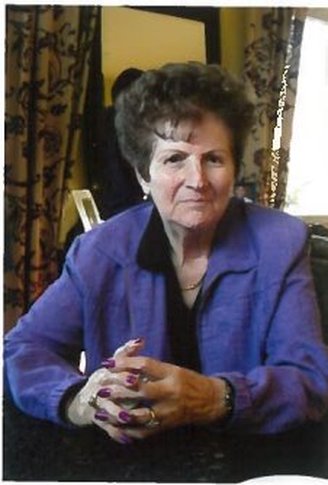 On January 21, 2018, Beverly A. Allen passed away very peacefully in her sleep from a long battle with cancer, at the Hospice of Redwoods in Eureka.

Bev was born at home, in Blue Lake on November 28, 1928 to Robert E. Lane and Ruby E. (Holmes) Lane. Bev was raised in Blue Lake and Eureka areas, attending Eureka High. She spent some time in Santa Rosa working in the theaters and living with her sister, Shirley and friends. She worked at the telephone company and barrel factory.
Later at a dance she met Orvel M. Allen and they married on July 4, 1948 in Reno, with Desmond (Merkey) Oliver and Nadine Starett. Orvel and Bev celebrated 57 years of marriage. They were parents of Linda D., Kathleen, John M., Terrance, and Karen L. Allen. Bev and Orvel enjoyed traveling, especially between their two homes in Arcata and Red Cap (Orleans, Calif.) and also their property in Hornbrook at the R-Ranch. Bev was her daughter's campfire girl's leader and active in the PTA and many social gatherings. She worked for the Arcata City Schools for more than 20 years. Getting to know all the children as her own, some of them calling her "Grandma."
She was a hard worker and sometimes on weekends at Red Cap she helped to gather pine cones and pick huckleberry brush for florists. Beverly especially enjoyed the family get-to-gathers at the cabin at Red Cap. She will surely be missed by us all.
Bev is preceded in death by her first born daughter Linda D, sons John M, Terrance M, husband Orvel M. Allen, her sister Shirley A. Sepic, brother Douglas Lane and grandchildren Charles and Jeremy Franklin.
Bev is survived by her brother, Stanley D Lane and her sisters-in-laws, Adrianne (Allen) Gilkison and Verjean (Moodrow) Lane. Bev's also survived by her daughters, Kathleen L. (Allen) Heinrici (Kern Heinrici) and Karen L. (Allen) Gruetzmacher (Dan Rasella). Her Grandchildren, Richard D. Mullen (Lacey), John A. Franklin, Ricky E. and Michael Gruetzmacher, Nicole Allen-Valdez and Michael Allen-Valdez. Great Grandchildren, Dan, Gavin, and Andrea Keating, Zane and Taya Mullen, Shellbee Lindgren, Makenzi Lakey, Bryce, Everett and Gracelyn Gruetzmacher. Paul Bearers will be Richard Mullen, John Franklin, Rick and Mike Gruetzmacher, Mike Allen-Valdez, Alan Gilkison, Grant Gilkison, Kevin Wilder and Bob Cooke. Honorary Paul Bearers are Kern Heinrici, Dan Rassela, Floyd Flores Sr., Floyd "Boz" Flores Jr., Eddie and Alme Allen, Makenzi Lakey, Shellbee Lindgren, Bryce and Everett Gruetmacher, Nicole Allen-Valdez and Jordan Allen.
Service will be held at the Greenwood Cemetery Chapel at 1 p.m., Friday, January 26. A family and friends viewing will be held Thursday, January 25 from 2 p.m. to 7 p.m. at Paul's Chapel in Arcata.
A Celebration of Life potluck will be served at the D Street Neighborhood Center, 1301 D Street, Arcata after the internment.
We would specifically like to thank all the staff at the Hospice of Redwoods for all their wonderful care and love they extended to Bev and all her family and friends.
###
The obituary above was submitted on behalf of Beverly Allen's family. The Lost Coast Outpost runs obituaries of Humboldt County residents at no charge. See guidelines here.