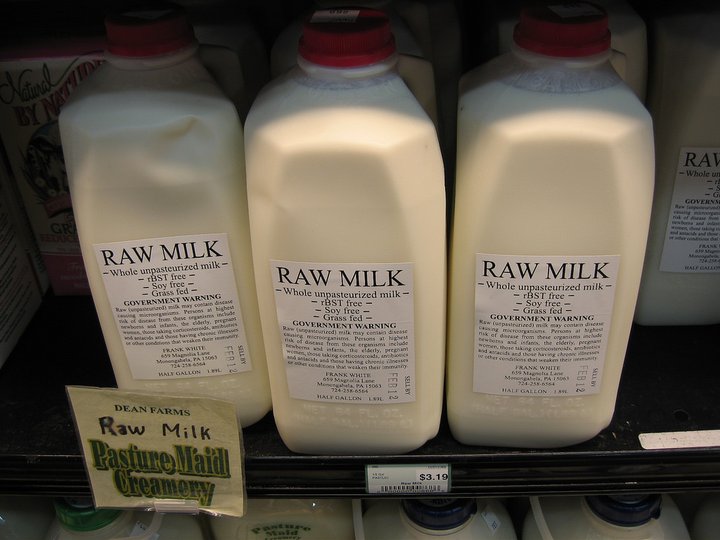 Following an impassioned public debate on the alleged benefits and documented risks of consuming raw milk, the Humboldt County Board of Supervisors today asked staff to bring back more information before they decide whether to modify, repeal or leave in place a county ordinance prohibiting sales of the unpasteurized dairy product.

During public comment, a number of people advocated repealing the ban, arguing that consumers should be allowed to decide for themselves whether or not to buy and drink raw milk. A local mom, Tori Miclette, stood before the board with her two-year-old on her hip. She was unable to breastfeed her son, and she said raw milk helped him stay healthy while regular pasteurized milk, formula and nut milks all had negative side effects.
But others, including several dairymen and the county's own public health officials, urged supervisors to keep the raw milk ban in place. The health officials said raw milk can host a variety of disease-causing pathogens while the dairymen said any illness caused by local consumption of raw milk could reflect negatively on the entire local dairy industry, jeopardizing their livelihoods.
With 4-1 vote, First District Supervisor Rex Bohn dissenting, the board asked staff to bring back more information for a follow-up discussion — and presumably a decision on the matter — in April.
Fourth District Supervisor Virginia Bass brought the issue to the board, saying consumers in her district "have been asking to have this conversation." It's a conversation that was abandoned in the same chamber more than seven years ago. Back in 2010, a previous iteration of the Board of Supervisors discussed the raw milk ban only to shelve the issue and never come back to it. Today, Second District Supervisor Estelle Fennell assured the public that a decision would be made this time around.
Eureka resident Bill Schaser made a presentation in defense of raw milk. He framed the issue largely as a matter of consumer choice and said a repeal of the ban is supported by 11 locally owned grocery stores, including the North Coast Co-op, Eureka Natural Foods, Garberville's Chautauqua Natural Foods and Murphy's markets.
Is it possible to get sick from drinking raw milk? "Of course," Schaser said. But he argued you're more likely to get sick from eating "any other food," including pasteurized milk or green, leafy vegetables. [Note: Public health agencies, including the Centers for Disease Control and Prevention, claim otherwise.]
Schaser went on to say that in California all raw milk sold must come from licensed dairies and must meet the same standards as pasteurized Grade A milk.
"Choosing to raise our family on safe and healthy raw milk should not be decided by government officials," he said.
But a few of those government officials disputed his claims about the safety of raw milk. Environmental Health Director Melissa Martel noted that the California Department of Public Health recommends against consuming raw milk, especially for children, pregnant women and the elderly, and the Centers for Disease Control and Prevention recorded more than 100 disease outbreaks caused by raw milk consumption between 1993 and 2012, resulting in numerous hospitalizations and at least two deaths.
Dr. Donald Baird, the county's public health officer, said to the board, "I'm asking you not to turn the clock back to the Middle Ages, when infectious diseases ravaged the population." The process of heating liquids to kill microbes, invented in the 19th century by French scientist Louis Pasteur, eliminates potentially life-threatening bacteria such as E. coli and listeria, Baird said. He also noted an "absence of credible scientific evidence of benefits" to drinking raw milk.
During public comment, Eureka Natural Foods owner Rick Littlefield said that every day, across California, thousands of grocery stores are selling "safe, licensed raw milk" while only three counties in the state ban the activity. (There was some dispute with county officials over whether it's three or four counties.) Littlefield sells raw milk from Fresno's Organic Pastures Dairy Co. at his Crescent City store, Wild Rivers Market, every day, he said, and he urged the board to "overrule" their own public health officials and "protect consumers" by lifting the ban.
But longtime dairymen Dennis Leonardi and John Vevoda said raw milk does make people sick, and the bad press that might result from such an illness locally could damage the Humboldt County brand, hurting all of the region's dairy farmers.
Denver Nelson, a neurosurgeon and former county planning commissioner who once owned a Ferndale dairy ranch, said rescinding the ban would be "a terrible mistake." He brought up the case of a 54-year old Del Norte County woman who wound up paralyzed after drinking contaminated raw milk from Alexandre Family EcoDairy Farms in 2008. Nelson warned that if supervisors rescind the ban here, the county could be held liable for the health care costs of anyone who gets sick from drinking raw milk.
Melissa Lema, a field representative for Western United Dairymen, said the farmers she's spoken with do not want the ban rescinded, and she urged the board to postpone its decision until more information could be obtained.
Fennell liked that suggestion, as did Bass. Third District Supervisor Mike Wilson said he'd like clarification on the differences between licensed and unlicensed raw milk producers and suggested requiring a large warning label if it's to be sold locally. And regarding the issue of consumer choice, Wilson noted that many of the people who've gotten sick from drinking raw milk were minors, children who did not, in fact, have a choice in the mater.
"That being said, I'm not completely averse to having this product being sold under certain circumstances," Wilson said, provided it's done "our way, Humboldt County's method."
But Bohn said there's too much at stake economically. Humboldt Creamery has become the brand for Foster Farms' organic milk, which is now sold in Costco, Walmart and other major grocery chains. "We built a name," Bohn said, and he expressed doubt that Humboldt County farmers could rebound from another catastrophe like the 2009 Humboldt Creamery bankruptcy and embezzlement scandal. The dairymen Bohn has talked to want the ban to remain in place, and the First District supervisor said, "Those are my peeps."
Fifth District Supervisor and Board Chair Ryan Sundberg said he naturally falls on the side of consumer choice, "letting people do what they want," even if he would never personally drink raw milk or give it to his kids. And he said consumers can probably differentiate between regular and raw milk, especially since the latter will likely cost three times as much as conventional milk. But he also suggested clear labeling. "I want people to have choice, but I also want them to know what they're getting," Sundberg said.
Fennell made a motion to bring the issue back in April. Bass seconded the motion. Bohn was the lone supervisor to say his mind was already made up on the issue. The rest voted to continue the discussion at the board's April 10 meeting.