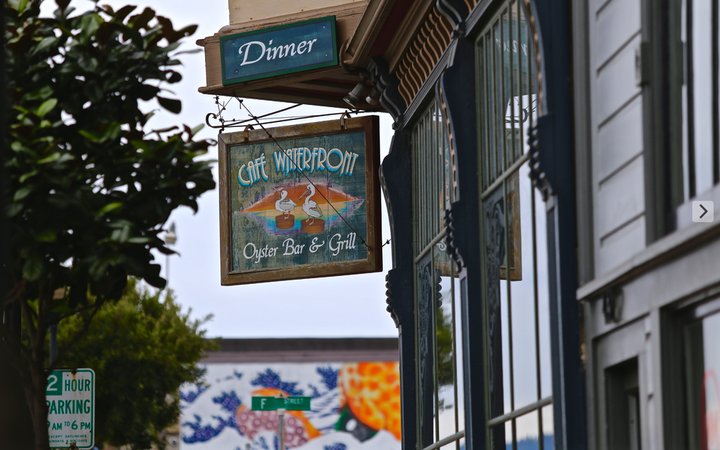 Sometimes I want to go to a restaurant at which I won't be disappointed or challenged, where the food is consistent and well prepared, with dishes that are old-fashioned but still popular for a reason. Comfort food, if you will. For me that restaurant is the Cafe Waterfront, in Old Town in Eureka.
A big part of the pleasure is the building itself. With its louche history as a bar and brothel, it's fun to sit in what now is a warm, inviting space and reflect on the Bad Ol' Days, when Old Town was full of interesting characters with old-timey mustaches. The Waterfront location (on the waterfront) is a prime asset. On a foggy evening, with the echoes of horse-clopping on Old Town streets and the lapping of water on the bay, the lights of the Waterfront are twinkling and welcoming. The interior is beautiful, with lots of polished wood and a gleaming railing at the bar. The mural on the wall is actually pretty, rather than distracting. It's one of my favorite restaurants to just be in.
The server met us at the door and got us a table quickly. Service here has always been strong, in my experience. It's a busy restaurant, and they know how to handle it. There are some restaurants, particularly in Arcata, where the staff seems positively confused by anything resembling a rush, but at the Waterfront they are friendly and professional.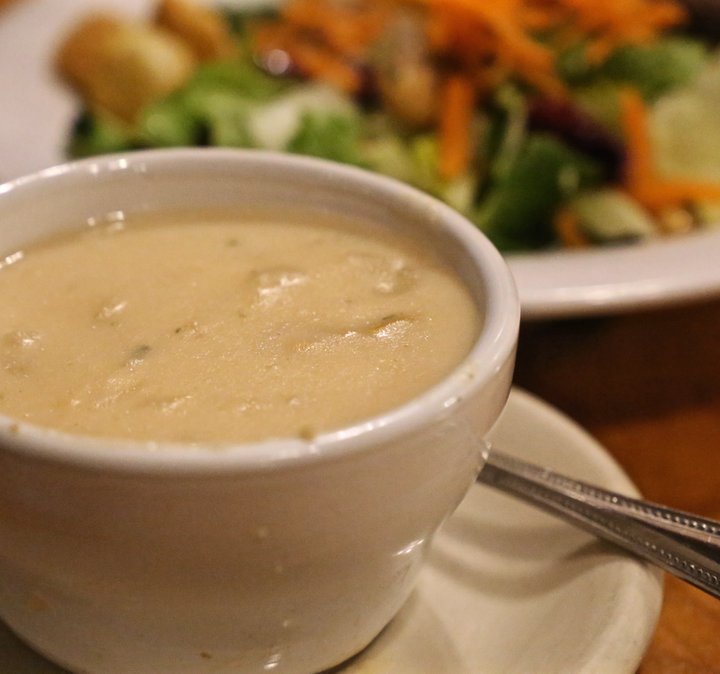 Chowder is comfort chow, and the Waterfront has my favorite local bowl. A common chowder predicament is too much flour, and the Waterfront hits just the right consistency — plenty thick and creamy, without hinting at library paste. It's got all the things you want in chowder (clams, potatoes, black pepper, a few carrots) and none of the things you don't (most other vegetables). In my 20 years of eating this chowder it has remained the same, and that's a good thing.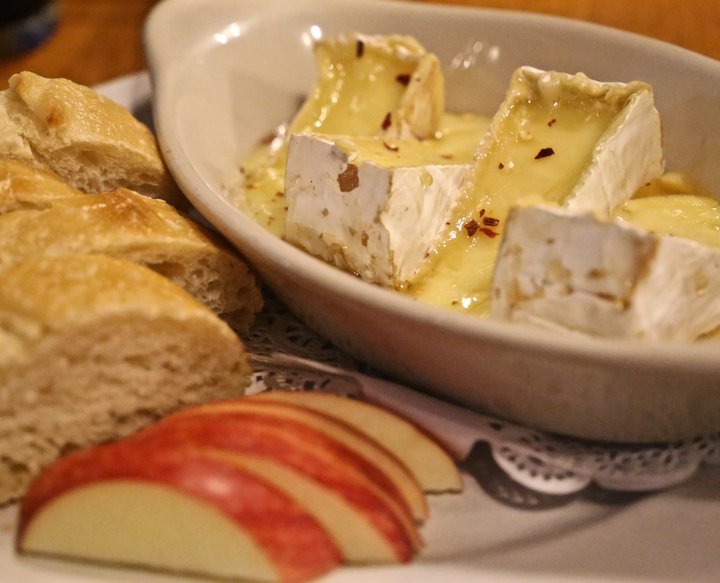 We decided to branch out and get some appetizers off the Specials Menu, which they rewrite by hand on a whiteboard every day and bring to your table to read. Brie, with honey, red pepper flakes and apples for $8.95, was, of course, delicious. With those ingredients, the only way to mess up that dish would be to serve it anything but hot, and theirs came out gooey and melted, ready for spreading on apples and bread. The prawn cocktail ($12.95) did not disappoint. For the true Prawn Lover, Prawn Cocktail is the purist's prawn, with nothing but spicy tomato-based cocktail sauce between you and your sweet juicy prey. If the prawn isn't good, the dish is a bust. Luckily, the prawns were fresh and flavorful, and it was a treat to eat.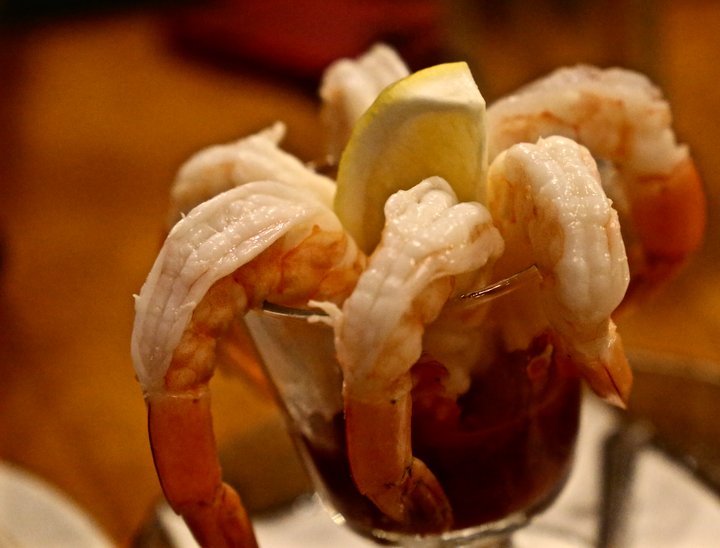 Two of the entree specials caught our eye — the char-grilled New York steak with mushrooms, brandy sauce, mashed potatoes and mixed vegetables for $24.95, and a lightly breaded and pan-fried snapper with garlic sauce, spinach and mushrooms, accompanied by wild rice pilaf with apricots and mixed veggies, for $23.95. I went for one of my old favorites, scampi ($23.95), served in a traditional butter, garlic and white wine sauce, just perfect for dipping bread in. They also have a nice compound butter that comes with the bread, if dipping isn't your thing and you'd rather spread.
Have you ever been to Red Lobster? My whole life, I have seen their ads about $5 lobster and whatever, and I was dancing with joy to get to go for the first time. I ended up having to send it all back because they only had fake butter! I can't dip lobster in movie-popcorn butter! Those absolute bastards!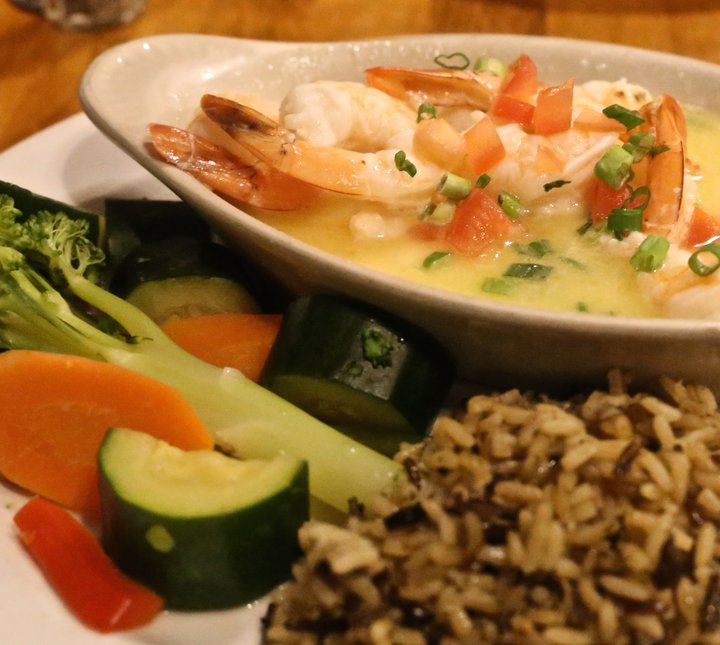 The Waterfront doesn't try to cut corners like that. The sauce tastes like butter — real butter. The scampi come with the same rice pilaf and vegetables as the other mains, and they're tasty sides. Edge-of-your-seat excitement? No, but the pilaf is nicely done, neither mushy and overdone nor crunchy and underdone, and the vegetables add a real pop of color to the plate.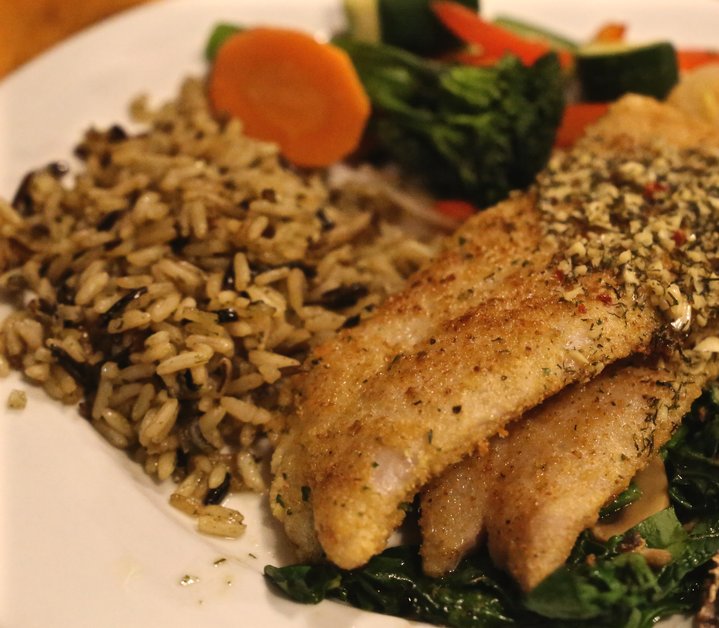 The snapper was excellent. I am one of those people who don't really want white fish. I only order it because it's good for me, and the Waterfront has this way of really lightly breading that makes for a moist fish and a crisp exterior, whilst shying away from anything as heavy as deep-fried, that makes even boring snapper delicious. The garlic sauce was simple and perfect, with toasted almonds and herbs and of course ample garlic in a buttery saute.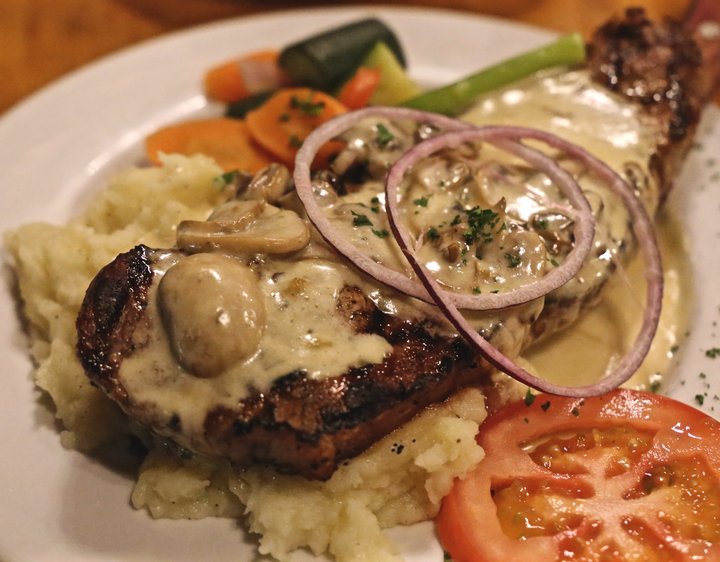 The New York steak was good. I like the steaks at AA better, but this steak was good, and the brandy sauce and mushrooms were another example of why classic pairings have been popular for decades for a reason. People roll their eyes at goat cheese and figs, steak and mushrooms, pork chops and applesauce, but classics endure for a reason — namely, they taste good. I like weird foods, foams and glutinous rice balls and desserts that looks like hardware, but I like the foods of my childhood here in Humboldt more.
Desserts were tasty and solid, too. We had a traditional chocolate cake (I do wish she had mentioned the almonds on the outside; I hate almonds in frosting because after a day they get soggy) and creme brulee. Both were $7 and both fit the bill. Outstandingly sublime? No, but done right and tasted good.
When a restaurant gets its menu down and just keeps on doing what it does best, and maintains high standards of good service and clean bathrooms, it's the comfort food of restaurants. Like a Jim Croce song. I love knowing I'm going to enjoy what's coming, with no surprises.
###
Cafe Waterfront. 102 F Street, Eureka. 443-9190. Web site.