Testimony ended yesterday in the trial of murder suspect Eric Jason Lively, with the prosecutor calling two witnesses to counter statements Lively made on the witness stand.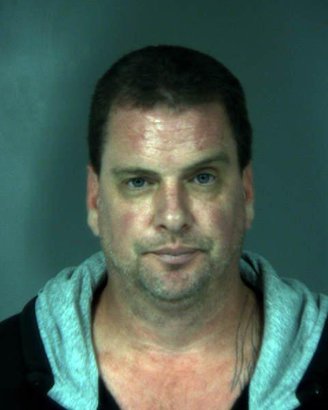 Sheriff's Lt. Kenneth Swithenbank testified that Lively, contrary to what he says, had a baseball bat in his truck when he showed up to confront his neighbor Trampus Danhaur in November 2013. Lively told Swithenbank he was carrying the bat for protection. Lively also denied he hit Danhaur with his 2009 Toyota pickup truck, the same truck that struck and killed Jesse Simpson on May 3, 2017, in Shelter Cove.
"I do recall him saying Mr. Danhaur may have bumped off his truck at some point,"
Swithenbank testified under questioning by Deputy District Attorney Adrian Kamada. Danhaur testified that Lively drove at him with the pickup truck, but he was able to spring off the hood with his hands.
The second and final witness was Todd Fulton, a former senior investigator with the Sheriff's Department. Fulton interviewed Lively's teen-age daughter Emma Lively several hours after Simpson was killed. Lively testified he never told his daughter not to call the police. But yesterday jurors heard a brief clip from the recorded interview, during which Emma Lively said her father came home in his smashed-up truck and told her "Don't call the police. Don't call the police."
Jurors were in the courtroom for just minutes to hear that testimony. Judge Christopher Wilson told them to report back Monday to hear jury instructions and attorneys' closing arguments.
During opening statements in the trial, Kamada told jurors he believed they would convict Lively of first-degree murder. But defense attorney Russ Clanton maintains Simpson jumped out in front of Lively's truck and his death was a "tragic accident" of his own making.
It remains to be seen whether jurors will be given only the options of first-degree murder or acquittal, or whether they also will be given instructions on lesser offenses such as second-degree murder, voluntary manslaughter and involuntary manslaughter.
During the trial a number of witnesses testified Lively suspected Simpson of stealing from him, and he spoke many times about killing him. One neighbor also said he once saw Lively walking with a baseball bat, saying he was going to Simpson's house to "straighten him out."
Lively denies he ever made those statements. The only death threats he admitted to were those he made in writing.
Simpson, 42, was a popular resident of Shelter Cove. He suffered multiple injuries in the collision, including fatal injuries to his brain.
Lively will spend his 46th birthday today in Humboldt County Correctional Facility, where he has been since the day of Simpson's death.
###

PREVIOUSLY: