PREVIOUS TRUMP/REDDING BONDING: LoCO is Going to Try to Get Into This Redding Donald Trump Rally
# # #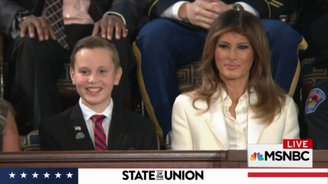 Preston Sharp, an 12-year-old from Redding, California, was Melania Trump's guest at Tuesday night's still-in-progress State of the Union address. President Donald Trump took a moment during his speech to recognize Sharp who gained national attention last summer for his efforts to honor deceased veterans.

During a 2015 visit to his grandfather's grave in a Redding cemetery, Sharp became troubled that not all veterans' graves were adorned with flowers. Over the next two years, with his mother's encouragement, the boy acted as the face of online fundraising efforts for the cause, ultimately organizing for the placement of American flags and flowers at more than 40,000 veterans' grave sites in 50 states, according to the White House.
Below are President Trump's remarks concerning Sharp:
Here tonight is Preston Sharp, a 12-year-old boy from Redding, California, who noticed veterans' graves were not decorated with flags on Veterans' Day. He decided all by himself to change that and started a movement that has now placed 40,000 flags at the graves of our great heroes. Preston, a job well done.

Young patriots like Preston teach all of us about our civic duty as Americans. And I met Preston a little while ago and he is something very special, that I can tell you. Great future. Thank you very much for all you've done, Preston. Thank you very much.
WATCH: President Donald Trump recognizes Redding's Preston Sharp during his #SOTU speech. Proud moment for the Northstate! pic.twitter.com/B6vWCPqyNz

— Haleigh Pike (@PikeHaleighdee) January 31, 2018
10 year-old Preston Sharp will be an honored guest of the President & First Lady at the #StateOfTheUnion. He has organized the placement of more than 40,000 American flags & flowers on soldiers' graves, as part of his goal to honor veterans in all 50 states. @OANN pic.twitter.com/fjeXpxtSJv

— Patrick Hussion (@PatrickHussion) January 29, 2018