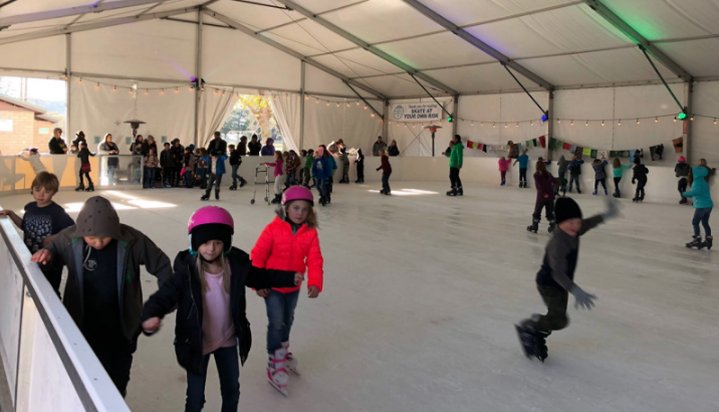 PREVIOUSLY: (PHOTOS) Let's Go Ice Skating in Fortuna, Shall We?

Humbug! After three years of providing the denizens of Humboldt with a temporary winter wonderland, the folks at the Fortuna Business Improvement District announced Tuesday that they can no longer put in the work necessary to set up and operate the Humboldt Ice Rink while simultaneously running their own businesses.
So unless a crew wants to get ambitious, y'all are gonna have to find something else frozen to whizz around on. Who wants to save Christmas?!?

Full Humboldt Ice Rink press release below:
With deep regret, this press release is to inform the community that Humboldt Ice Rink in Fortuna, California will not be coming back for the 2018/2019 Holiday season.

We would like to thank the community for your patronage these last three years. Please understand that this is a difficult decision on the Humboldt Ice Rink committee's part. We had committed to bringing a bit of magic to the holidays in the Eel River Valley for the past three years and we accomplished that. While the ice rink had been well received and attended, the small committee cannot continue to run the rink as well as their other businesses.

The committee's hope is that someone will take over the ice rink, and if that happens they will offer their assistance in getting it set up and running as much as they can. If any person or group is interested in taking over the operations of the Humboldt Ice Rink, please email humboldticerink@gmail.com.

They Humboldt Ice Rink Committee would like to thank all the business sponsors, community volunteers, non-profits, schools for all that they have contributed to the success of the rink.

We would also like to acknowledge and thank all the time and energy put into the rink from Nicole Genaro & Becky Coulombe Co-Owner Glamorous Boutique, Jesse Genaro Co-Owner of 5 O'Clock Shadow, Becky Giacomini "retired" and the Dianna Rios Executive Director for the Fortuna Business Improvement District.