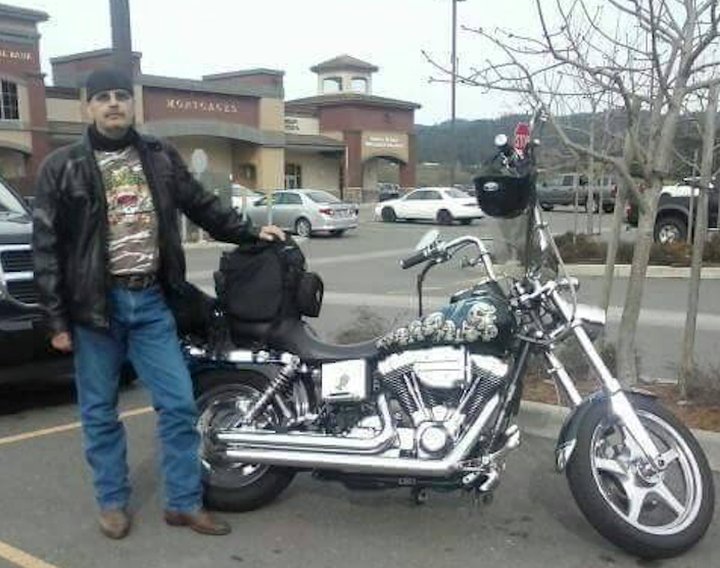 Ralph Clayton Miller left this world with his wife of 40 years and his sons at his side in Eureka on June 30, 2018, the same day he came into this world in 1951.

Ralph was born and raised in Mountain View, California to Nova and Clayton Miller. He proudly served in the U.S. Army and did a tour in Vietnam from 1970-1971.
Ralph moved to Humboldt County in 1987 and worked at Blue Lake Forest Company for many years as a fork lift operator before moving to Ferndale and working at Valley Lumber. He even found himself a small role in the movie Outbreak (he's the guy on the Hummer yelling in the bullhorn). He later went to Afghanistan and worked as a equipment operator for a contractor helping our armed forces. After his return from Afghanistan, Ralph retired and began enjoying such things as helping his sons with their race cars. He loved spending time with his grandchildren, sharing his crazy life stories with them. He loved his German Shepherd, Nas. He loved his veteran brothers, riding his Harley with his best friend and fellow veteran Daniel Lawrence, restoring and driving his Corvette, and spending time with his buddies at the pub watching the San Francisco Giants and 49ers play.
Memorial services will be held Sunday, July 15 at the Ferndale Veterans Hall beginning at 1:30 p.m. Ralph's ashes will be delivered by his veteran brothers and sons on their Harleys, and his wife and best friend in his favorite Corvette. An honor guard will be on hand to pay tribute with a 21-gun salute and flag folding. We invite all that called him a friend or brother to attend and share there stories and remember him. It will be short and sweet like he would have wanted it, he never liked being the center of attention.
Ralph is preceded in death by his father Clayton Miller and mother Nova James-Miller. Ralph is survived by his brother Archie Miller, wife Cindy Miller, sons Randy, Robert and Trevor Miller, his grandchildren Preslie, Deagan, Kelsey, Austin, and Steven Miller.
Ralph was not a religious man but he was a very spiritual man, here is a poem that he loved and lived by written by his Shawnee ancestor:
"So live your life that the fear of death can never enter your heart.
Trouble no one about their religion; respect others in there view, and demand that they respect yours.
Love your life, perfect your life, beautify all things in your life.
Seek to make your life long and its purpose in the service of your people.
Prepare a noble death song for the day when you go over the great divide.
Always give a word or a sign of salute when meeting or passing a friend, even a stranger, when in a lonely place. Show respect to all people and grovel to none.
When you arise in the morning give thanks for the food and for the joy of living.
If you see no reason for giving thanks, the fault lies only in yourself.
Abuse no one and no thing, for abuse turns the wise ones to fools and robs the spirit of its vision.
When it comes your time to die, be not like those who's hearts are filled with the fear of death, so that when their time comes they weep and pray for a little more time to live there lives over again in a different way.
Sing your death song and die like a hero going home."
-Chief Tecumseh
# # #
The obituary above was submitted on behalf of Ralph's loved ones. The Lost Coast Outpost runs obituaries of Humboldt County residents at no charge. See guidelines here.