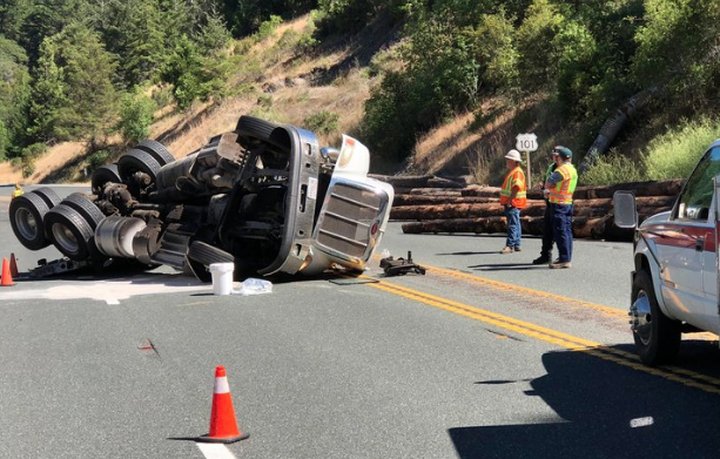 PREVIOUSLY: (PHOTO) Highway 101 Closed South of Leggett Due to Overturned Semi
California Highway Patrol press release:
On July 10, 2018, at approximately 2:35 pm, a 2012 Peterbilt Tractor, being driven by Donald Lind of Fort Bragg was traveling northbound on US-101, north of Bell Springs Road within the #2 lane. A 2018 Mazda 6 sedan, driven by Victoria Justen of Grand Ronde, Oregon was traveling northbound on US-101, north of Bell Springs Road, within the #1 lane. For reasons still under investigation, the Peterbilt overturned while traveling through a curve in the roadway. As a result of the Peterbilt overturning, the cab of the Peterbilt collided into the rear of the Mazda. Due to the collision, a load of logs spilled across all lanes of US-101. US-101 was shut down intermittently for approximately 4 hours due to the recovery and clean up of the scene. Mr. Lind was airlifted from the scene with suspected serious injuries and transported to Mercy Medical Center in Redding, CA. This collision remains under investigation by the California Highway Patrol, Garberville Area.

The CHP would like to thank the following agencies for their assistance with this collision: California Department of Transportation, Leggett CAL-Fire, Leggett Volunteer Fire Department, Reach Air Ambulance and Laytonville ambulance as well as the many citizens who stopped at the scene and assisted emergency personnel.