UPDATE: (PHOTO) Highway 101 Closed South of Leggett Due to Overturned Semi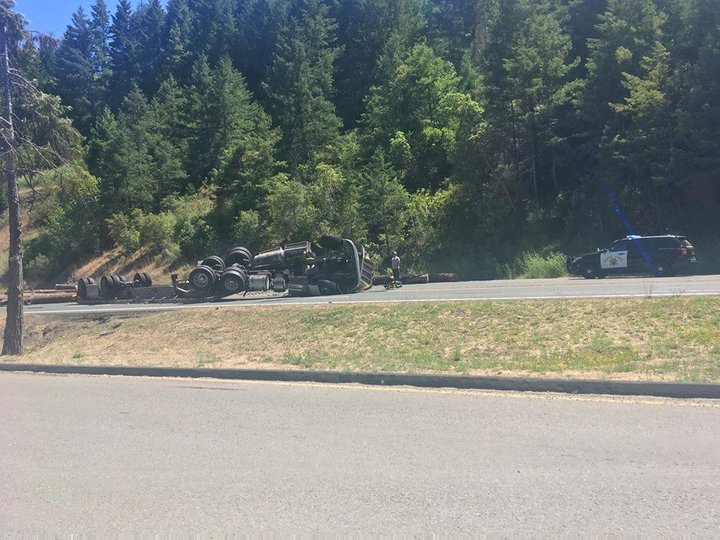 UPDATE, 4:40 p.m.:
KHUM DJ Cliff Berkowitz, who recently drove by the scene, reports that the driver of the logging truck was airlifted to the hospital.
Traffic is reportedly still being diverted through a nearby rest stop.
"When we left, they were waiting to clear all the logs off the road before they get it fully open it," Berkowitz said.
The occupants of the other vehicle were reportedly unharmed in the crash.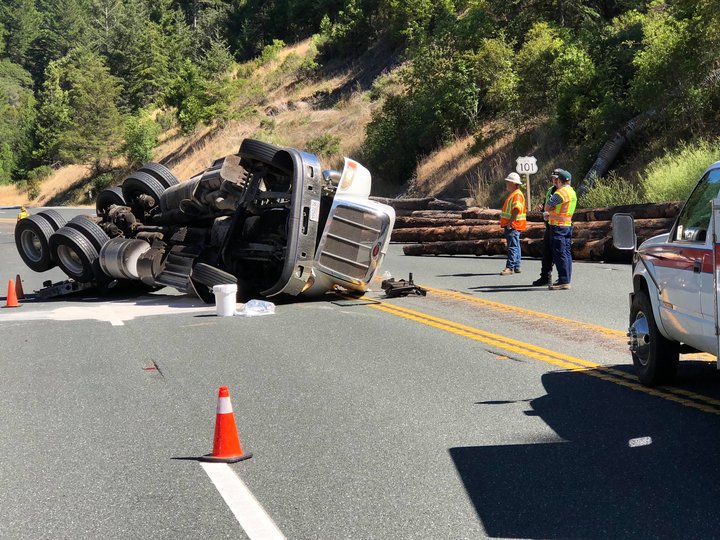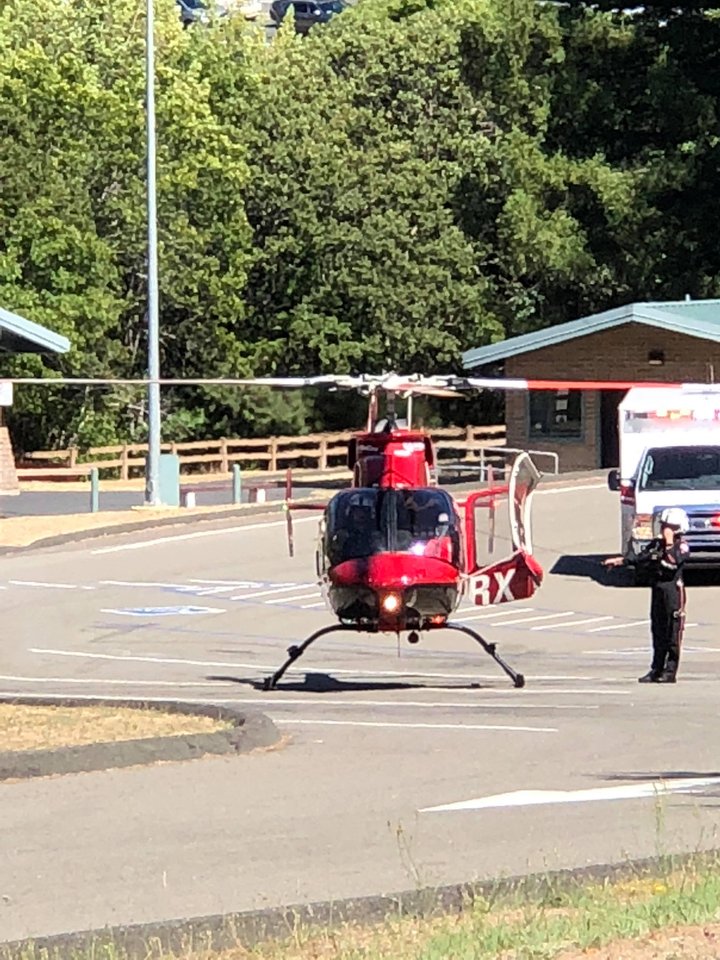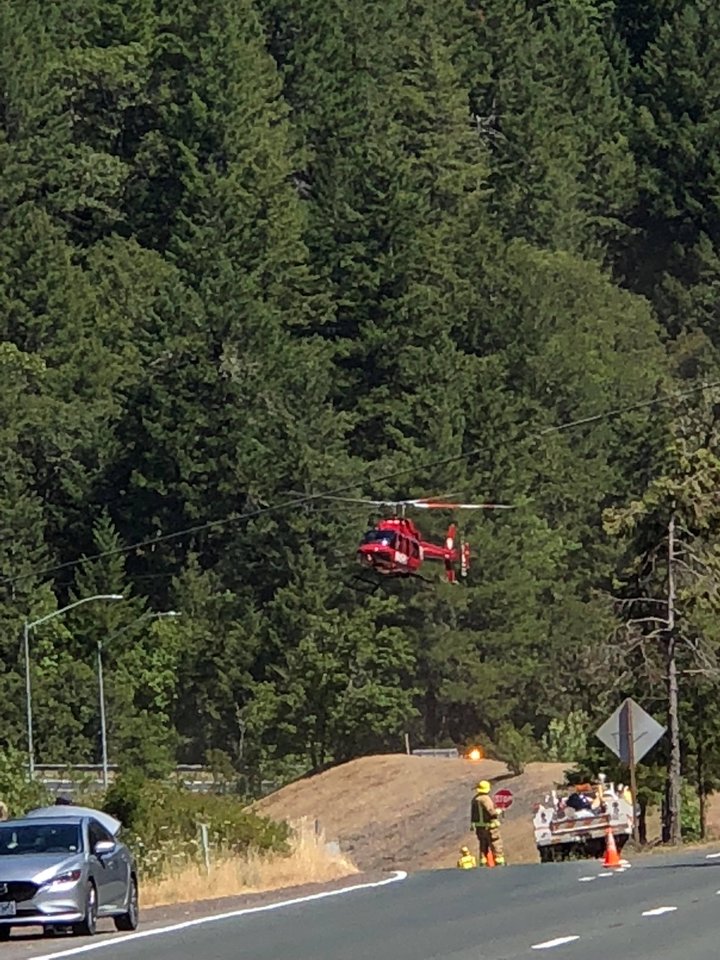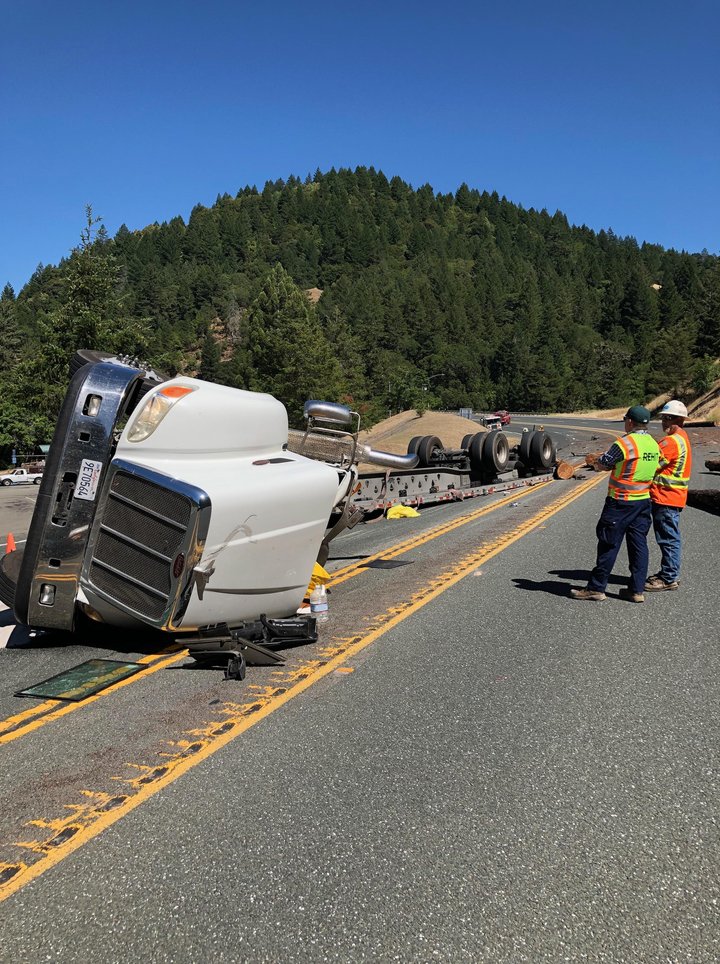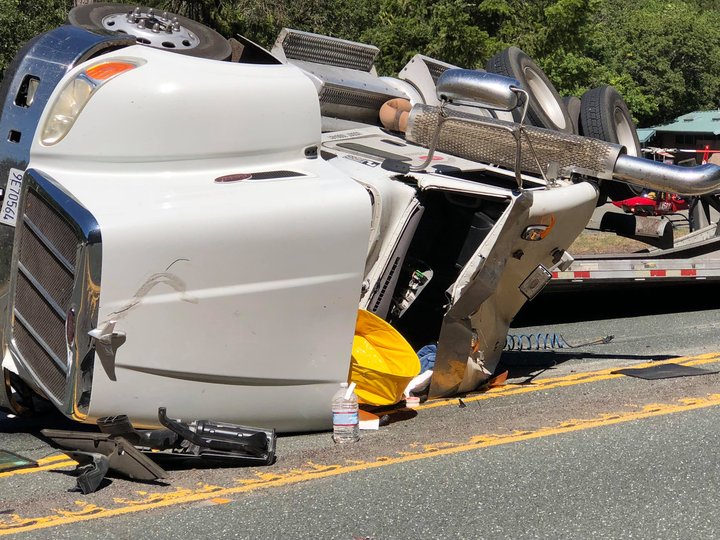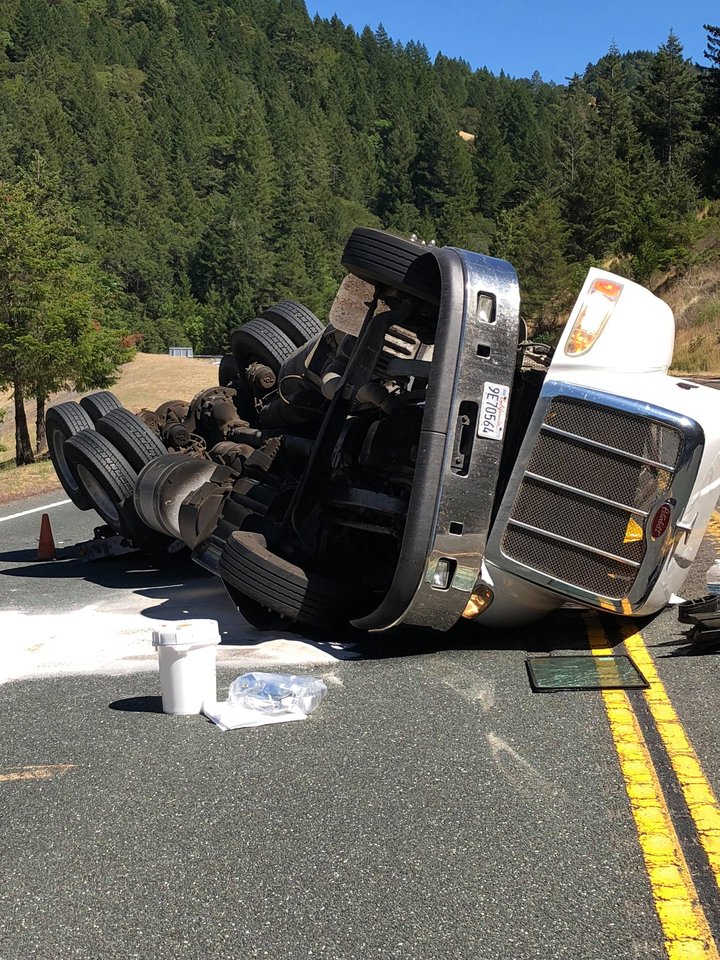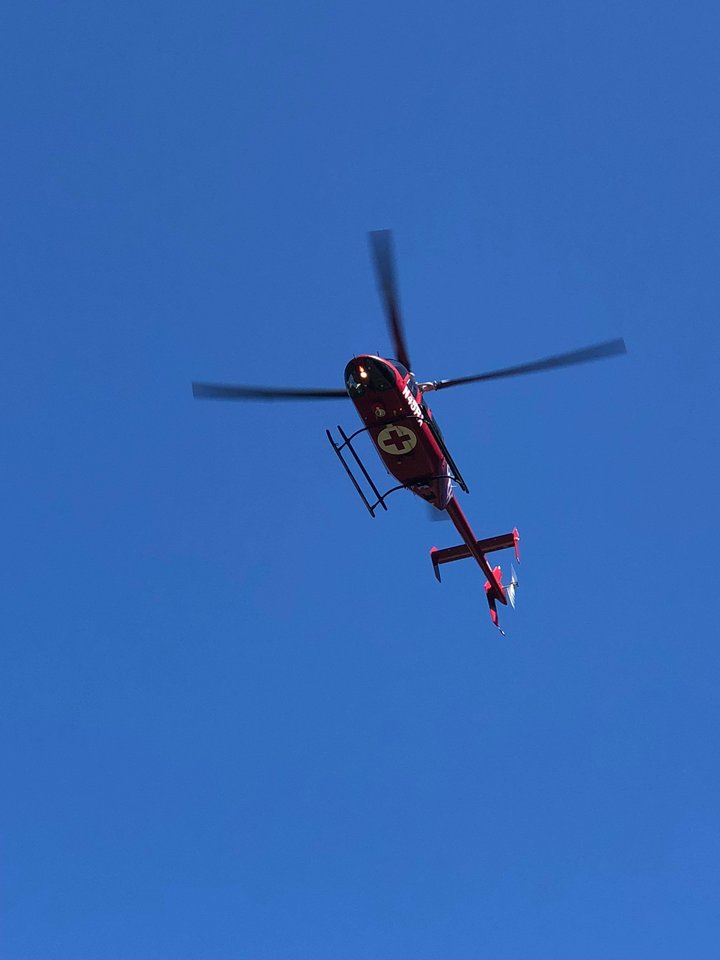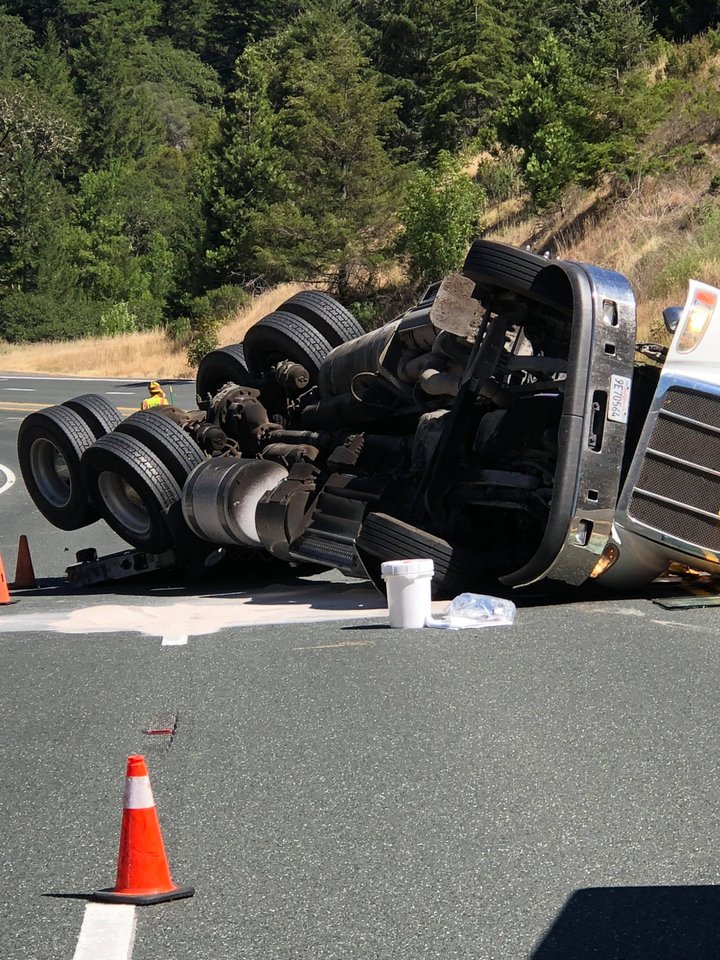 UPDATE, 4 p.m.:
Outpost reader Rob Christensen sends us this photo from the scene and says that traffic is being diverted through a nearby rest area.
UPDATE, 3:25 p.m.:
The semi truck is reportedly turned completely upside down, resting on it's roof, and there are roughly 30 logs in the roadway.
###
LoCO's CHP Watch alerts us to a traffic collision involving a semi truck and another vehicle on Highway 101 a few miles south of Leggett. CHP dispatchers note that the truck is blocking all four lanes.
Updates below.
---
2:41 p.m.
[1] BIG RIG OT IN RDWY VS ANOTHER VEH
2:48 p.m.
[11] 105-D3 BLKG ALL 4 LANES
2:54 p.m.
[20] [Notification] [CHP]-1039 HOWARD/ AIR 1141 ENRT, 5 MIN ETA FOR GROUND
3:03 p.m.
[28] [Notification] [CHP]-S1 REQ START ALL IN ONE FOR THE SEMI TRK
3:03 p.m.
[27] 105-D3 PTY EXTRACATED FRM VEH
3:05 p.m.
[32] 105-D3 SIMT TK / CAB ON ITS ROOF / TRLR ALSO UPSIDE DOWN / APPROX 30 LOGS IN RDWY /
3:09 p.m.
[33] 1039 CT THEY HAVE LOADER AND EQ
4:22 p.m.
[50] 105-D3 1185 1 MI JSO EMPIRE
4:33 p.m.
[54] 1039 CT/ WILL SEE WHAT HE CAN FIND FOR CONSTRUCTION CO
5:42 p.m.
[65] 105-S1 EXT BO RADIO CONNECTION/ UNABLE TO COPY / BOTH LNS OF TRFC IS OPNE
5:55 p.m.
[67] PER 105-S1 / HAVE REDDING RESP TO HOSP TO GET FURTHER STATMENT / EXTENT OF INJS / AND EVAL // OPEN CONTAINER WAS FOUND IN TK
5:58 p.m.
[68] ND-C152 C152 REQ TO HAVE RD UNIT TAKE LOG BOOK FRM DRVR / HAS IT IN HIS POSS
6:30 p.m.
[74] 105-21 REQ RESP RD OFCR 1021 CELL WHEN ABLE/ 1039 RD
6:41 p.m.
[75] C105-057 DOG REL TO OWNER OF THE TKING CO PER 105-57
7:12 p.m.
[77] 105-S1 RDWY COMPLETELY CLR'D / 105-39 WILL REMAIN 97 UNTIL CT GETS SCNE CLEANED UP
7:46 p.m.
[81] PER 105-21 MAJ INJS / 1180
7:46 p.m.
[80] [Notification] [CHP]-Problem changed from 1179-Trfc Collision-1141 Enrt to 1180-Trfc Collision-Major Inj by CHP
---