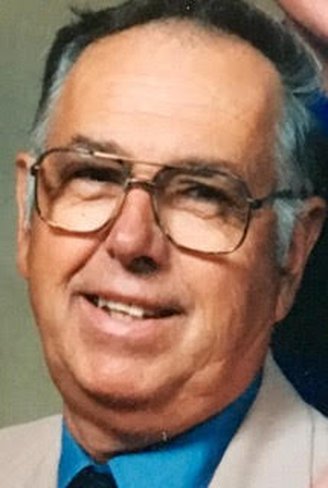 Richard Alley went to be with his loving Jesus on July 9, 2018. Richard was born in Salina, Kansas on March 7, 1935 to Pauline and Glen Alley. Richard married Diane Holman and had three daughters, whom he cherished to the day he passed.
After finishing eighth grade at St. Bernard Elementary School, Richard became a jack-of-all-trades. Initially, Richard was a fire fighter for the State of California, as he had the opportunity to be suspended from the fire helicopters to put out fires. After he married Diane and had their first daughter, Cindy, he began working at the Eureka City Corporation Yard as a mechanic, which he liked the least of all his employments! He went on to drive a delivery truck for Pepsi Cola with his longtime friend, Bub Cleasby, whom he loved and worked with at the corporation yard also. Richard then discovered his real gift in construction. He began working as a carpenter for Ralph Lindstrom through the Carpenter's Union, where he was known as Dick Alley. After several years, Richard left the carpentry to become an ace-construction millwright for the Northern California Millwrights Local 102. Richard was a shop steward for many years, as his bargaining ability for his co-workers was exceptional. He was known as one of the best general foreman in his line of work. The superintendent relied on Richard for fixing and repairing the most intricate problems at mills all around California and Oregon. Richard had an incredible ability to re-design blueprints received from the engineers, making them work for several jobs. Richard was a great teacher to many men in the trade: Jeep Pryor, Matt Kunkler, Clay Schwab, and Terry McCutchen. In Richard's last days, he talked of each of these men, as they were an important part of a very enjoyable part of his life.
After their daughters were all married, Richard and Diane spent many years traveling in their travel trailer to different locations throughout California for Richard's work as a construction millwright. Those were wonderful and memorable times for the two of them.
Richard loved to hunt, fish and dive for abalone. Some of his best times were shared with his buddies: Bub Cleasby, Norm Brogie, Hal Braafladt and his brother, Kenny Alley. Richard and Kenny were known as the road hunters during their hunting days in Garberville and were quite lucky at it! They spent many cherished and memorable hunting trips with Jerry, David, Cindy, Barbara and Christine.
Richard was the pillar of Christ in his home. He made it a priority to worship Jesus and take his girls to mass every Sunday, where they joined their Grandma Pauline and Auntie Rose in the same pew every week. It was because of his dedication to Jesus Christ and his commitment to raise his children in the Lord that his daughters love and worship Jesus Christ today. Sunday church was almost always followed with a family picnic, where the girls' best friends, Jody, Lisa and Angie, joined for a fun game of kickball or softball. It was always a day full of fun, love and laughter.
Following Richard's retirement, he always had a project, whether it was working on his cousin Rita's house, his daughters' homes, flipping houses (before HDTV was popular! and the last one with his cherished buddy, Axel Backman, whom he is with in heaven now), perfecting his summer places in Myers Flat and Willow Creek, or growing his beautiful gardens (especially his delicious tomatoes and beautiful petunias). He had an incredible ability to turn everything he touched to gold!
Following a broken leg in February 2018, Richard resided at the Humboldt House Lodge, assisted living facility in Eureka. Here he found new friends that he touched and was, in turn, touched by. His special friends: Susan, Brent, Christine, Amber, Barbara and Walter, along with all the others, were an inspiration and encouragement to Richard in these last months. He continually shared with us girls how nice everyone was to him at Humboldt House Lodge and the wonderful care he continually received… to the very last day here. More than anything, Richard LOVED. He had the most sweet and loving spirit that sparkled everywhere he went. In his last days, he said over and over, "Above all things - LOVE". Richard didn't just talk the talk but walked the walk. Prior to being committed to the Shepherd's Chapel, he was a devout Catholic and member of Sacred Heart Church of Eureka. As of late, Richard loved his worship time with his new friends at Humboldt House Lodge, as they frequented Calvary Baptist Church of Eureka. Richard was aware that he was a vagabond in this temporary world and looked forward to being at the foot of Jesus for eternity.
Holidays, birthdays and summers were always a special time for Richard and his family. We all enjoyed many good times in Meyers Flat and then at their summer home in Willow Creek. He always enjoyed barbecuing, whether it was in the heat or at home in his beautiful brick patio that his grandsons, Clay and Clint, tirelessly built to their grandfather's perfection. Richard was extremely proud of his daughters, son-in-laws and their children, and now their grandchildren's children! He felt truly blessed.
His love for his girls was deep and they felt it to the day he passed. He was the most loving and caring father a daughter could ever hope for. His legacy will continue to grow through their children and their children's children, as his love for Christ has empowered them all.
Richard was preceded in death by his wife, Diane Alley; mother, Pauline Alley; father, Glen Alley; brother and sister-in-law, Kenneth & Frankie Alley; and nephew, David Alley.
Richard is survived by his three loving daughters and spouses: Cindy (Daniel) Hicks, Barbara (Douglas) Hooper and Christine (Scott) Williams. His seven grandchildren and their spouses: Haley Hicks, Clayton (Rachelle) Hicks, Kyle (Kelly) Hooper, Clinton (Rose) Hooper, Kendra (Ryan) Shepherd and Nolan and Alley Williams. His eight great- grandchildren: Bowdy, Carson and Crew Hicks; Paige and Brynn Hooper; Gracelynn, Kenadee and Aimzlee Shepherd. He is also survived by his nieces and nephews: Jerry Alley, Wade Holman and Amy Holman and their children and grandchildren; his cousins: Don Burghart (Joyce), Rita Sicard, Joan Burghart and their children, grandchildren and great grandchildren.
Richard's Celebration of Life is Saturday, July 14, 2018, 11 a.m. at the Calvary Baptist Church of Eureka, 3400 F Street, reception to follow at Barbara's home. In lieu of flowers, donations may be made to: Humboldt House Lodge - Growth & Development Scholarship Fund, 4140 F Street, Eureka, CA 95503.
# # #
The obituary above was submitted on behalf of Richard's loved ones. The Lost Coast Outpost runs obituaries of Humboldt County residents at no charge. See guidelines here.