A State Parks Ranger pulls a beached shark from the shoreline at Trinidad State Beach this afternoon. Photos and video by Jason Self of Kayak Trinidad.
(07/16/18) UPDATE, 2:35 p.m.:
Humboldt County Sheriff's Office spokesperson Samantha Karges tell the Outpost today, that the bite victim was a 59-year-old woman from Redding.
Karges confirmed that the woman did suffer a small bite wound, but said the victim suffered more serious injuries as they attempted to run away from the shark.
###
A woman was taken to the hospital via ambulance this afternoon after a shark reportedly bit her leg near the shoreline at Trinidad State Beach.
Local kayak guide Jason Self told the Outpost from the scene that a California Department of Fish and Wildlife Officer State Parks ranger was at the beach handling what appeared to be six salmon sharks that were washing ashore in the area.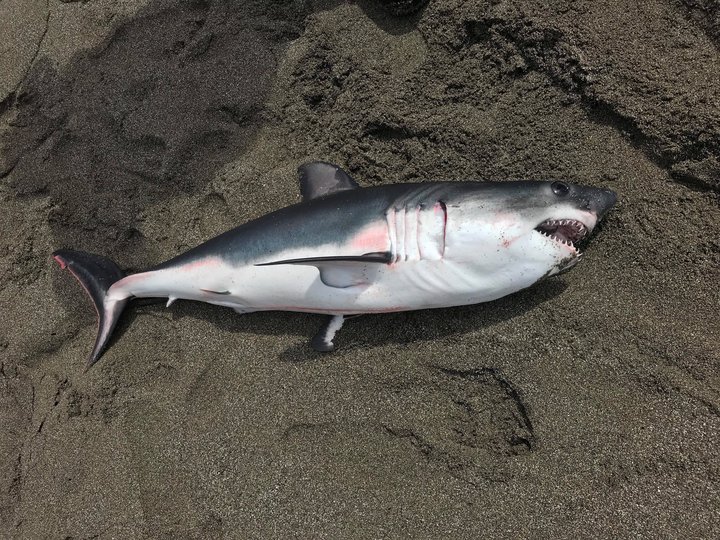 One of the beached sharks.
"There's a bunch of them washing up right now," Self said earlier today.
The ranger told Self that the bite victim reportedly suffered non life-threatening injuries while trying to take a photo of the beached sharks.
The ranger was reportedly keeping onlookers away from the sharks until a Biologists from the Humboldt State University Marine Lab arrived on scene.
We will update when we have more information.