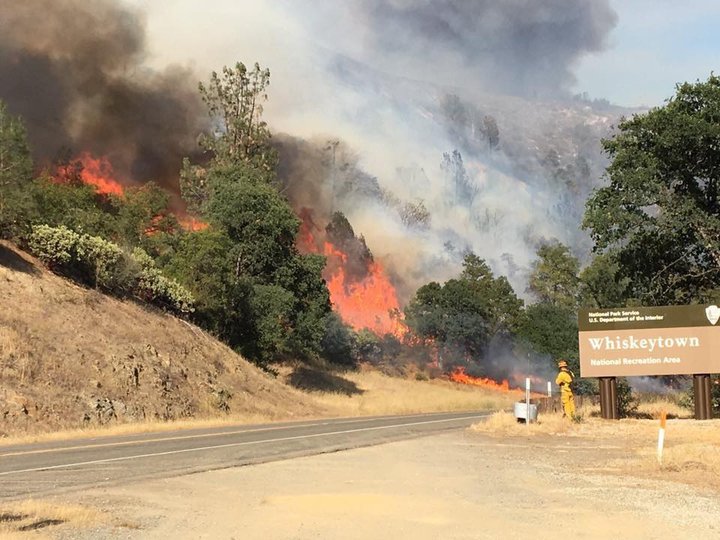 UPDATE, 2 p.m.: Cal Fire reports that the Carr Fire is now at 3,126 acres with 15% containment.
Caltrans anticipates that Highway 299 near Whiskeytown Lake will remain closed through the rest of today, Tuesday, July 24.
# # #
Original Post: East to west travel is still a bit tricky as Highway 299 remains closed with no estimated time of reopening Tuesday morning. Cal Fire says that the Carr Fire — located near the northwest end of Whiskeytown Lake — stands at 2,500 acres with 5 percent containment and that all road closures and evacuations put in place Monday remain.

You can still get through, though. A detour down Highway 3 at Douglas City and connecting up to Highway 36 will add a bit of time to your journey, sure. See below for Caltrans' advice to truckers.
SR 299W remains closed due to #CarrFire near Whiskeytown Lake. Eastbound closure at Buckhorn Summit & westbound closure at Whiskeytown scales. Motorists have been using SR 36W & SR 3 as alternate route.

— Caltrans District 2 (@CaltransD2) July 24, 2018
Truck drivers: If you are using SR 36W to SR 3 (or vice versa) as a detour for SR 299W due to the #CarrFire, that route is 65' CA Legal *KPRA Advisory:https://t.co/RhSXIwvul5…
Choose another route if you don't meet this criteria.

— Caltrans District 2 (@CaltransD2) July 24, 2018