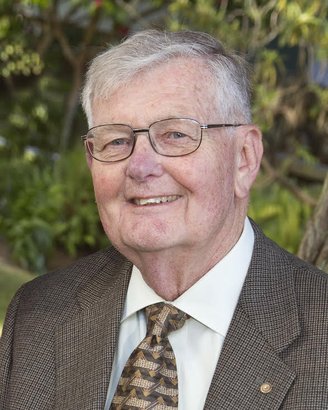 After 62 years of marriage, my dear husband, James "Jim," passed away on July 10, 2018. He fought a battle against ALS for over a year. He never complained. He was a wonderful husband and father, and he was always there for his family.

Jim was born November 25, 1934 in Newark, New York to Dr. James and Dorothy Davis. He was the second born of four brothers. Jim and I met and graduated from Newark High School, Class of 1952 and 1953. While in high school, he received the ranking of Eagle Scout, which is the highest achievement attainable in the Boy Scouts of America. Jim was a proud graduate of Syracuse University and fondly shared stories of being the Chapter President of the Delta Upsilon Fraternity and a beloved Saint Bernard, who he would often watch during school holidays and breaks. He also was a graduate of the Command and General Staff College and became a Colonel in the USAR.
After a four-year courtship, we became engaged in 1955. Jim's mother suggested that he present his grandmother's diamond engagement ring, which he had reset. In 1956, we married at St. Mark's Episcopal Church. Soon after, we were blessed with two daughters, Deborah "Debbie" and Rebecca "Becky."
Jim retired from the US Forest Service USDA after 37 years of public service, having served as District Ranger for Crescent R.D. Deschutes National Forest, Deputy Forest Supervisor for Mt. Baker-Snoqualmie NF, Forest Supervisor for Mendocino NF, and Six Rivers NF. He was the second person in the history of the Forest Service to be promoted directly from a District Ranger to a Forest Supervisor position. While working for Six Rivers, at the request of a US Congressman Bosco, Jim drafted the Federal Legislation for the 370,000 acre Smith River National Recreation Area and testified before Congress.
While Jim was accomplished within his career, he was defined by his dedication and love for his family, friends, faith, and community. He was active in the Episcopal Christ Church in Eureka and served in Rotary (President Eureka Club), College of the Redwoods Foundation, serving as President for many of his involved years (1985 to 2018), Board of Directors Area 1 Agency on Aging (President 2 terms), Clarke Memorial Museum (President 2 terms), and a member of the Advisory Board for Santa Rosa Jr. College for over 25 years. In 2005, Governor Schwarzenegger appointed him as a State Commissioner to the California Commission on Aging; serving as Commission Chair for 2009 and 2010.
Jim had a myriad of hobbies that included woodworking, gardening, photography, model railroading, backpacking/camping, genealogy, and travel. He remodeled our current home and created several pieces of furniture for family and friends. Jim and I enjoyed working in our garden together and participated in the Eureka Garden Tour. He could also be found behind the camera, as he loved to capture special moments. He took pleasure in documenting family gatherings, trips, and adventures. Jim's model railroading depicted significant locations and homes with attention to accuracy and detail. He relished in sharing his creations and speaking to the importance that each piece held. Jim's love for the outdoors began at his family cottage known as "Seven Gables" on Sodus Bay, New York, where he would canoe and sail with his family. He continued backpacking and camping throughout his life and enjoyed our many travels with family and friends we have made over the years.
Jim was preceded in death by his parents, Dr. James and Dorothy Davis, and two brothers, John Manwaring Davis M.D., and Robert (Robin) Chambers Davis.
Jim is survived by his loving wife, Shirley, and his two daughters Deborah Nord (Jerry) and Rebecca Roberts (Tom). He was a proud grandfather to Jay Nord (Tracy), Jimmie Nord (Celia), and Paige Roberts, and his two great grandchildren, Lily and Sage Nord. He is also survived by his brother, David Winfield Davis (Fran) and many nieces and nephews.
A Memorial service will be held at Christ Episcopal Church, 625 15th Street, in Eureka on Thursday, July 26th, at 2 p.m. In lieu of flowers, please consider donations to the Jim and Shirley Davis scholarship fund at College of the Redwoods and/or the ALS Association. The family would like to thank the doctors and staff at St. Joseph hospital for their care and compassion given to my husband, Jim.
###
The obituary above was submitted on behalf of Jim's family. The Lost Coast Outpost runs obituaries of Humboldt County residents at no charge. See guidelines here.