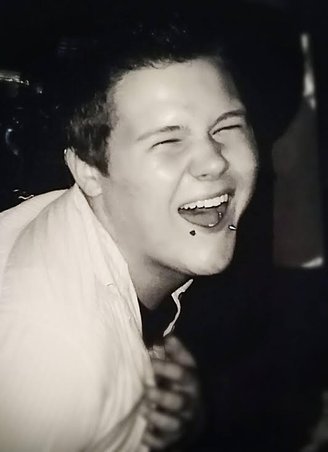 Patrick Ramond Anderson Jr. was Born to Patrick O'keefe and Tracy Anderson in Redding on March 10, 1992. He passed unexpectedly on July 5, 2018.
Patrick was the youngest of five boys: Joshua, Jonathon, David, Jerry and Patrick.
Patrick was an adorable baby, he was very much the apple of his mother's eye and admired by everyone. As a toddler Patrick's favorite nursery rhyme was "The Three Little Pigs." Patrick proved to be an extremely resilient young man, growing up as the youngest of five boys. His family coined the nickname "Little P" for him.
Patrick, Sr. and Tracy later separated. In 1995 Tracy and the boys relocated to Humboldt County residing in Eureka and McKinleyville. Tracy married Charlie Blackford. Charlie and Tracy raised the boys for a few years in Eureka. In 1997 Patrick attended grade School at Lafayette Elementary in Eureka. Charlie, Tracy and the Boys relocated for several years to Spokane, Washington.
Patrick spoke fondly of Spokane. He recalled times when the family went ice skating, played in the snow, went to Manito Park and enjoyed Dick's Cafe. The family had a German Shepard named Buster.
In the mid 2000s the family moved back to Eureka, and Patrick attended Eureka Senior High School.
As a child Patrick and his mother volunteered for Betty Chinn in Eureka — they did service work with Sacred Heart Church and Toys for Tots. In his teen years Patrick's first job was working along side his mother Tracy and grandmother Alisha at Ma Barker's Cafe in Spokane. Patrick received a "Key to the City" in Spokane for his volunteer work. Upon Patrick's return to Eureka he worked with his aunt Shannon and cousin Cori at the Peace Resource Center in Freshwater. Patrick was an artist. He worked underneath world-famous mural artist Duane Flatmo. Patrick relocated to Chico in 2010, and worked for Nixon Landscaping.
Patrick spent alot of time with family. He always made time for his aunt and uncle; Shannon and Steve Anderson, and Cousin Cori. You could find him at their home for Super Bowl Sundays, family dinners, and with them on vacation. Patrick also spent a great deal of time with his paternal grandmothers: Sherri and great grandmother Anita, they were close, they could talk about anything, he always held them close to his heart. Patrick admired his aunt Sarah, and looked up to her his entire life. Sarah spent a tremendous amount of time with the boys when they were little.
In 2006 Patrick met Jeanette Arnot. They quickly became best friends. Patrick had a countless amount of close friends in Eureka including: Garrett, Phillip, Jamie, Bernadette, Chris, Sarah, Seth, Alan, Annaleis, Ashley, and Elizabeth. Patrick went on several excursions with friends, camping, trips to the beach, going on hikes to name a few. One time in 2008 Patrick, Jeanette and Annaleis went on a roadtrip from Eureka California to Orange California and back. They stopped many places along the way. They visited San Luis Obispo and stuck their toes in the sand at Pismo Beach. They walked the Santa Cruz board walk where Patrick dressed to the Nines. Patrick loved photography. He snapped photos in every direction as they walked through Yerba Beuna Gardens in San Francisco. Patrick spent 5 years of his life in a relationship with Anthony Sjoquist. Patrick had the ability to create a relationship in moments, allowing a person to feel comfortable and at home, always.
Patrick had an emphatic love for music. He played songs that touched your soul, lifted your spirits, and made you feel alive. Patrick loved hosting TV series marathons with friends at his home. Patrick had a love for animals. He had pet cats - Corrine and Sage, and goats - Lilly, Ann and Iris. He would invite friends over to help care for and feed his pet goats. He had a big heart and always made sure his animals had what they needed.
The last 2.5 years Patrick lived with and near his mother, while she dealt with unexpected health issues. Patrick walked a hard life and always knew he could return to his mother for support.
Patrick is survived by his father Patrick O'keefe, mother Tracy Anderson, brothers: Joshua Anderson, Jonathon Anderson, David Anderson, Jerry Anderson, and Bailey. paternal grandmother Sherri Melara, paternal grandfather Douglas O'keefe, aunt Sarah Hall, paternal step grandfather David Hall, maternal grandmother Alicia Walker, uncle Robert Anderson, aunt Ralinda Anderson, uncle Steve Anderson, aunt Shannon Anderson; cousins Michael O'keefe, Claire Hull, and Wesley Hull, Michael, and Daniel, Cori; nieces and nephews: Nathaniel and Neveah.
Patrick was preceded in death by his Paternal Great Grandfather Melvin Hull, his paternal great grandmother Anita Hull, his paternal grandfather Arthur O'Keefe, and his maternal grandfather Jerry Anderson, his great uncle Lynn Hull.
A service will be held for Patrick Ramond Anderson-O'Keefe's on Wednesday July 25, 2018 at 6:30 p.m. Located at The Salvation Army of Bakersfield located at 4417 Wilson Road, Bakersfield, CA 93309 with a reception to follow.
A separate memorial service will be held for Patrick's Friends and Family who are unable to attend his service in Bakersfield.
Patrick's mother is planning to use memorial funds raised to educate and inform people of the dangers of the Kern River in Bakersfield.
###
The obituary above was submitted on behalf of Patrick's family. The Lost Coast Outpost runs obituaries of Humboldt County residents at no charge. See guidelines here.