UPDATE, Monday, 7 a.m.: Power has been restored to all but a handful of folks in Mendocino County, according to the PG&E outage map. However, the Mendocino Complex Fire doubled in size yesterday, forcing 10,000 people to evacuate, according to the Santa Rosa Press Democrat.
That fire has grown to nearly 56,000 acres and is only 10 percent contained, according to a Bay Area ABC affiliate.
###
Original post: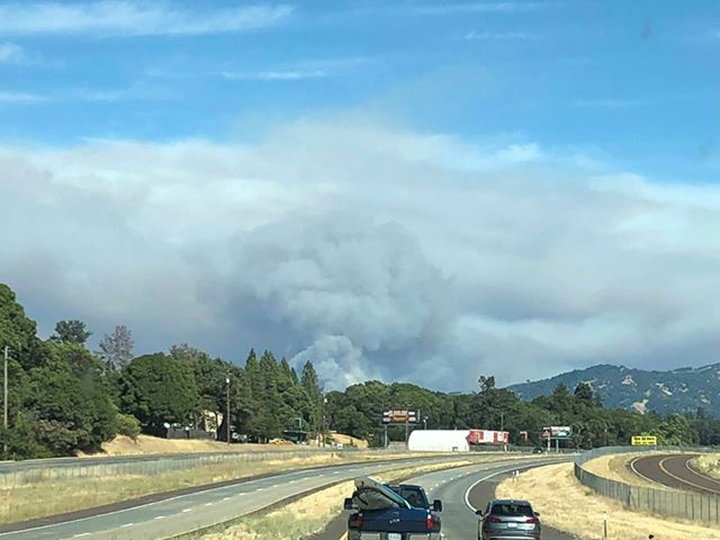 As the Lake County town of Lakeport evacuates, fleeing the Mendocino Complex Fire, the Outpost is getting reports from folks down in Mendocino County that mass power outages there have shut down gas stations, stranding people in Willits and backing up traffic on Highway 101 for miles.

As of 6 p.m. Sunday PG&E's outage map was showing major outages along the coast from Fort Bragg south to Manchester and more outages up and down Highway 101 and east along State Route 20, knocking out the electricity for more than 50,000 people in the region.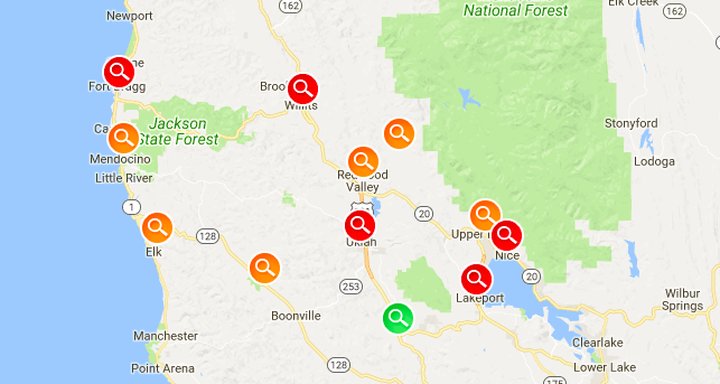 Senator Mike McGuire has been providing updates on Twitter.
#1: @PGE4Me is aware of the outage impacting 50k in Mendocino and Lake Counties. Outage caused by heavy smoke around the electrical lines (heavy smoke is a conductor of electricity). Active fire around the towers and lines that need to be fixed, crews unable to access area.

— Mike McGuire (@ilike_mike) July 29, 2018
#2. Regarding Power Outage: @PGE4Me hoping for a late evening restoration of service (all depending on fire conditions).

— Mike McGuire (@ilike_mike) July 29, 2018
If you are evacuating from the City of Lakeport and surrounding region, here are the evacuation centers: Kelseyville High School, Twin Pine Casino, and Lower Lake High. @Cal_OES is embedded in Lake County and assisting with all emergency and shelter needs.

— Mike McGuire (@ilike_mike) July 29, 2018
Highway 29 - Looking towards Upper Lake. Fire Fighting resources continue to pour into Lake County from throughout NorCal. #MendocinoComplex #RanchFire pic.twitter.com/Wf1zgBfzdg

— Mike McGuire (@ilike_mike) July 30, 2018
As McGuire notes above, PG&E is saying they hope to have power restored by late evening. In the meantime, if you absolutely must travel south through Mendocino County we recommend you fill up the tank in Garberville.