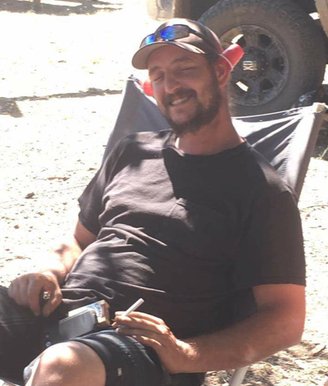 Daniel Jay Phelps was born on May 16, 1985 to Daniel Phelps and Tahnya Phelps Raymond. He lived most of his life in Humboldt and Trinity counties. Daniel was known as Dj to all his friends and family.

Dj grew up with two siblings, his older sister Katherine Rominger of Samoa and two younger brothers Brandon Phelps of Blue Lake and Jesse Phelps of Ruth Lake. He had so many cousins; Angela Timmerman, Mary Zimmer, Hattie Phelps and Melissa King all of Sacramento, Joy Morrow and Andrew Croddy of Redding. and Joey, Bryan, Aundrea and Jordan Stuckey of Eureka. Just to name a few. As a child he was fearless. He spent lots of time camping, attending those big, obnoxious family events for all the holidays and generally being an annoying little brother.

By the time Dj was 17 he had met the love of his life; Felishia was the shining light in his life and he knew from the beginning that she would be the one to build his own family with. When he found out that his first son, Kyle Jay, was on the way he went right to work on a fishing boat. He was determined to be able to provide for this new life that brought him so much joy. Kyle's greatest memories revolve around hunting, chopping wood for the fire, gardening and his dad teaching him to be a man.
Before too long his second son, Kody Ak, came along. His growing family was all that mattered to him. Kody's greatest memories are bonding over their many fishing trips.
Finally his princess, Iris Aroura Dawn, arrived and his family was complete. He never let a day go by without letting his wife and his children know that they meant the world to him and he would do anything to provide for them. Iris remembers her dad to be kind, loving and hard working.
Dj enjoyed laughing and spending time with friends. He loved fiercely and never let anyone feel like they didn't matter. He worked hard and was always there when he was needed. At times he even showed up before being asked to help with a project. When he knew there was a problem that he could fix he would jump on it; like the time he knew my children and I were freezing due to a lack of wood; He showed up the next weekend with a truck full of wood that lasted the whole winter. Later,(after clearing it with his wife) he let three children he barely knew stay with him awhile so that their mom could continue working.
When I inquired about his best friends, I was told there was simply too many to name them all. So to all of you, know that if he called you friend you were family.
Dj was carefree and enjoyed drinking a beer around a fire or playing pool. Dj had an amazing sense of humor and a goofy grin even at the oddest moments. He was simply a delight and will be missed more then he could ever have imagined. It is with a heavy heart that I say farewell to my dear friend, my cousin Dj.
Dj left this world on May 11, 2018 He was preceded in death by his father Daniel P. Phelps A celebration of Life will be held July 7, 2018 at the Mad River Community Center.
###
The obituary above was submitted on behalf of Dj's family. The Lost Coast Outpost runs obituaries of Humboldt County residents at no charge. See guidelines here.