PREVIOUSLY

###
A Eureka man charged with child molestation and possession of child pornography was jailed today for the third time in five weeks.

Andrew Jarrod Cunningham, 39, was handcuffed in court and led back to jail after visiting Judge Stephen Mock raised his bail from $1.5 million to $2.5 million.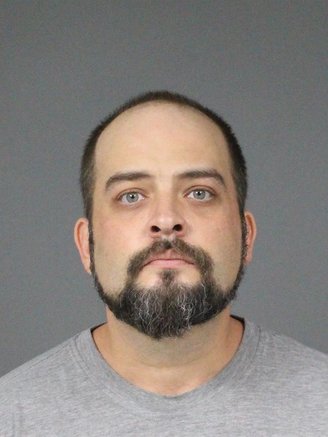 Cunningham was arrested April 24 on the molestation charges and posted bail of $1 million, then re-arrested May 24 after sheriff's investigators found a whopping 48,000 child pornography images on his computer. He posted bail of $500,000 and was released again.
Today's arrest came after an intense hearing with arguments from Deputy District Attorney Carolyn Schaffer, who wanted Cunningham held either on no bail or on bail of a little more than $4 million; and defense attorney Michael Robinson arguing Cunningham has no criminal record and "$1.5 million is plenty for this offense."
One side of the courtroom was packed with people supporting the four alleged victims, who were young girls when Cunningham reportedly molested them. Two of the victims were among the crowd, and a third sent a letter to the judge.
Mock said that by law, he could only consider whether Cunningham is likely to seriously harm others if released. He allowed people in the audience to address him on that issue alone, not to talk about suffering he may have caused in the past. He said the victims may be suffering emotional trauma, but that is not included under "great bodily harm."
The father of three of the girls came forward to say Cunningham will indeed hurt others if released.
"Collecting images of children, that is damaging to children," the father said. He said that if free, Cunningham would continue to collect child porn and pass it along to others, causing more harm to the children depicted in the photos.
It was revealed today that Cunningham is now living in his mother's house near Sequoia Park, where many children come to play.
"He can open that door and walk into that park," the father said.
The father said he has proof that Cunningham has hundreds of thousands of dollars in Bitcoin and can travel freely.
"As soon as he's released there's nothing stopping him," he said. "He just goes wherever the hell he wants to go."
Defense attorney Robinson, on the other hand, said Cunningham is "hiding at home, terrified."
Robinson said both he and Cunningham have been threatened, cursed at and called names.
Before the hearing started, a bailiff warned the girls' father to behave or be thrown out of the courtroom.
"He molested my daughters," the father told the bailiff. "He's a piece of shit."
He eventually was kicked out of court after hollering about Cunningham that "His mother's business is for sale! His mother's business is for sale!"
He was apparently referring to how Cunningham got enough money to post a total of $1.5 million bail. He would have had to come up with 8 percent of that amount in cash or collateral. Assuming he's bailed out again today, he would need to produce $80,000 in cash or collateral.
Prosecutor Schaffer told the judge that the girls involved were molested when spending the night at Cunningham's home. The two families were close friends at the time. His mode of operation, she said, was to wait until the kids were asleep in the living room, then "creep in" and lie down next to them. He would allegedly reach inside their underwear and rub their genitals.
Cunningham warned one of the girls, Schaffer said, that if she told anyone what he'd done, "I'll hurt you and anyone else that you tell."
Schaffer said her office also suspects there are other victims who haven't come forward.
One of the charges against Cunningham is continuous sexual abuse of a child, an allegation that can mean life in prison. Schaffer argued that because there are four victims and possible multiple life sentences, his bail should be set at $1 million for each victim, plus $35,000 on the child porn charges.
But Robinson said the last alleged molestation occurred more than four years ago, and there has been no contact since.
"This is old news come to light," he said, noting there's no evidence of more recent crimes.
He said Cunningham will abide by the restraining orders signed today, and he has no passport and isn't going anywhere.
"The family has leveraged everything (for bail)," Robinson said. "For him to abscond would ruin everybody."
Although no charges have been filed because too much time has passed, Schaffer said it's also believed Cunningham physically abused his own sons. She said witnesses saw Cunningham throw them against walls and hurl objects at them. Once, he reportedly hit one of the boys in the face and gave him a bloody nose. At his home, Schaffer said, there was evidence Cunningham had punched holes in the walls.
But Robinson said Cunningham's children were interviewed and denied any abuse, instead saying "What the hell is everybody talking about?"
Cunningham is expected back in court July 11, when a date may be set for his preliminary hearing.
Robinson promised the charges will be "hotly contested."