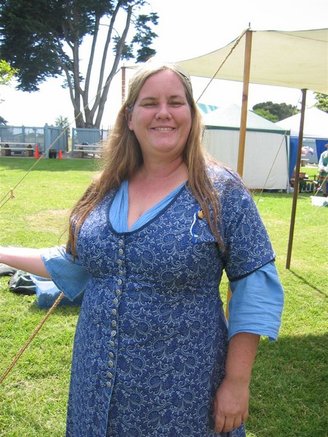 Cynthia Joan Baker aka Baroness Cynthia de Wickersham
Born 8/23/1959, died 6/3/2018
Cynthia was born on August 23, 1959 and raised in California. She passed away at Windsor Healthcare Center in Oakland on June 3, 2018. For the last two years of her life she called Eureka home. For 12 years prior she resided in Orange and before that in San Diego.
She had a rough childhood and escaped into arts and crafts and the joys of medieval recreation. She retired after 20 years working for the County of San Diego as a Supervisor for Health and Human Services. Helping people was always a strong suit. She mentored many people over the years in a variety of settings. She started a lace making guild called Arachne's Web and enjoyed making glass Viking beads. She enjoyed camping medieval style with friends in the Society for Creative Anachronism and had won many awards and titles for arts and service, including the title "Baroness."
Never married, she had one long term relationship of 12 years and no children but she loved cats and dogs. She immensely enjoyed travel and had been thrilled when she went to England and to Hawaii.
At one camping event in particular she suddenly became very popular when people realized she could make beads in the shape of a woman's bust or a man's member. She cackled with joy as she churned those beads out at that event and the waitlist was long to get one.
She was a survivor, having come back from three near death experiences. She wanted to live on her terms forever because there was always more to learn, more to experience, and more people to help.
Her parents preceded her in death. She was estranged from the rest of her family before they passed and the only known remaining relative was a cousin named Bob Smith, location unknown and not returning any phone calls or text messages to last known phone number. (Any unknown next of kin should contact Christine Chappell in Eureka with any questions).
There will be an abbreviated Viking style memorial held in October at Great Western War in Central California (Date, Time, Location TBD).
###
The obituary above was submitted on behalf of Cynthia Baker's loved ones. The Lost Coast Outpost runs obituaries of Humboldt County residents at no charge. See guidelines here.