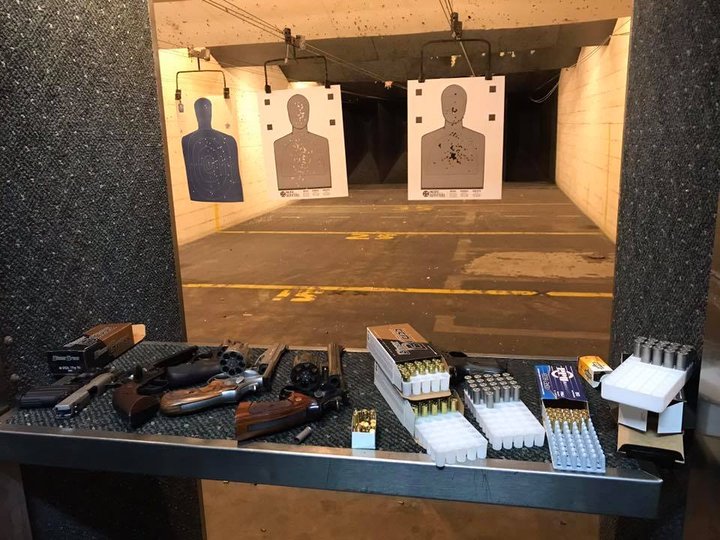 On Tuesday evening more than 40 local community members gathered in the downstairs conference room of Eureka's Wharfinger Building, and for nearly two hours, as the setting sun bounced light off of Humboldt Bay, they talked about guns.

Arranged in a a large circle of metal-frame chairs, the participants in this community forum ranged in age from teenagers to retirees, and they held widely divergent views on gun ownership, gun laws and what should be done about the epidemic of gun violence gripping the United States.
The event was the brainchild of Eureka resident and writer Jim Hight, who told participants at the start of the meeting that he'd been "yearning for a constructive, respectful dialog" on this divisive topic.
"Usually we don't come together to talk about it; we just talk to other people who agree with us," Hight said.
He co-facilitated the group conversation with Jessica Pettitt, a diversity trainer and mediator who also lives in Eureka. Everyone agreed to be respectful, and in the name of fostering an open conversation the few reporters in attendance agreed to keep participants anonymous, unless permission was specifically granted. (The one elected official there, Arcata City Councilmember Paul Pitino, was happy to oblige.)
Each person was given two minutes to express their opinions, after which people got together in small groups to converse. At the end of the evening people reflected on what they'd learned and gave ideas about next steps.
What follows are some selected quotes from the evening.

I think the bottom line for me is that there's always going to be evil people in the world, and they're not going to follow gun laws. The people who are going to be affected by gun laws are law-abiding citizens. So, to me, it seems like it's more cumbersome to the law-abiding citizens because the criminals are gonna get the guns. They're gonna get 'em and they're gonna be evil with 'em.

—a "very-pro-Second Amendment" woman, about 60
# # #
It's interesting to me as a student of social change work that California used to have very liberal gun laws, and the only reason gun control became such a hot topic is because the Black Panthers exercised their First Amendment rights in Sacramento at the Capitol and it freaked out, frankly, Governor Reagan and others of a certain constituency.

—a middle-aged man who said he grew up around guns in rural Texas
# # #
I'm an Arcata High junior. I stage managed and organized the March for Our Lives Humboldt with a group of students at my school. … I first got into this issue a few years ago when I did an article for my school newspaper on gun use … and found an alarming amount of students in my school have access to firearms in their homes, which was shocking to me and a little bit scary because some people at my school who I wouldn't feel safe with them having guns had very unlimited access. I resonate with the Parkland students. They feel like my friends. I just like hearing them talk, and I think the young perspective is super-important. …
# # #
Back in high school half the kids in our future farmers ag class had guns in the back window. Nobody ever waived a gun at anybody. They used 'em to go huntin'. There's definitely something wrong. Back then we didn't have violent video games where you get extra points for shooting somebody that's on the ground and wounded. I mean, society is just twisting it around to where they promote violence. That has to be addressed somewhere along the line.
# # #
We've always been a nation of riflemen, since our inception. But we've become cowed because we don't know anymore. We have lost the ability and it's been replaced by fear.

—a certified gun instructor and range safety officer
# # #
I am a lifetime member of the NRA because my dad gave that to me when I was a teenager. It's very hard for me to give up something like that. However, every time I have communication with the NRA … I talk to them about, 'Please have a conversation. Stop saying that you have this hard and fast rule. Talk to people and find out how we can solve the problems and make it safer in our country for everyone.'

—an older woman who said she was taught how to shoot at age five
# # #
I work in the firearms industry and I'm daily surrounded by people that agree with my opinion. So I decided to come here tonight so I might learn some other perspectives on the issue. I am pro-Second Amendment; I'm also pro-common-sense gun laws. I think it's too easy to obtain firearms currently in the United States as a whole. … I'm also anti-useless bureaucracy, and I find that a lot of the laws proposed so far don't do anything to actually right any of the issues.
# # #
We teach sex ed in schools, Why don't we teach gun safety? The same time we teach sex ed, teach gun safety. The next year we should offer shooting sports in schools so kids can learn how to shoot the guns, not just the safety of the guns.
# # #
One of my principles is that if you've got 100 people and they're all doing something and only one of them is causing trouble while they're doing it, and then you tell the other 99 that they can't do it anymore, you're going to have 99 pissed off people. And that applies to marijuana; it applies to a lot of human activities. But I also think it applies to guns. People lose their respect for government when laws like that are made.
# # #
I do have a concealed weapons permit and a Taurus [firearm]. But in truth I really actually depend more on the Lord to protect me — though he could possibly use my husband and his gun to do that.
# # #
The problem with gun-control talk and argument, laced with a lot of naïveté and ignorance about firearms and downright hate, is that it distracts us from asking the important questions as to how we have evolved as a society that creates these situations and these monsters that do the things they do.
# # #
[Guns] scare me. I don't have guns. I'm pretty ignorant, so I'm here to learn, mostly. But I don't really trust the idea that guns are gonna make someone safe because all of the domestic violence I looked at where people were killed, it's usually women and a lot of them were [killed] by guns.

—a woman who works with victims of domestic violence
# # #
I'm an American Indian who grew up with guns for sustenance, to put food on the table. We didn't have store-bought meat until after I was in the third grade. … My perspective is guns are used to put food on the table. Having a respect for killing of the animals. And when I hear that they have semi-automatics that are used for hunting I often wonder if that's fair, or if the skill level of shooting the animal is weighed more towards that person.
# # #
I'm 14, so I'm not super-knowledgeable about gun laws anywhere, but I know what feels safe to me. And having guns in my school does not feel safe to me, and having guns available to minors who don't know how to handle them doesn't feel safe to me either.
# # #
I did not grow up with guns. My only experiences came around fears of a loved one committing suicide. On two different occasions there were serious concerns that a loved one, if there was a weapon in the house they would have killed themselves. We are in a current epidemic of suicide. … [Guns] are so easy and convenient if they're right there that … with our epidemics of mental illness and substance abuse it makes everything more dangerous
# # #
I don't see how we could differentiate our community between good people and bad people — so good people can have the guns and the bad people can't — and try to determine who's who in advance of anybody ever doing anything. … The bad guy's some 12-year-old kid that's going to school right now and nobody knows, but next week he could be a monster.
# # #
I don't own guns; I never will; and I'll never allow them in my house. But having listened tonight it's really brought up a lot of issues that I hadn't thought very clearly about. … It has certainly made me think and not be so quick to judge.