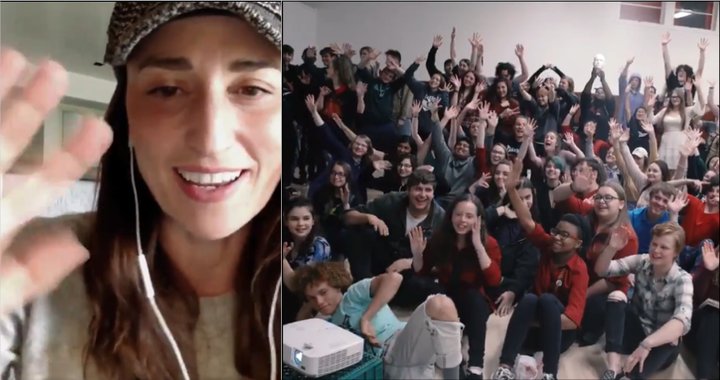 Gah! When is she going to stop being the best?

Fresh off her her George Costanza-acclaimed turn hosting the 2018 Tony Awards — which included a Humboldt County name drop, thank you very much — the North Coast's best famous person Sara Bareilles took to the social medias today to post up a little video chronicling her recent adorable interaction with Eureka High School students. Watch below! Do it, do it, do it!
Why the face-to-face? As mentioned in the clip, Bareilles — an EHS alum, if you were somehow unaware — got wind that her alma mater's music department needed a little "TLC." So she worked with Shure, Yamaha, Eastman Strings and Mantova's Two Street Music to secure some brand new instruments and microphones for the school so that the students can "thrive and shine the way they're meant to." D'aww.
"I had such an amazing experience getting to utilize all the resources of the music department growing up going to Eureka High and I hope that you guys get to enjoy what we sent," Bareilles said during her Skype session with EHS students. "I just want you to know that I am just so in love with Eureka High and all the wonderful programming that's there. Anyway I can support you guys and encourage you to keep the arts alive — it's so important for the health of our world."
Hooray x10! Video now.
The #EurekaHighSchool music program holds a near and dear place in my heart. Thank you to my wonderful partners @shure @yamahaentertain & @eastmanstrings for bringing some much needed love into this school. Please support your local music programs! pic.twitter.com/AGz3NBGyWC

— Sara Bareilles (@SaraBareilles) June 14, 2018
# # #
UNRELATED: WHOSE CRAB CAKES ARE BETTER: Guy Fieri's or 2 Chainz's