Answer (thus far): We don't know!

What we do know is that at 7:27 a.m. this morning the Eureka Police Department somehow mustered up enough sense of adventure to take seriously a report that a dead stingray had been discovered in the middle of the road near the intersection of I and Buhne streets. Hear the initial call as it came over the scanner now:
(AUDIO) Dead Stingray in the Middle of Eureka
Behold, below, what an officer found when they arrived a few minutes later: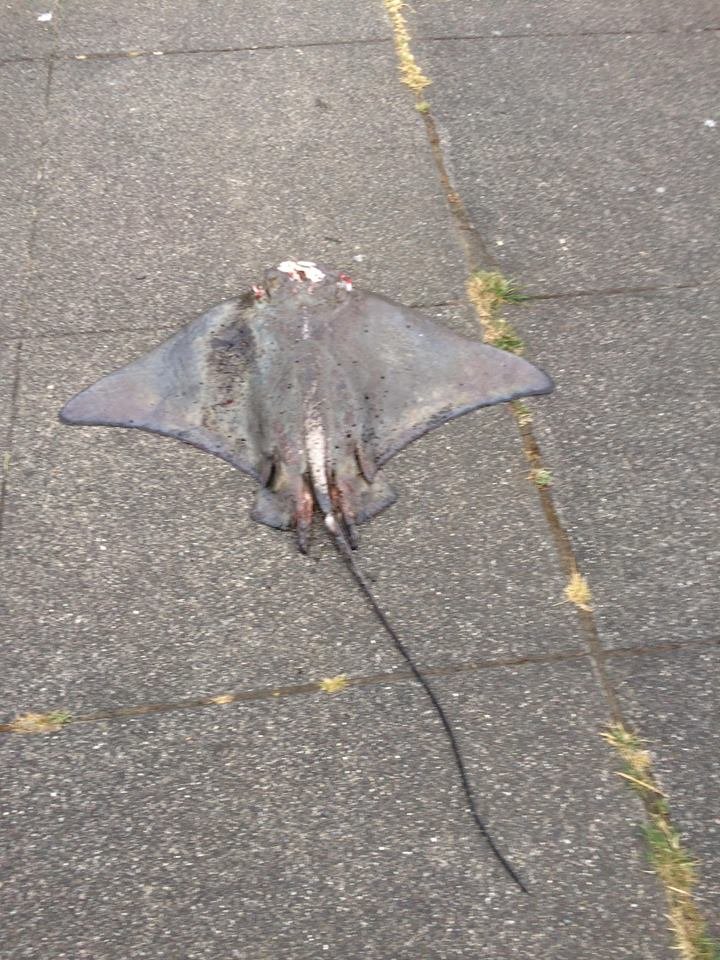 Brittany Powell, EPD public information officer, confirms to LoCO that the first officer on scene assessed the situation and opted to call for backup. A community services officer arrived soon after and together the pair transported the mysterious, misplaced stingray to a local seafood plant where, we are told, it was properly disposed of.
Both the stingray's origin and cause of death are unknown at this time, Powell said. It's also difficult to discern whether the stingray was run over by a passing motorist or not (they tend to already be flat). Please weigh in with your stingray theories, fact-based, conspiratorial or otherwise, in the comments below.
LoCO readers will recall that this is the second instance of marine life finding its way onto Eureka thoroughfares in the last year. Of course, we must not forget what EPD internally refers to as The Great Fifth Street Fish Spill.
Who knows what creatures of the deep we all might drive over tomorrow! Eyes forward, Eureka.
Location of stingray: Note the lack of nearby bodies of water. Stingrays are known to prefer living in water.