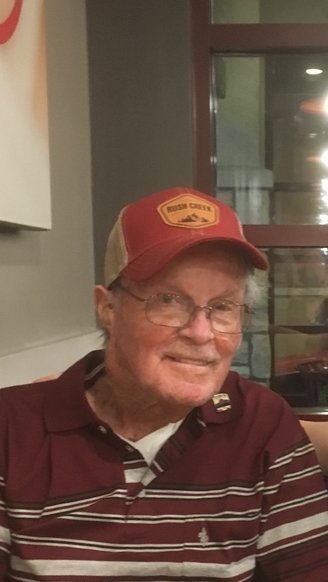 Norm Fontaine was a beloved husband and father and a devoted servant of the Lord from an early age. He was born August 22, 1924 in Pawtucket, Rhode Island and entered the seminary at the age of fourteen. He was ordained into the Order of the Blessed Sacrament on September 22, 1951 and was sent to the Gregorian University in Rome for three years of post-graduate study. Over the years, he learned five languages and earned three master's degrees as well as a licentiate degree from Rome. Returning to the U.S., he served as a pastor and seminary professor in New York, Ohio, Maine, and Wisconsin. He was a humble, happy priest, and was much loved by all the people he served over the years.

In 1979, while serving in the Green Bay diocese of Wisconsin, he met the woman who would become the love of his life. After a deep spiritual friendship of nine years, he felt God was calling him into marriage, and he married Beverly Doerner in Milwaukee on July 16, 1988 at the age of sixty-three. He became the stepfather of her son Edward, who was fourteen at the time and chose to have his last name legally changed to Norm's name, Fontaine. In August of 1989, Norm and Beverly had their first daughter, Kristin Lauren, and a year later they had a second child, Angel, who died as a result of miscarriage. In April of 1993, they had their third daughter, Amy Clare; at this time, Norm was sixty-nine years old, and Beverly was forty-two. He was a very loving and devoted stay-at-home dad while Beverly pursued her career in social work.
Norm was courageous and adventurous. In 1994, the family felt called by God to travel across the country, so they moved to Victorville, California. By this time, they knew their oldest daughter Kristin had signs of autism, and southern California was the best place in the country for treatment and educational options for Kristin. They lived there for twelve years, and Norm supported the family and watched over the children and Beverly while she worked full-time and finished her master's degree and doctorate. Norm's love and devotion to God and to his family was an inspiration to everyone who met him throughout his life.
In 2006, Norm and Beverly once again felt called to start a new life in a new place, so they moved with their daughters to McKinleyville, California. Norm often said this was the most beautiful place on Earth, and he loved the redwoods and the ocean, especially Moonstone Beach and Trinidad Beach. He loved to travel, and the family went on many camping trips from California to Milwaukee, and in later years visited Yellowstone National Park. In April 2018, just weeks before Norm's death, he and Beverly and Amy took a trip to Yosemite National Park, a place he had always wanted to see. He felt the Earth was "our common Mother" and saw God's Presence in all the beauty around him. He was active, curious, and healthy all his life, reading The New York Times every week and staying on top of all the world news. He supported in donations and in prayers wide-ranging charities and causes such as Doctors Without Borders, Defenders of Wildlife, the ACLU, and the Medical Mission Sisters who serve the poor in Africa.

In April 2018, Norm was diagnosed with lymphoma. He was ninety-three, but with his courageous spirit he was ready to fight it and decided to go into treatment. He had twelve radiation treatments before he had a stroke over Memorial Day weekend. On Tuesday, May 29, he began in-home hospice care, wanting to die peacefully at home with his loved ones around him. All his life, he had a deep love for the Blessed
Sacrament, and he was Anointed and received Communion every day during the last days of his life. He was serene and "ready to go Home" and died on June 7 with Beverly and Amy at his side.

Norm is survived by his wife Beverly and his loving children Ed (Milwaukee), Kristy (Crescent City), and Amy, who moved back to McKinleyville temporarily to be with her parents. He is also survived by his dear mother-in-law La Vonne (Olson) Doerner and dear sister-in-law Barbara (Becky) Doerner in Milwaukee. He was the last surviving member of his birth family, with his parents Ida and Leo and his brothers Roger (Pete), Robert, Rene, Gerald, and sisters Yvette and Lucille all preceding him in death. He is survived by Robert's wife Lucille Fontaine and Rene's wife Marilyn Ippolito and many much-loved nieces and nephews in Milwaukee and on the East Coast. His gentle, wise, and loving spirit left its mark on all who knew him.

On July 16, the occasion of his thirtieth wedding anniversary, Norm's life will be celebrated in a funeral Mass at St. Mary's Catholic Church in Arcata at 11:00 am and later that same day in a memorial service at the Hospice of Humboldt Chapel in the Redwoods in Eureka. In lieu of flowers, donations can be sent to any of the above-mentioned charities that he himself loved and supported over the years.
###
The obituary above was submitted on behalf of Norm Fontaine's family. The Lost Coast Outpost runs obituaries of Humboldt County residents at no charge. See guidelines here.