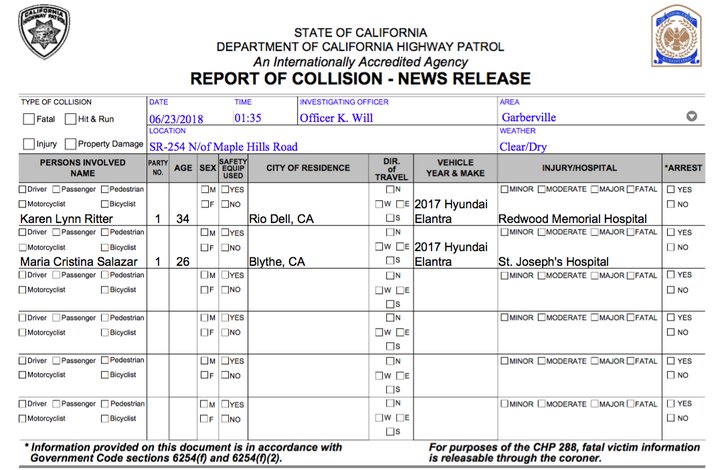 California Highway Patrol press release:
On June 23, 2018, at approximately 0135 hours, a 2017 Hyundai Elantra, driven by 34 year old Karen Lynn Ritter of Rio Dell, CA, was traveling south on SR-254 north of Maple Hills Road. For reasons still under investigation, the Hyundai crossed into the northbound lane, left the roadway and collided with a dirt embankment. After colliding with the embankment, the Hyundai overturned several times and caused the driver to become ejected. The Hyundai came to rest within the northbound lane of SR-254.

The driver of the Hyundai sustained major injuries as a result of the collision and was not using a seatbelt at the time of the collision.The passenger of the Hyundai sustained moderate injuries as a result of the collision.

The California Highway Patrol, Miranda Volunteer Fire Department, Weott Cal-Fire, Redway Volunteer Fire Department and City Ambulance responded to the collision scene. This collision remains under investigation by the California Highway Patrol Garberville Area.

Drug and alcohol impairment does appear to be a factor in this collision.