If you've endured much time in Eureka, you've probably sauntered through the intersection of Fourth and F Streets countless times. For a while you probably noticed two large, vacant buildings looming over these busy streets. Well, as of Tuesday, both buildings are officially occupied by businesses and new life has been given to this gateway to Old Town.
On Tuesday morning Coast Central Credit Union put out the balloons, coffee and muffins and opened the doors to 402 F Street, which had been vacant since Tri Counties Bank moved in early 2016. Coast Central has been working to take it over since May 2017.
"It's been over a year in the making," Colleen Toste — Coast Central Vice President of Marketing and Communications — told the Outpost.
Toste said the new location was a direct response to requests from the members, who were not big fans of the Fourth and J street location, across from the courthouse.
"It just was not a great location as far as safety," Toste said. "Our members told us loud and clear."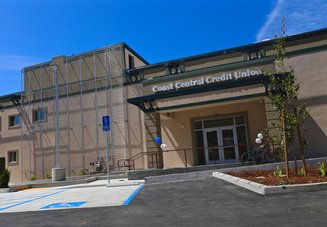 Toste told the Outpost that they're thrilled about the new building, which is roughly 35,000 square feet. Coast Central has enough extra space for a "living wall"—a grid style wall that will be covered in plants —on the back of the building. They'll also be leasing out a portion of the building to another business, though Toste has no idea yet what business it will be.
Having the right aesthetic for old town was also important to Coast Central, Toste said. The architect made sure to preserve some of the original building while updating it. Toste told the Outpost that the workers found a tunnel under the building during construction and got very excited about it. But they determined the tunnel was used for servicing the old ATM.
Just across Fourth Street is another old structure — 334 F Street, known to many as the Bank of America building. Humboldt Patient Resource Center opened The Connection there in April 2018. HPRC Director Mariellen Jurkovich told the Outpost that Bank of America moved out about six years ago and the front part of the building had been vacant for roughly 16 years.
HPRC really had their work cut out for them when they moved in. Jurkovich said the building didn't have sheetrock or flooring and there were electrical and plumbing issues. But after a lot of labor, the HPRC opened a space dedicated to workshops and classes for the community.
"We have loved being in Eureka," Jurkovich said. "I love everything about it."
Jurkovich does acknowledge that the area has some problems with people with mental health and addiction issues. Jurkovich says that, rather than have a negative attitude, HPRC plans to help by doing things like hosting workshops to help with addiction.
"We have a lot of people in our population who are suffering and a lot of them aren't even on the streets," Jurkovich said.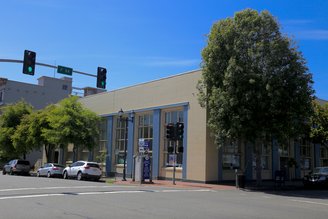 Jurkovich told the Outpost that HPRC plans to open a dispensary in the location, which is pending approval from the City of Eureka. Jurkovich she's excited for the dispensary. But she is truly excited by community, health and wellness space. She said the cannabis side of HPRC pays for The Connection and helps keep classes and workshops accessible and free.
With two previously empty spaces now occupied by local business, the busy intersection of Fourth and F might make help give Eureka the face lift that it needs. Eureka Public Works Director Brian Gerving said that these improvements can affect how both tourists and locals view our humble city.
"It's more of a subjective or subconscious thing. You see occupied buildings and improvements and it makes you think more positively about your environment," Gerving said. "To see that happen on really major intersection and the entrance to Old Town and the F Street Arts corridor is a really positive thing."