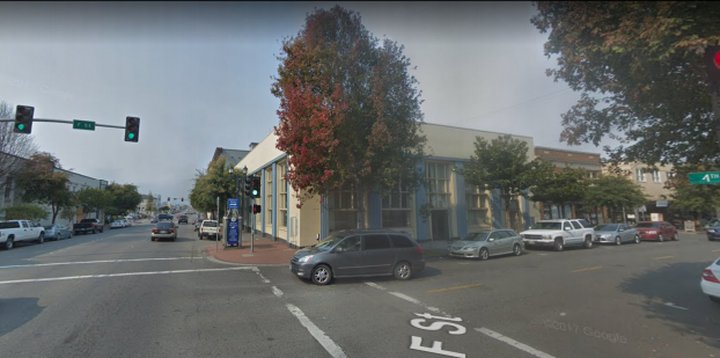 Eureka could soon put two new retail cannabis facilities in the pipeline, both of them within a few blocks of each other at high-profile locations on Fourth Street.
One of the two new shops would be run by Arcata's Humboldt Patient Resource Center, and would occupy the long-vacant Bank of America building at the corner of Fourth and F streets.
The other would be down the road, at the corner of Fourth and C, and would be operated by MOCA Humboldt — a company helmed by Arcata resident Matthew Engel, according to paperwork filed with the California Secretary of State.
At its regular meeting this Tuesday, the Eureka City Council — following its regular procedure for new retail cannabis businesses — will decide whether to "invite" the two proposed stores to formally submit their applications to the city. The city hard-caps the number of new weed stores at two every six months.
According to a staff report on the matter, the two businesses chosen this cycle were picked from among a pool of 20 potential applicants by a "Cannabis Retail Facilities Selection Committee" that was convened by city manager. The report says:
These two proposals scored significantly higher than the other 18 proposals and were unanimously identified by the panel as having the best approach to establishing and operating cannabis retail businesses, the most professional business plans, most well thought-out operations plans, and excellent qualifications. As a bonus, both of the proposed sites are chronically-vacant buildings in need of maintenance and repair. Additionally, both of these applicants have also been leasing their prospective locations for over a year in anticipation of this opportunity, demonstrating their commitment to their projects.
If the project at the old B of A building moves forward, it would be the second weed store on that particular block of F Street. EcoCann, which opened its doors to recreational sales on Jan. 1, is just a few doors down, on the same side of the street.
The Eureka City Council meets at 6 p.m. on Tuesday, March 6, in the council chambers at Eureka City Hall — 531 K Street, Eureka. Full agenda here.
###
DOCUMENT: