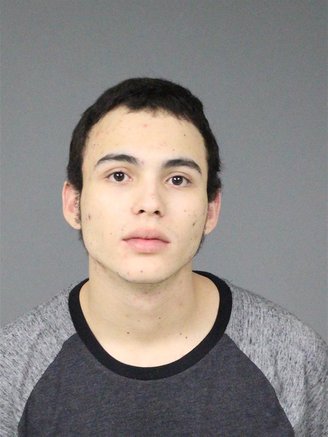 Last night, at about 8:30 p.m., the Eureka Police Department was called to deal with a "suspicious circumstance" near the 1600 block of Trinity Street, near the intersection of Buhne and O.
A resident at that location had called the police to say that there was an unknown man in the caller's yard.
Police officers responded to the scene and arrested 19-year-old Christian David Carmona Quinonez. They arrested him a few minutes later, and booked him into jail.
Carmona, it turns out, is one of five people with warrants out for their arrest in connection with a robbery-turned-murder in the town of Lauderhill, Florida last February.
A story in south Florida's Sun-Sentinel a week and a half ago said that three of the people believed to be involved in the crime — essentially a home invasion robbery that took place after the victim invited three women into his condo — were last spotted in Tehama County.
Though the crime took place on February 11, the suspects in the case were not identified until May 23.
Sheriff's Office Public Information Officer Samantha Kargas confirmed to the Outpost today that Carmona is being held on a foreign warrant out of Broward County, and that his birthday is the same as was listed in the Sun-Sentinel report linked above.
Below: A press conference held by the Lauderhill Police Department on the case on May 23:
Lauderhill Police Press Conference on the Emerald Sr. Homicide https://t.co/8E5fHWg3zh

— LauderhillPDPIO (@LPDPIO) May 23, 2018