PREVIOUSLY

###
A Eureka woman on a mission to save humanity from aliens has been found guilty of attempted murder for a brutal attack on a Walgreens cashier who was repeatedly struck on the head with a hammer.
After a short court trial today, Judge Christopher Wilson found Errica Lee Stevens guilty of attempted murder and assault with a deadly weapon for the October 2016 bludgeoning of Walgreens employee Summer Huff. Stevens, 40, has pleaded not guilty and not guilty by reason of insanity, with the sanity phase of her trial set for July 9.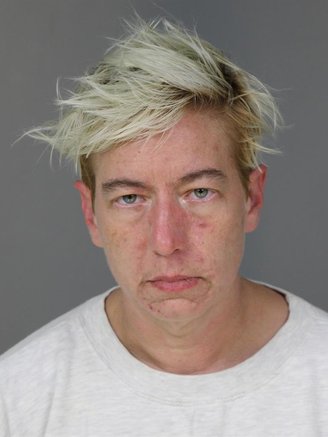 In closing arguments today, Deputy District Attorney Roger Rees told the judge Stevens intended to murder Huff, as evidenced by what she told the arresting officer while she sat in the back of his patrol car.
"I don't know if I killed somebody but I'm not sorry," Rees quoted Stevens as saying. Also, "I tried to kill her; I needed to kill her," and "It was my intent to kill that woman to save the human race."
Stevens believed Huff was not entirely human and said God had instructed her to perform the killing to rescue humanity from destruction.
Stevens did not appear to react to the verdict, instead turning around to scan the audience and smile at this reporter. She was wearing a red jumpsuit, meaning she is segregated from the jail's general population. She also was handcuffed until the judge allowed one cuff removed so she could take notes.
According to testimony this morning, Stevens was asked to leave the store at Harris and Harrison on Oct. 29, 2016, after causing an unspecified commotion. But she returned within five minutes and headed first to the "seasonal aisle" where Halloween items were on display.
Walgreens employee Chris Robinson testified Stevens picked up a plastic object that appeared to be a statue or "a candleholder kind of thing." She looked at it, put it down and proceeded to the hardware section. Robinson followed her.
"She took a hammer off the shelf," Robinson said. "She took off the packaging and threw it on the floor." When he reprimanded her, Stevens didn't respond and began "walking very swiftly" toward the checkout stands.
As Robinson watched, Stevens took a two-handed grip on the hammer, raised her hands over her head, then brought the hammer down on the back of Huff's head. Huff was screaming, he said.
"She swung the hammer at least three times," Robinson said.
"I ran up and I grabbed her around her shoulders," he recalled. "I kind of drug her back … she just kind of went limp and collapsed."
He fell to the ground with her, and they remained there until police arrived.
Robinson said Stevens was was wearing a pastel-colored garment that looked like a nightgown.
Another Walgreens employee, beauty consultant Kelly Logan, said Stevens came into the store once or twice a week.
Logan described the attack on Huff as "horrific," saying she thought Stevens had struck her with the hammer five times or more. Stevens was saying something about removing aliens, Logan said.
When Huff raised her hands to protect her head, Stevens began hitting her hands with the hammer. Logan said Stevens was jumping up and down as she wielded the weapon.
Afterward, Logan took Huff into the store office and placed a package of frozen vegetables on her head. She was taken to the hospital, treated for her injuries and released the same day.
During his closing argument, defense attorney Neal Sanders said Stevens was mentally ill at the time and had an unreasonable but "honest belief" that Huff was an imminent threat to the human race. Sanders said an appropriate verdict would be attempted voluntary manslaughter.
But Wilson said that if Stevens was hallucinating, "hallucination alone is not a basis for imperfect self-defense."
"I think this is a real simple case," the judge said, noting that Stevens expressed the intent to kill and acted on it.
After the verdict, Wilson ordered that Stevens be held on no bail. She was arrested the day of the attack but was sent to Napa State Hospital for several months after being ruled mentally incompetent to stand trial. The state then said she'd been restored to competence and sent her back to Humboldt.
Stevens could have been tried by a jury but agreed to a court trial instead. Wilson also will preside over the trial on whether she was legally insane at the time of the crime.
Summer Huff has since moved out of the area and was not called to testify.