UPDATE, 7:11 a.m.:
— Hank Sims
###
UPDATE, 6:21 a.m.: Election Night Final Report
With 20,045 votes counted, and at least a couple thousand still outstanding, the Fifth District race is too close to call. Steve Madrone has pulled ahead, but we won't know the final outcome for weeks.
Election Night Final Report
Fourth District Supervisor
BASS
BURKHART
LYONS
Fifth District Supervisor
SUNDBERG
MADRONE
Auditor-Controller
PAZ DOMINGUEZ
LORIG
Bass and Paz Dominguez win easily.
— Hank Sims
###
UPDATE, 12:15 a.m.: Sundberg Moves Up
Third report out! There are now 15,478 votes counted — around 3,000 more than the last report — and a bunch of them (over a third) are from the Fifth District, where incumbent Ryan Sundberg has widened his lead significantly.
For reference: The final vote tally in June 2014 was 28,506.

Third Election Report
Fourth District Supervisor
BASS
57.27%
BURKHART
21.21%
LYONS
21.18%
Fifth District Supervisor
SUNDBERG
52.66%
MADRONE
47.19%
Auditor-Controller
PAZ DOMINGUEZ
51.91%
LORIG
47.69%
— Hank Sims
###
UPDATE, 10:52 p.m.: Second Election Night Report!
With 12,412 votes counted — about 2,500 more than the first report — here's where things stand:
Second Election Report
Fourth District Supervisor
BASS
58.31%
BURKHART
20.59%
LYONS
20.75%
Fifth District Supervisor
SUNDBERG
51.54%
MADRONE
48.33%
Auditor-Controller
PAZ DOMINGUEZ
50.75%
LORIG
48.81%
Not a whole hell of a lot of news, in other words, and no new votes counted at all in the tight Fifth District. But Bass's numbers have fallen down and her competitors have climbed. Still a long way to go, though.
Gonna be a long night.
— Hank Sims
###
UPDATE, 10:03 p.m.: Madrone 'Feeling Pretty Good'
The Outpost just reached Fifth District Supervisor candidate Steve Madrone at his daughter's house in Fieldbrook, where he said around 40 people, including his extended family, are gathered to wait for the next round of results.
"I'm feeling pretty good at this point," he said. "I think we're sitting pretty. I think we've run a really good campaign."
— Hank Sims
###
UPDATE, 9:24 p.m.: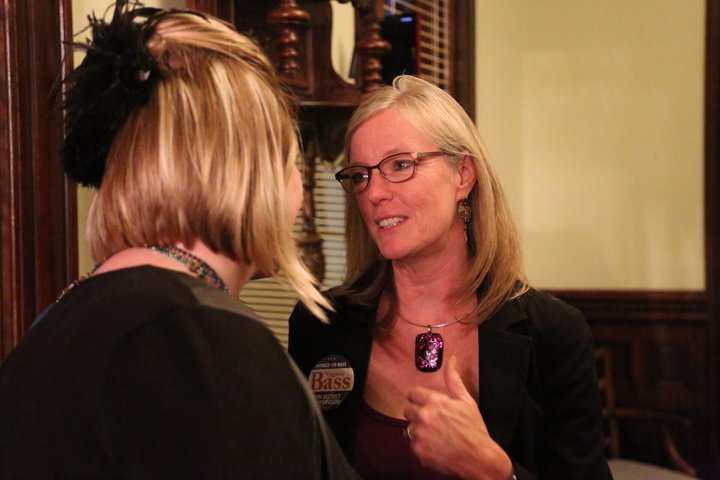 Up the street at Virginia Bass' party in the Pink Lady, across from the Carson Mansion, the candidate and her supporters are looking favorably upon these first numbers. The candidate said that she is "cautiously optimistic."
"It's great to have this level of support," she told the Outpost, noting that her junior high algebra teacher is in attendance tonight, along with people who didn't support her in previous elections.
Still, she said that there are a lot of votes still out there, remaining to be counted.
Bass had some words of encouragement for her fellow incumbent on the Board, Ryan Sundberg, who is currently neck-and-neck with challenger Steve Madrone.
"I really enjoy working with Ryan," she said. "It sounds very tight. I do hope he prevails." She predicted it would be weeks before a winner is called in that race.
— Hank Sims
###
UPDATE, 9:01 p.m.: Burkhart, Lyons React to Their Numbers
The numbers were "probably about what I thought they would be," Dani Burkhart told the Outpost's Ryan Burns shortly after the first results came in. She said that she still hopes that Bass finishes under 50 percent. "If we don't, four years is not that long to wait to run again."
What she really wanted to do, she said, is move the conversation forward. And she said that she's "thrilled" for Karen Paz Dominguez: "That's a win for the county," she said.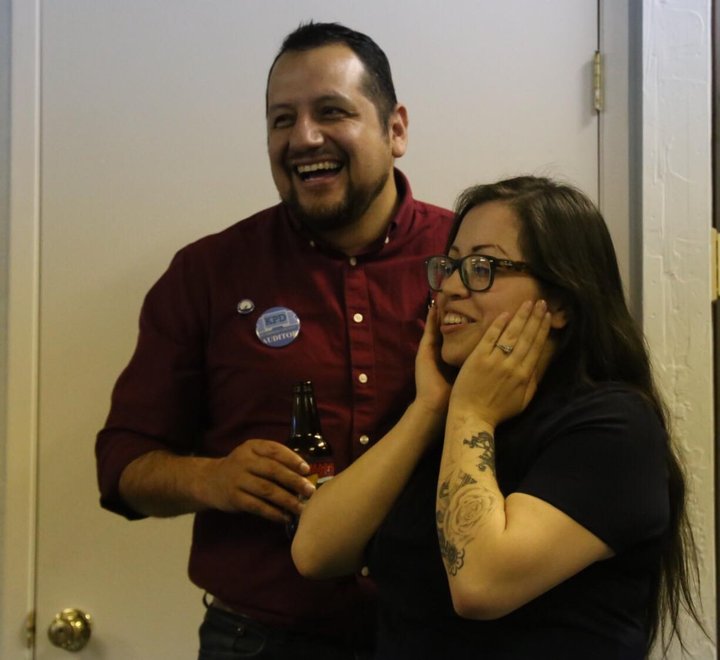 Lyons, down the street, echoed Burkhart's hopes that Bass could still be kept underneath 50 percent. Four years ago, she said, Virginia Bass beat challenger Chris Kerrigan 60-40 in the first report, then Kerrigan beat her 60-40 the rest of the way.
(NOTE: Bass still won.)
Would Lyons ever consider running for office again? When our reporter asked her this question, she raised an eyebrow. "Maybe."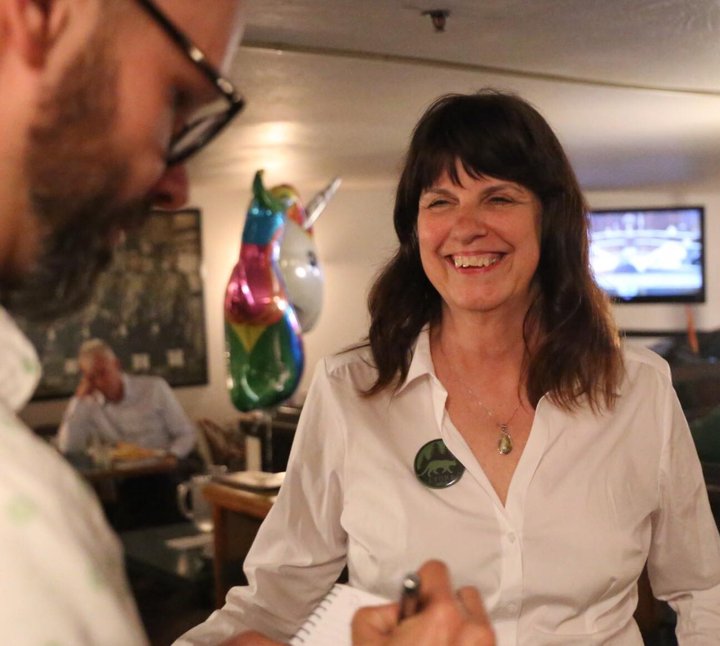 — Hank Sims
###
UPDATE, 8:41 p.m.: Who is Winning, and Who is Losing?
Keeping in mind that the first wave of votes always skews to the right, here are the people who have to feel pretty good about where they're sitting right now
Virginia Bass
Karen Paz Dominguez
Lawrence Killoran
Steve Madrone
Killoran is winning going away, and Bass' first returns leave her with a pretty healthy margin. Her big goal is to win 50% + 1 vote and so avoid a November runoff. It's not impossible that her challengers, strangely evenly matched, will push her down below that figure as the precinct votes come in, but it looks pretty good for Bass.
Meanwhile, Karen Paz Dominguez is sitting much prettier than her razor-thin lead would indicate. The lefter-leaning precinct votes will almost certainly fall her way, if history is any guide.
Also, Madrone's 48.6 percent is a very healthy figure for him at this point in the night. That first, conservative wave broke over him, but his head is still above water.
We'll see!
— Hank Sims
###
UPDATE, 8:32 p.m.:
First Election Report
Fourth District Supervisor
BASS
63.63%
BURKHART
17.78%
LYONS
17.34%
Fifth District Supervisor
SUNDBERG
51.54%
MADRONE
48.33%
Auditor-Controller
PAZ DOMINGUEZ
50.37%
LORIG
49.19%
JUDGE
KILLORAN
70.83%
GILL
28.73%
— Hank Sims
###
UPDATE, 8:06 p.m.: Burkhart, Paz Dominguez, Supporters Rage it Up at Democratic Party HQ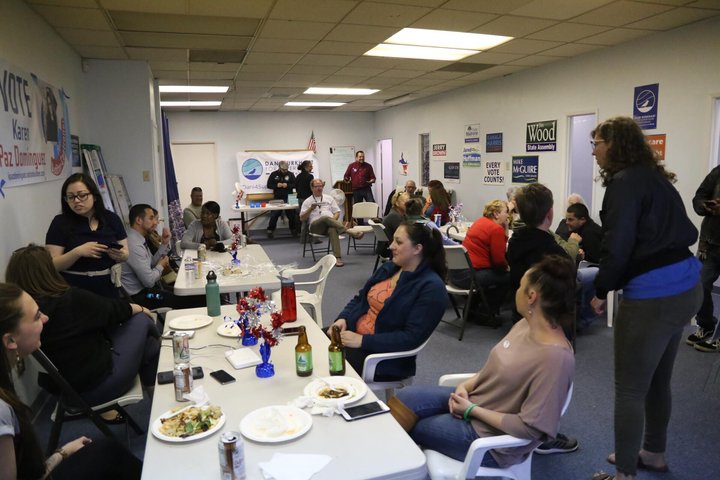 The campaigns of Dani Burkhart and Karen Paz Dominguez joined forces to rage it up at Democratic Central Headquarters on Eureka's Fifth Street, complete with pupusas and hot dance tracks.
Paz Dominguez, who commandeered the sound system at one point to pump some reggaeton, told the Outpost's Ryan Burns that she is anxious, terrified, excited and eager to get some results.
Her co-partier, Burkhart, agreed. "It's just like being in school, waiting to get your test results," she said. "I just want to find out how I did!"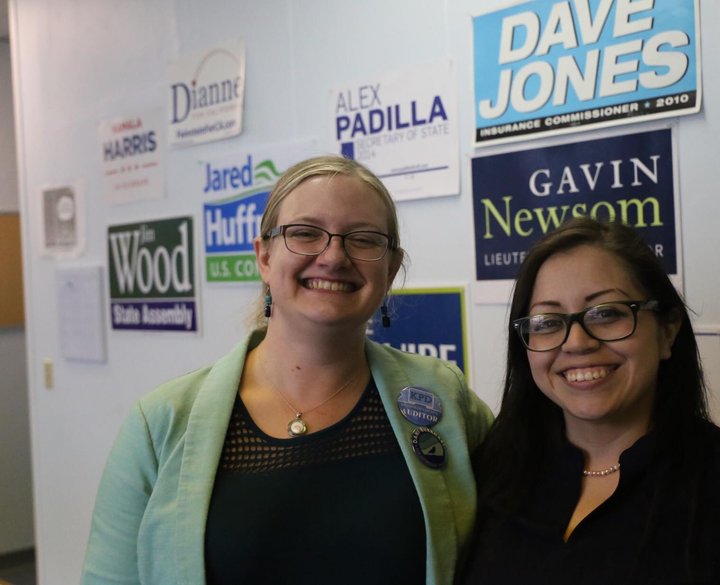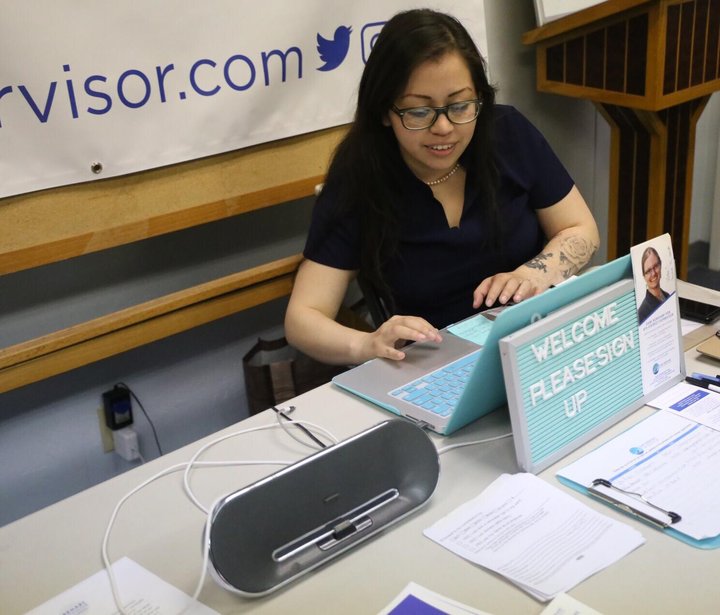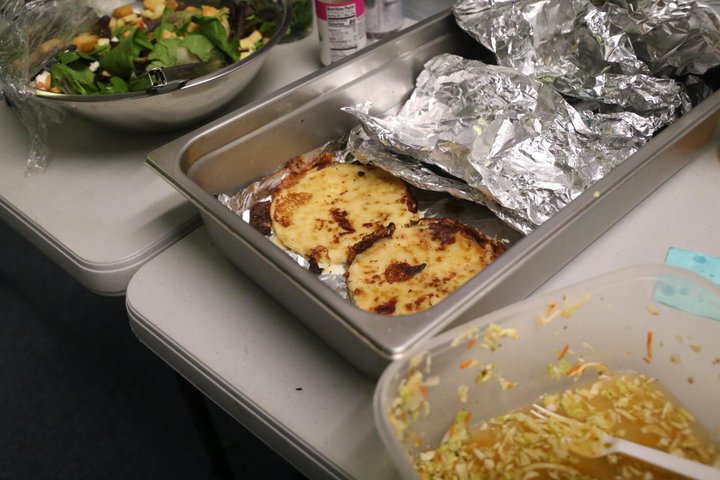 — Hank Sims
###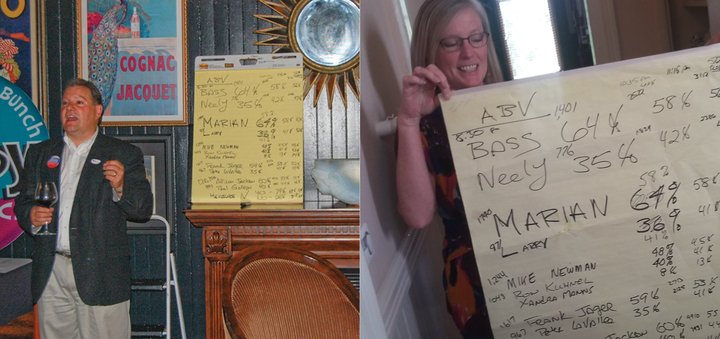 It's time for the election parties! We're gonna party it up here at the LoCO. Won't you please join us?
Some say this particular election season was bland. But I'm gonna say it was just a step above that — semi-spicy, I suppose. Here were the main items on the menu, in Humboldt County:
What seems like a competitive race for Humboldt County Supervisor from the Fifth District between the incumbent Ryan Sundberg and challenger Steve Madrone — the former from what you have to call the Humboldt County establishment party, the latter a lefty insurgent.
A three-way race for Fourth District supervisor between incumbent Virginia Bass (establishment) and challengers Dani Burkhart and Mary Ann Lyons (various subspecies of lefty). If no one candidates garners more than 50 percent of the vote tonight, the top two go on to a runoff election in November.
The downticket but nevertheless super-contentious race between Karen Paz Dominguez and Mike Lorig for Humboldt County Auditor-Controller. The super-contention comes not so much from the candidates themselves, here, as from their supporters — Humboldt County's most boring elected office became the hottest show in town for culture warriors over the last few months, as establishment types have sought to brand Paz Dominguez, a reformer and the current assistant auditor-controller, as an immediate threat to their way of life.
An once-in-a-generation semi-serious battle for a Judgeship on the Humboldt County Superior Court, between attorneys Lawrence Killoran and Lathe Gill. It's been a pretty respectful affair, so far as we can tell, but it carries its own culture war underpinnings — Gill has been embraced by some vocal factions of the Humboldt County prog coalition.
Those are the main things we'll be watching for tonight, as we flit about from election party to election party and watch the numbers roll in.
Here's a playbill. The first results should be released at about 8:30 p.m., or shortly thereafter. These are the vote-by-mail ballots that the County Elections Office received well in advance of today. Humboldt County Clerk-Recorder tells us that they've counted somewhere around 10,000 of those so far, and they'll be released in the very first batch.
What percentage of the vote do those 10,000 represent? Impossible to say until we know how many people have voted today. But we can make a semi-educated guess by looking at the closest recent analog to today's election — that would be the non-presidential-year primary in June 2014. In that election, 28,506 votes were cast.
Couple that with the fact that we have a few more registered voters this year than we did then, and we're gonna guess that somewhere in the range of 33 percent to 37 percent of the total vote will be represented in that first release of numbers. Keep in mind that those early votes are historically much more conservative-leaning than the votes that follow in the next reports.
After the first votes come out, we're going to have a nice, long wait. In recent years, the second count hasn't come out until 11 p.m. or later. That's because poll workers have to close up shop, finish up paperwork, then physically deliver their boxes back to Elections HQ for processing. (Or sometimes they'll drive those boxes to a central location in their town, and the police will gather them and drive them all back together.) When enough of those precinct ballots are tabulated, Elections will release a second report. Then, later still, an Election Night Final report.
The absolute, final vote won't be released until weeks from now, as late vote-by-mail ballots and provisional ballots and all the other types of ballots are finally accounted for. If any race tonight ends really, really close, we won't know the winner for quite some time.
All right! Check back here soon. We'll be running around town checking in with candidates and the like, and we'll put new numbers up just as soon as we get 'em.
Happy Election Night!