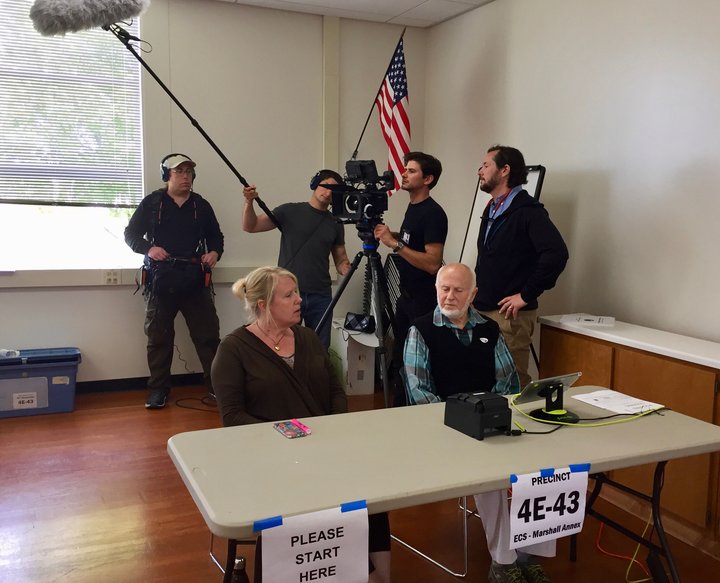 Voting traffic was light at Eureka polls this afternoon, but that didn't stop a Netflix documentary crew from filming the civic process.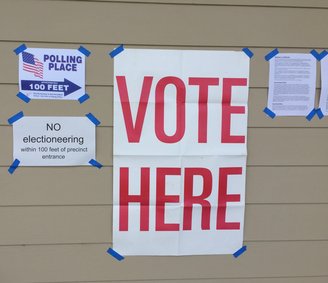 Matthew Testa, a producer/director with Lighthouse Films Productions Lightbox Entertainment, was on hand with a local film crew as the Outpost spoke to voters and poll workers at the Eureka City Schools District Office, one of the many locales doubling as polling places today.

The Netflix team has been in the area for months, working on a six-part documentary series about (what else?) Humboldt County's weed industry, and associated issues.
Poll workers had plenty of time to chat between voters. Volunteer Sue McIntyre said her crew had made a friendly wager on how many people would show up to cast their votes before the polling location closes tonight at 8 p.m.
The stakes? Just the satisfaction of being right, McIntyre said with a smile. The consensus among volunteers was that this particular polling place would see just 100 total voters today.
"I expected a bit more," McIntyre said.
Outside the building, Eureka voter Tom Kingshill noted that "there's really nothing exciting on the ballot."
McIntyre and her fellow volunteers predict a countywide turnout of just 25-30 percent, which is low but typical for a primary election with nothing especially controversial on the ballot, McIntyre said.
There was some confusion in Eureka today because many voters had been assigned a new polling place thanks to last year's redrawing of the city's political wards. McIntyre estimated that as many as 30 percent of the voters who walked through the doors at the district office learned that their polling place was now somewhere else.
"One man had been voting in the same place for 30 years," McIntyre said.
Other changes this year: People who aren't yet registered are allowed to register to vote and then fill out their ballots on the same day. This "conditional voting" was implemented across the state this election cycle.
Also, you can now have a friend or coworker turn in your ballot for you; in previous years it had to be someone who shared your home address.
Several voters interviewed by the Outpost said the biggest issue facing the county is homelessness.
"I work downtown, so I'm immersed in the transient [population']," said Jared Wattle. "Drug use is everywhere. I know that's a huge topic."
There have been issues at his place of employment, on Broadway, with trespassing and vandalism.
"I know they're trying to get more enforcement out there, and it takes money," Wattle said. "And it's not something that's gonna be fixed overnight or in the next four years. It's gonna take a while."
Kingshill, who said he votes every election, is also concerned. "Obviously the homeless is the biggest issue for the county," he said. "That's not just a Eureka city problem; that's a county problem." Kingshill feels the county needs to cooperate more with the city to address the matter.
As for the county office positions, Kingshill said he thinks Sheriff Billy Honsal, who's running unopposed, and incumbent Fourth District Supervisor Virginia Bass, who's in a three-way race, are doing their jobs well. "I've got her sign on my lawn at home," he said about Bass.
Jeane Blonski said she too votes in every election, and this time around she was most interested in the election for superintendent of public instruction. "I'm not really for charter schools," she said. "I think [traditional] public schools really need all the support they can get."
Asked if there's anything else she's concerned about Blonksi said, "I think it's the same issues everybody's interested in: homelessness and mental health."
Polls close at 8 p.m.