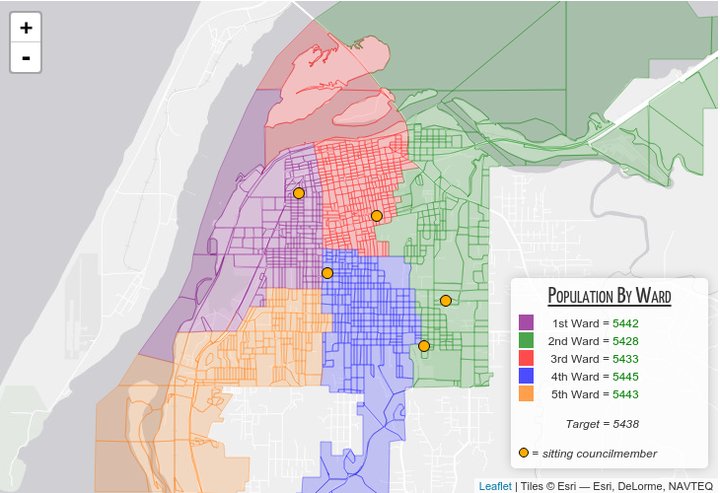 Many congratulations to LoCO user "Mad balancing act," whose proposed map for Eureka's new "True Ward" system was unanimously chosen by the seven-person ad-hoc citizens' committee studying the matter.
The Ward Redistricting Ad-Hoc Committee, which was formed in the wake of the passage of Measure P last year, unveiled its choice at the Eureka City Council meeting last night. The council, by consensus, agreed to move forward with the nitty-gritty tasks of implementing the map, which will come back to the council in the form of an ordinance in the next couple of weeks.
Great work, "Mad balancing act!" This is a proud day for the entire LoCO community.
Back in June, the Outpost invited our people to draw their own maps of Eureka's new political wards, which — because of the passage of the True Ward Initiative — were required to be population-balanced for the first time. We did this via a cool tool developed in-house that allowed users to easily experiment with different ward boundaries, and to share their work with others.
Eventually, two such maps — "Mad balancing act" and "Hank's Straight Lines Map" — were included, alongside 10 maps produced by city staff, in an in-depth demographic analysis of potential scenarios prepared for the ad-hoc committee. (That analysis can be found at this link, in PDF form.) The committee chose "Mad balancing act" unanimously, according to a comment from Councilmember Marian Brady last night.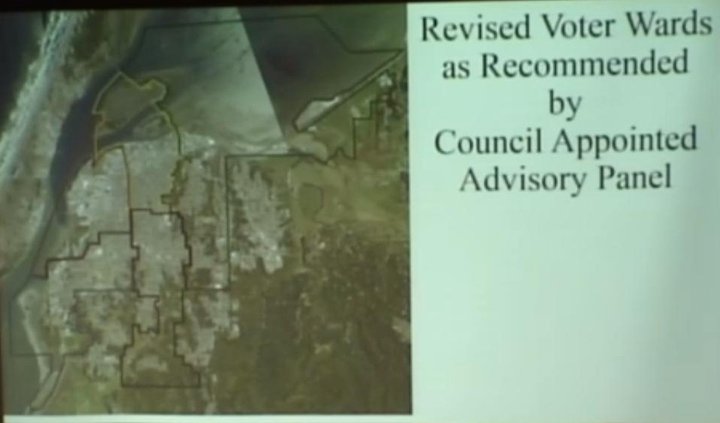 At last night's meeting, Cedric Seaman, who chaired the seven-person redistricting ad-hoc committee, told councilmembers that the group had a clear set of goals in picking a map. They wanted the new wards to be balanced, both demographically and in terms of land use. Most importantly, they wanted the new wards to reflect the integrity of the community they will represent.
"We wanted it to be something that's easy for somebody to look at and say, 'Oh, I'm in this ward, obviously,'" Seaman said. "We wanted it to make sense and we wanted it to be sensible. We didn't want any weird gerrymandering tendrils, or anything like that going on."
Assuming the city council adopts it, the "MAD balancing act" map will place current city councilmembers Austin Allison and Heidi Messner in the same ward — meaning they will have to run against each other in 2020, if both wish to serve. No current councilmembers live within the boundaries of the new Fifth Ward.
###
LINKS: