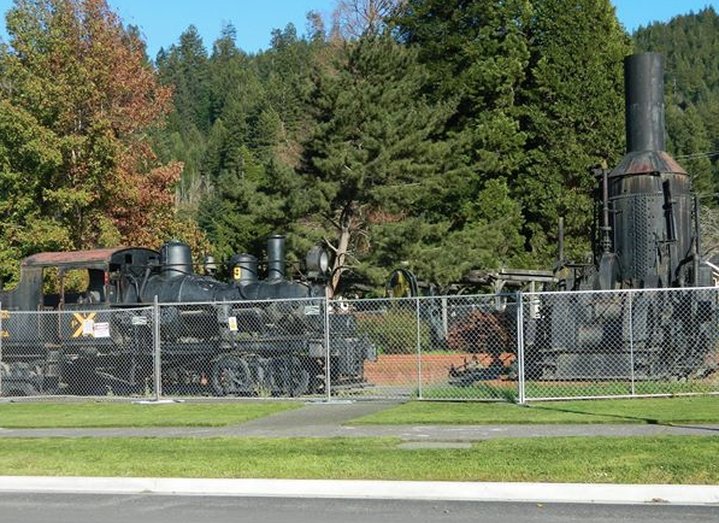 'Tis the season to remove Humboldt's old, publicly displayed metal, apparently!
The Scotia Community Services District has decided it's buh-bye time for the Heisler Engine #9 Locomotive that's sat idly in the center of town for decades. You want it? Can you pick it up? Great! The SCSD is accepting bids for the locomotive and the other smaller pieces of logging equipment that surround it on its website.
The minimum bid is $25,000. You have until March 13 to get your act together.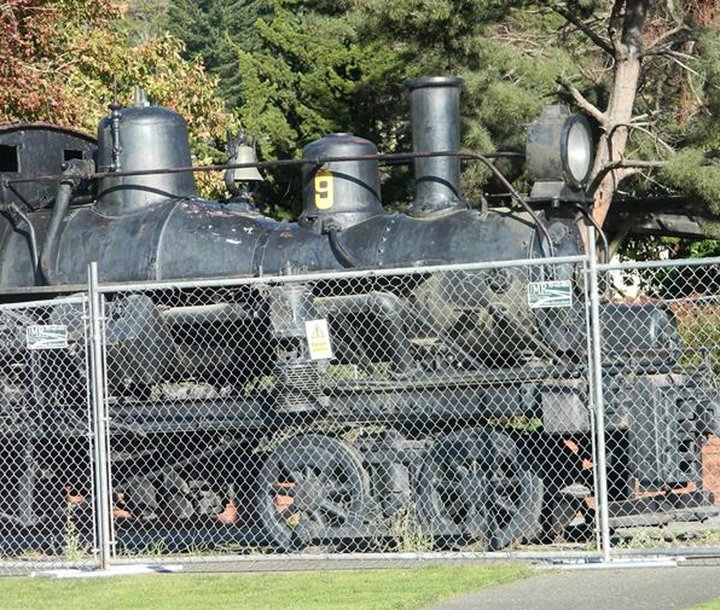 Full details from the Scotia Community Services District below:
The Scotia Community Services District (CSD) will begin accepting sealed bids on the below described Train and Logging Equipment on Feb. 20, 2018.

Equipment is sold in "as-is, where-is" condition with no guarantees or warranties. The Bidder is encouraged to visit the site and determine the conditions of the equipment.

Bid Requirements and Information:

All bids shall be received by the Scotia CSD by March 13, 2018 at 3 p.m.. The bids will be opened and read aloud at the regular meeting of the Scotia Community Services District Board of Directors on Thursday, March 15, 2018 at 5:30 p.m. and the successful bid will be announced. In the event that the District receives written bids that result in a tie, the bidders will be notified and given an opportunity to bid again. Only the highest bidders who made the same offer will be allowed to participate.
Bids shall be mailed to the district at PO Box 104, Scotia, CA 95565 or submitted in person at the district office at 122 Main St., Scotia CA 95565.
Bids shall be sealed inside an envelope marked "Sealed Bid Enclosed." Failure to submit a bid in this manner will result in immediate disqualification of the bid.
The bid shall be accompanied by a certified cashier's check in the amount of the bid made out to the Scotia Community Services District. The minimum bid acceptable is $25,000.
The Bidder shall accept the train and logging equipment in as-is condition. The Scotia CSD contracted a lead and asbestos survey for the train and logging equipment in the Scotia Museum Park. Tests found presence of asbestos and lead-based paint on several of the train and logging equipment parts. This report is kept by the Scotia CSD office for review by bidders, etc. at the district office at 122 Main St., Scotia, CA 95565.
The Bidder shall completely remove all the train and logging equipment describe from the site at their expense, without damaging the site, within 180 consecutive calendar days. All site damage shall be repaired to pre-existing condition at the Bidder's expense. Equipment not removed within the specified time shall result in monthly storage fees, as determined by the Board, payable to the District. Additional time may be considered to allow for specific regulatory requirements.
The Bidder may not selectively bid each piece of equipment. The bid is for all the described equipment, which shall all be completely removed by the successful bidder from the site.
A condition of the bid is that the Train Engine shall be the last piece of equipment to be removed and the Steam Donkey shall be the second to last piece of equipment to be removed.
The Bidder is additionally responsible for the expense of equipment removal, transportation, mitigation of hazardous materials, and any permitting.
Any bid and accompanying cashier's check that is not selected will be returned to the address provided on the bid from via Certified Mail within 30 days of the close of the bid.

Equipment Description:

Heisler Engine #9 Locomotive
Large Steam Donkey
Small Steam Donkey
Two (2) Tanks
Eight (8) Pulleys and Miscellaneous Equipment