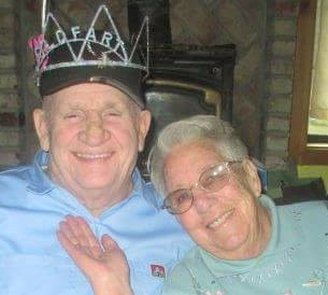 Toots, or Grandma Toots, also known as Melvina Marie Rowland, passed away on March 6, 2018. Toots was born April 23, 1934 in Oakdale, Calif. to Loyd and Berniece (Jourdon) Howard.

She is preceded in death by her parents and her brother, Harold Howard, and son in laws Donald "Mooney" and Rodney "Big R" Trimble. She is survived by her devoted husband J.R. of over 65 years of marriage, daughter Laura Trimble of Hoopa; son David Rowland (Karmon) of Anderson, Ca.; and daughter Cathy Danel (Lonnie) of Willow Creek; her sisters Nita Farrow of Tualatin, OR; Vivian Miller, Paris, AR; and her sister in law and best friend since high school, Janis Howard of Nipomo, Ca. Toots is also survived by her 11 grandchildren, Missie Ammon (Roy); Julie Trimble (Nick); Adam Trimble (Trish); Erick Trimble; Jeremy Trimble (Misty); Lena Trimble; Scott Rowland (Jennifer); Brandi Holloway (Curtis); Jacob Rowland (Jillian); Justin Danel (Angie); and Travis Danel (Brenda). She is also survived by 18 great grandchildren, Chauncey Ammon, Jessica Allen (Kayla); Nick White, Dayton & Ishi Trimble; Dylan & Delainy Sorrell; Maya and Ryke Trimble; Jaxon, Ava & Kenzie Holloway; Meredith & Kylie Rowland, Alexia & Maximus Rowland; Isabelle & Raylan Danel; and one great-great grandson Paxton Allen, along with numerous other relatives.

Toots grew up in Taft, Calif. and graduated from Taft Union High School (we won't mention the year; she would give us heck if we did). After high school she worked at Peahl's Drive In as a car hop on roller skates. Years later she spent an afternoon at the roller rink in Redding skating with some of her older grandkids and to their amazement she was skating circles around all of them. She met Jay in Taft and started planning their wedding which was stressful, and one day he mentioned that for 2 cents they would just elope, to which she promptly handed him 2 cents. They eloped that day to a local church and were married by a preacher and two visiting preachers as witnesses. To say the least their families were not too happy with them.
In 1957 they relocated their family to the mountains of Willow Creek. She talked about one day sitting on the back porch of their new home very upset and wondered where in the heck Jay moved her to, but she eventually fell in love with her new home.
For many years Toots worked for the Paine family at The Flame Restaurant and Mountain Annie's and Petty's Drive In before starting her most loved work for Klamath Trinity Joint Unified School District as a Grounds Supervisor on the playground. She had found the job she loved and enjoyed beyond belief. She worked for over 20 years at Hoopa Elementary and Trinity Valley Elementary Schools and was heartbroken when she had to retire due to an injury. Through the years she built many friendships that she treasured. When she travelled throughout our local communities she sometimes would have a former student yell "Grandma Toots" and give her a big hug and sometimes introduce her to their children and grandchildren. She treated all of her students as if they were her kids, with a stern hand but they knew she had their back and would protect them.
A Celebration of Life will be held on Saturday, April 7, at the Salyer Wayside Chapel at 1 p.m. Please feel free to come and share your memories and funny stories of Grandma Toots.
###
The obituary above was submitted on behalf of Melvina Rowland's family. The Lost Coast Outpost runs obituaries of Humboldt County residents at no charge. See guidelines here.