PREVIOUSLY:
###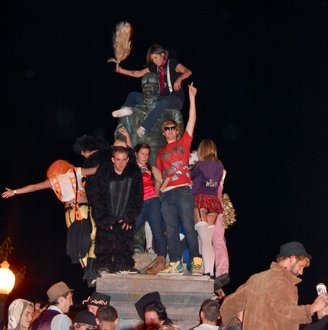 Let's do this all again!
As you may recall, last month the Arcata City Council voted 4-1 to finally and forever remove the statue of President William McKinley that has graced/defiled the center of the town for the last century.
Passions ran high, as dozens of speakers told the council that the city has been celebrating a vicious imperialist lo these many years. The statue contributes to an atmosphere of exclusion felt by people of color in the community, councilmembers were told.
Only Councilmember Michael Winkler voted against the resolution to yank down McKinley, though Councilmember Brett Watson later said that he, like Winkler, would have supported putting the matter to a public vote.
Well, now Councilmember Susan Ornelas is coming back with a whole new idea, which is to … kinda put the question to a vote? The Arcata City Council will discuss Ornelas' idea at its Wednesday meeting, which has been super-sized and moved to the Arcata Community Center for the occasion.
You can see Ornelas's proposal for yourself in this PDF. Basically, she proposes to put an advisory measure on the Arcata ballot to ask citizens where they'd most like to see the statue moved to. One of the options she proposes: "Plaza Center"! Okaaaaay. (See the complete list of Ornelas proposed options below, in button-pressable format.)
Ornelas writes:
A vote like this will give the Council a more nuanced understanding of the intent of the citizens of Arcata regarding the statue. I propose we have a community education theme for the year around this subject of McKinley, Arcata's history, the late 1800's - early 1900's in Humboldt, and the sculpture of Haig Patigain.
So if you have an opinion about whether or not the citizens should be polled for their opinion about where to move the statue to, including the option of moving it to where it currently stands, at which point the council may or may not act on the results of said poll, you'll want to make this scene!
The Arcata City Council meets at 6 p.m. on Wednesday, March 21. Remember: It's at the Community Center this time! That's at 321 Dr. Martin Luther King Jr. Parkway, across from the HealthSport. Should be an exciting one!
In the meanwhile, please make your voice heard in the following edition of LoCO's Press the Button — "The Poll With Passion™." Fastest clickers win!