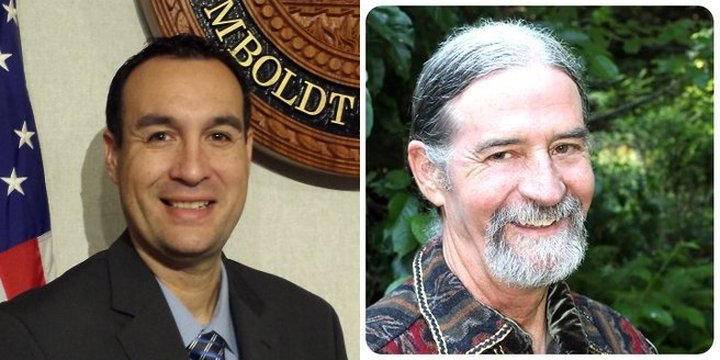 Supervisor Ryan Sundberg's reelection campaign today issued a press release noting that the Hoopa Valley Tribal Council unanimously voted to endorse the two-term incumbent on the June 5 ballot.
Hadn't the tribe previously endorsed Sundberg's challenger — Trinidad resident Steve Madrone? A quick call-around this morning confirmed that the Outpost had not lost its mind — the council had, in fact, endorsed Madrone back in December.
As best we can tell, the council's more recent endorsement was not intended to overturn its previous endorsement of Madrone — rather, the tribe has now officially endorsed both candidates. Tribal Chair Ryan Jackson is out of the office today, but Madrone tells the Outpost that this is his understanding of the situation. A tribal representative confirmed this interpretation of events this afternoon.
So it seems to be a dual endorsement. For what it's worth, Madrone said that earlier vote to endorse him was on a vote of 3-2, while Sundberg's appears to have been unanimous. On the other hand, Madrone said: "As of now, I have been endorsed by the Hoopa and the Yurok. And [Sundberg] has not been endorsed by the Yurok, and he will not be."
Press release from Sundberg for Supervisor 2018:

The Hoopa Valley tribe voted unanimously to endorse Ryan Sundberg for re-election for the Fifth District Supervisor at their February meeting.

"Ryan has consistently supported the tribe in our efforts to more effectively address the negative impacts of drug and alcohol use in our community," said Hoopa Tribal Chair Ryan Jackson. "He has also worked hard to increase mental health services to address suicide rates. In addition, Ryan was instrumental in securing continued Measure Z funding for our area—we have received almost $1 Million to ensure our residents have reliable ambulance service."

Sundberg is a member of the Trinidad Rancheria Tribe and has represented the Fifth District since 2010.

"I am honored to receive this unanimous endorsement from the Hoopa Tribal Council," said Supervisor Sundberg. "The tribal community's health and safety are very important to me. I look forward to continuing to build the relationship between the County and the Tribe for the benefit of everyone. I am confident we can achieve even more moving forward," said Supervisor Sundberg.