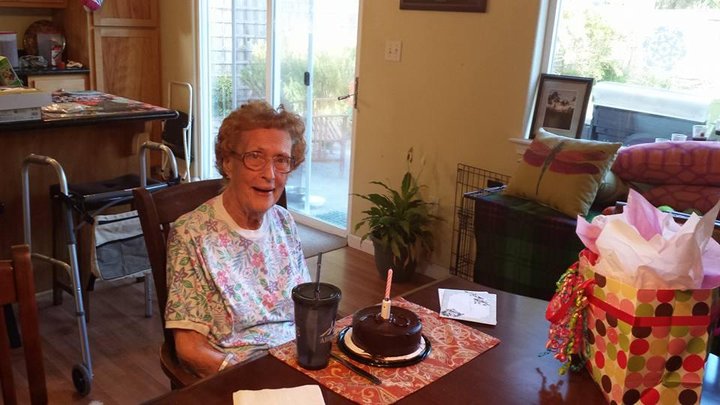 Rosamond S. Fowler died peacefully in her sleep on Mother's Day, May 13, 2018, at the age of 84, after a long battle with Parkinson's disease. She lived at Timber Ridge in Eureka. Rosamond was born on July 28, 1933 in Vallejo to Archie and Rosamond McDonnell. After graduation from high school, she worked at the Mare Island naval shipyard, where she met her future husband, Olen. Olen and Rosamond were married on June 14, 1953. They moved to the Sacramento area, and had two children: Deb and Dan.

Rosie was a homemaker, doing the cooking and cleaning for her family while her husband worked for the aerospace industry. She also worked outside the home as a secretary and sales clerk at a music store. Rosie and her family lived in East Sacramento, Fair Oaks, Blue Lake, Eureka, Little River, Fort Bragg and back again to Eureka. She was an active member of the Presbyterian Church in whatever town she lived. She sang in church choirs, and served as a church elder and deacon several times. Rosamond was also very active in P.E.O. She loved the ocean and walking on the beach. She loved dogs, loved singing, playing the piano, listening to classical music and reading mystery novels. Rosie was a lover of social justice, and marched, voted and worked for progressive issues in her life. She read her Bible and prayed regularly, and now she is home with Jesus. We give thanks for all in her that was good, kind and faithful.
Rosamond is preceded in death by her parents, Archie and Rosamond, her beloved sister Sylvia, granddaughter Sarah Rose, and husband of almost 60 years, Olen. She is survived by her daughter, Deborah Joyce Plantagenet; son, Archie Daniel Fowler (Paula); grandchildren, Anastacia Naomi Rose Irving (McNeal) Tatiana Tara Jean McDermond (Tom), Sam and Abigail; and three great-grandchildren Eleutherios, Ione and Aleta.
A celebration of Rosamond's life will be held at the First Presbyterian Church of Eureka on June 16 at 11 a.m. In lieu of flowers, please give a donation to your local S.P.C.A. or the Ocean Conservancy.
###
The obituary above was submitted on behalf of Rosamond Fowler's family. The Lost Coast Outpost runs obituaries of Humboldt County residents at no charge. See guidelines here.