Photos: Andrew Goff
UPDATE, 5:02 p.m.: Samantha Moore told the Outpost that Eureka Development Services Director Rob Holmlund contacted her today. The City of Eureka will be providing Moore with another utility box to paint in a different location, yet to be determined. Redwood Capital Bank has agreed to sponsor Moore again and she should be getting started in a couple of weeks.
Moore wanted to make it clear that, although the experience with Molly Green was a little shaking, she thinks that the Eureka Art Box Program is awesome.
###

Original Post:
The "Cat Food" painting on the utility box at the corner of 5th and G street in Eureka is being removed and painted over today, after Molly Green — owner of SCRUB Spa and Event Venue — complained to city officials.
Green made her public complaint at the Eureka City Council meeting on Tuesday night. She spoke to several issues that displease her, including needle exchanges and Betty Chinn's trailer community. But the main source of her outrage was with the painting in front of her window, which she referred to as a "really large, ugly, poorly done eyesore."
Green told the Outpost today that she felt that the city neglected to consult with her about the art that would be in front of her window, which she feels is negatively affecting her business.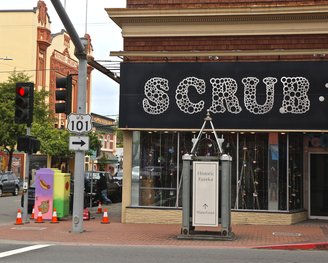 "I fully understand that art is subjective," Green said. "But there's also a responsibility to the community that everyone doesn't get to just go all willy-nilly and paint anything anywhere because an art committee said it was OK."
The painting was completed Sunday by HSU graduate and Arcata resident Samantha Moore. Moore was selected in October of last year to participate in the Eureka Box Art program. Redwood Capital Bank were assigned to be her sponsor, and Moore received a $500 stipend for the project.
Moore told the Outpost that she was quite surprised Monday morning, when a friend let her know that Green had been complaining about her work on Facebook and threatening to paint over it.
"[I'm] pretty angry. Especially that she didn't come to me first. She saw it and brought it to city council," Moore said. "It seems pretty disrespectful to me. She doesn't own the block."
Moore also shared a message with the Outpost that Green sent her on Wednesday at 1:10 a.m., after she disparaged the art at the City Council meeting.
In the message, Green said: "I do not hate your artwork at all. I'm not fond of the colors you chose for the background and how they were applied to the box but to each their own LOL."
Green spoke with Eureka Development Services Director Rob Holmlund yesterday about the cat art plaguing her block. They came to an agreement, and the city approved of Green finding a new artist to paint something new.
Green wasted no time in finding local artist David Witter, who is currently repainting the box with something more suited to Green's taste.
Holmlund told the Outpost that he is contacting Samantha Moore, and the city will offer her another utility box canvas and reimburse her for any costs.
City Council member Heidi Messner told the Outpost that Green could have avoided this if she had involved herself in the Art Box project earlier.
"She chose not to participate. So it's on her." Messner said. "You can complain all you want, but if you're not willing to be a part of something, you really have nothing to say."