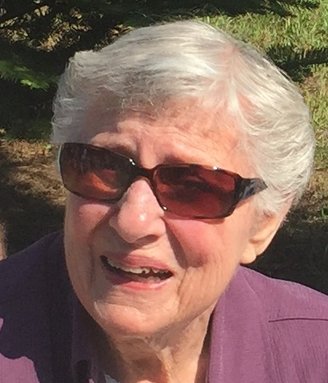 "Pete's on Tootle." We have lost Elaine "Tiny" Swanback to her heavenly home.

"It Came to Pass" are the words we think of when we think of Tiny. For her it meant all will pass in God's time, and not our time, whether it be a time of joy or sadness, of hurt or gladness, of despair or jubilation. Now it is our time to say "It Came to Pass" to our beloved wife, mother, mother-in-law, grandmother, aunt, great aunt and friend as she leaves us to be with those loved ones that have gone before. Tiny - a name she never really liked - was born Clementine (a name she really didn't like) Jacobson on November 16, 1924 in Eureka and lived her entire 93 years within the city limits. She died at home May 22, 2018 surrounded by those she loved.
According to her birth certificate she was born Clementine, but by the time she was five years old she was Tiny to friends and family and Elaine to all others. No one knows why the family dropped Clementine — it is lost to history. All through her school years and beyond she was either Tiny or Elaine.
Up until she was twelve years old, life was a constant move. Her parents were living apart (her mother working out of Eureka as a cook in nearby hotels) and her father could never seem to get around to paying the rent. A drive around Eureka with Tiny was always interesting, as she could say "I lived here, and I lived here, oh and I lived there, too." At age nine she moved in with and was raised by her newly married sister, Florence, in Pigeon's Point. Florence was nineteen and just a kid herself. Those were some fun times. That time spent together with Florence cemented a relationship that stood all tests — they had a true love for each other and a true bond.
Tiny attended Eureka schools — for elementary schools it was Marshall, Lafayette Franklin, and who knows which others, and she graduated from Eureka High School in December 1943. In high school she began dating the love of her life, Glenn Swanback, the man she married in June 1947 after World War II.
In 1949 Glenn and Elaine bought a lot and built their own house, along with the help of Glenn's parents and brother, and it was home for nearly 50 years. They raised their son Steve and entertained family and friends there for many years (Thanksgiving, Christmas, and Easter were always special events).
Her life was full and rich surrounded by the many family members and friends who loved her and were loved by her. In the early years it was Sewing Club, Gourmet Club, the Bicycling Ladies group, camping at French's, Fourth of July at Patrick's Point, potluck picnics at Redwood Creek Beach, summers in Willow Creek, and, of course, church — those were the times and places that made for a long and good life. There was the also annual trip to Reno with her friends, the trips to Hawaii and Europe, and all of the golfing.
In her later years it was all about the spring tulips (people driving by her house looked forward to them every year), making beautiful quilts, and serving the best homemade clam chowder on earth to her grandchildren. She was the best grandmother anyone could ask for — always attending their big events, teaching them how to play cribbage, and forever teaching them the meaning of unconditional love.
Through all of her life nothing sustained her more than her faith in God and the Lord Jesus Christ as her personal savior. She was a long time member of Trinity Lutheran Church, Eureka and then Lutheran Church of Arcata — singing in the choirs and becoming a flower arranger extraordinaire. We know she is now with Him in heaven and is eternally at peace.
She is survived by her husband of 70 years (that's right, 70 years), Glenn, and to the end he was the love of her life. In the beginning he was her companion (from high school days 75 years ago) and in the end he was her caretaker. She is also survived by her son Steve (Ellin), grandchildren Claire, Elizabeth, and Andrew, nieces Dorothy Cox (Dan), Penny Jacobson, Joanie Fredrick (John), Catherine Turner, and Charlotte Jacobson and her nephew Tim Jacobson (Barbara), her good friend Lena and a whole host of other relatives too numerous to mention.
She was preceded in death by her beloved sister and brother Florence Elkins (Wayde) and Don Jacobson (Cecil), her niece and nephew Chris and Jerry, her parents Henry and Hannah and those friends who meant so much to her — Berwyn, Betty, and Charlotte.
She was always proud of her Norwegian heritage (even though she married a Swede), she liked lefsa but Lutefisk not so much, a Lutheran to the end, and had more sayings and expressions than you could "shake a stick at." We will always remember her for that. There was "tootaloo", "pete's on tootle", "bull frog," of course "Uff-da" and many others. We did not always know what they meant but we loved her for them.
A special thanks to the folks at Hospice of Humboldt County, especially her nurse, Tiffany, her chaplain, Bob Ilman, and her pastor, Rick Barklage. Regular visitors who helped her these last six months. Their support was a weekly blessing.
You are welcome to join us for a memorial service to remember our beloved Tiny at the Lutheran Church of Arcata and rejoice with us as we know she is now with her Lord. Bring your singing voice - she loved to sing those Lutheran hymns. The service will be held on Saturday, June 9, 2018 at 1 p.m. Donations in her name may be made to the Lutheran Church of Arcata, Hospice of Humboldt or the charity of your choice.
###
The obituary above was submitted on behalf of Elaine Swanback's family. The Lost Coast Outpost runs obituaries of Humboldt County residents at no charge. See guidelines here.