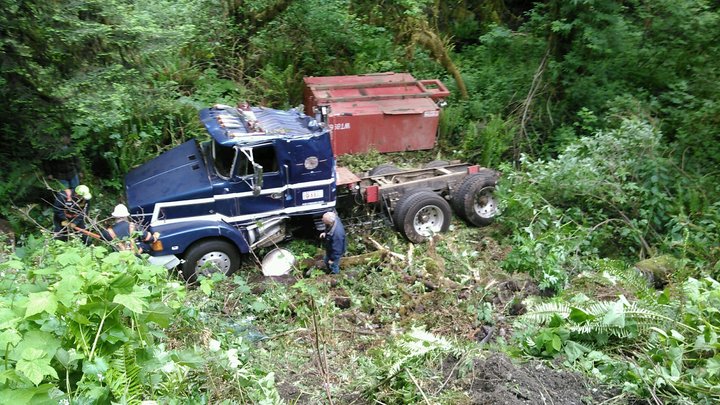 PREVIOUSLY: Water Tender En Route to Structure Fire Overturns in Bayside
###
The Kneeland Volunteer Fire Protection District will have to go without one of its most crucial firefighting resources after its only water transport truck was destroyed yesterday while responding to a structure fire in Bayside.

KVFPD Chief Rick Hardin told the Outpost this afternoon that the truck, which held 2,200 gallons of water and weighed about 60,000 pounds when full, was destroyed after a hunk of Jacoby Creek Road collapsed under the weight of the truck's heavy load.
"[The truck] was probably two feet away from the shoulder and there was an Arcata Fire pickup coming toward my driver, so he decided to stop," Hardin said. "All of a sudden the road gave way on the side. It was a very weak one-lane road."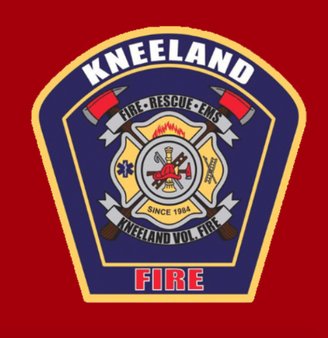 Hardin said the truck did one complete roll down a 50-foot embankment, landing right-side up on all 10 wheels after the slip out. The driver was reportedly unharmed during the crash. However, the truck was damaged beyond repair.
"It was a very steep hillside; almost straight down," Hardin said. "[The driver] was absolutely shocked that that truck even did that. He said he could feel the ground shaking a bit and next thing he knew it started slipping and there was nothing he could do."
Hardin said replacing the water truck, also known as a water tender, will be a serious financial burden to the KVFPD, as a new one costs about $245,000. However, Hardin said a used one can cost between $45,000 and $75,000.
"We will replace that water tender, it's not something we can live without," Hardin said. "In rural communities, we cover a huge district about 110 square miles. As we speak today were trying to find another water tender to replace it with."
While Kneeland has a mutual-aid agreement with various local fire agencies — meaning they can request emergency assistance from other local fire departments like Humboldt Bay Fire and the Arcata Fire District — Humboldt Bay Fire Battalion Chief Kent Hulbert told the Outpost that sending a large water tanker up to Kneeland can take a long time.
"The loss of the water tender is a pretty big deal to their department," Hulbert said. "They don't have have a lot of areas up there with fire hydrants, so they have to bring their water supplies with them. At this point the mulutal-aid is going to be a pretty key detail for them. The bad thing is their water tender was up in the hills so it didn't' take long to get [water] in the area. We're coming from [Eureka] and it just takes forever for anything big like that to get up the hill. It takes up approximately 25, 20 minutes. It's ridiculously slow."
Although Hardin said the damaged truck was insured, he also said it was a very old model, and the he doesn't expect a hefty compensation.
"We'll have to replace [the truck] through donations or by financing it," Hardin said.
While there are no fundraisers in place at this time, Hardin said people can currently make donations by contacting the KVFPD through its website kneelandfire.org
"We'll do the best we can to replace it as soon as we can because there's no doubt it's a crucial piece of equipment," Hardin said. "This is something we're going to have to address."