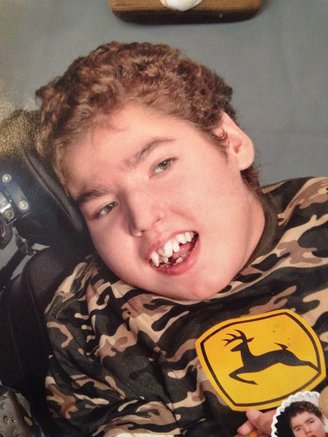 There is a new curly haired angel in heaven. Hunter Alameda passed away on May 12, 2018 at the age of 23.
He was born on January 5, 1995 to Renae Alameda and Rick Fielder. Hunter was severely handicapped and so loved by everyone. Last year Hunter graduated from the Glen Paul School for Exceptional Children. He had attended the school since he was four years old. While there he was given a lot of attention and love from the wonderful staff.

Hunter had a full life despite his special needs. He enjoyed traveling and especially loved water, "swimming." When he was 21, his Mom took him to the Casino! Oakland Children's Hospital was a special part of Hunter's life. He traveled there fifty-seven times. Some were very serious visits and others were for check-ups. He was very strong and resilient. It was hard not to run your fingers through Hunter's gorgeous head of curly hair….and Mom often did. When looking into Hunter's eyes you could see into his soul, for he never carried the weight of the world in them. We learned so much about life because of Hunter. He was a gift and truly an angel who will be deeply missed.
Hunter is survived by his mother, Renae; his father, Rick; and his sisters, Makenzie and Kelli; his grandmother; Noni-Loretta Alexandre. Also his special friend, Frank, who referred to him as "The Chief". Aunts and Uncles; Blake and Stephanie Alexandre, Kriss and Will Saltekoff and Cindy Gladden. Cousins; Justin, Joseph and Alexa, Christian and Callie, Vanessa, Dalton, Savanna, Josh and Shilo and Shane.
He was preceded in death by his brother, Jace, and his sister, Karri. Also grandparents; Poppa Joe Alexandre, Dale and Carol Fielder and great grandmother; Nammie.
We want to thank the people who provided all our wonderful services. Hunter thrived because of them. The Glen Paul School for Exceptional Children, Redwood Coast Regional Center, Humboldt County Office of Education Transportation Dept., Oakland Childrens Hospital, St. Joseph's Hospital and Redwood Pediatrics. Also Ferndale Community Health Center, California Children's Service, Apria, Humboldt Home Infusion, Broadway Medical, Brian Sharkey and Pacific Medical Resources who provided many wonderful caregivers. They gave him such special treatment and care. Most recently it was Roxanne, who had a special bond with Hunter.
A memorial service honoring Hunter's life will be held on Saturday, June 2nd, at 1 p.m. at the Ferndale Veterans Building at 1100 Main Street. We welcome Hunter's family and friends to share memories of him at the service.
###
The obituary above was submitted on behalf of Hunter Alameda's family. The Lost Coast Outpost runs obituaries of Humboldt County residents at no charge. See guidelines here.