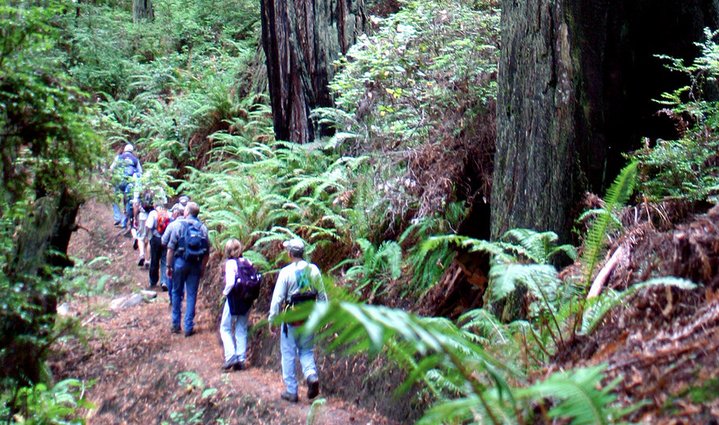 Later, mud. Bureau of Land Management press release below:
The Bureau of Land Management has reopened the upper sections of the Little South Fork Elk River Trail in the Headwaters Forest Reserve, as muddy conditions have improved.

"We are happy to announce that the trail is in great shape for spring and summer outings," said Molly Brown, manager of the BLM Arcata Field Office. "The Elk River Trail is an ideal place where families can use the public lands to connect with the natural and cultural heritage of the North Coast."

Visitors can now enjoy an 11-mile hike that includes a loop through a stand of ancient redwoods. The first mile of the trail is paved and ideal for those with mobility difficulties. It includes a series of interpretive signs telling the story and explaining the remnants of Falk, a timber town that existed from 1884 to the 1940s. Hiking is easy. Hiking is moderate to strenuous in the upper sections, including the old growth redwood loop. The trail is open from sunrise to sunset. Bicycles are allowed on the lower three miles.

To reach the Elk River Trail take the Herrick Road exit from U. S. 101 at the south end of Eureka and follow signs to the trailhead. Trail information is available here.

The Headwaters Forest Reserve is a 7,472-acre tract that contains some of the last intact old growth redwoods in the world. The BLM manages the reserve in partnership with the California Department of Fish and Wildlife to conserve habitat for threatened species including northern spotted owls. Coho salmon and the marbled murrelet, a seabird that nests high in the redwoods.
# # #
UNRELATED, DO NOT WATCH: