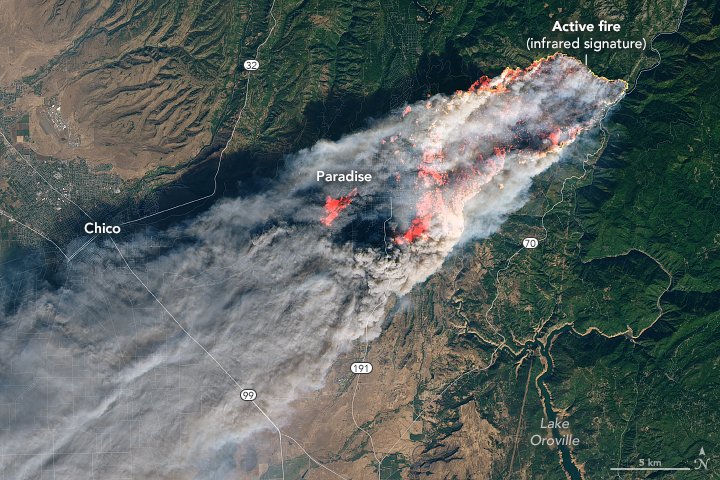 The death toll has more than doubled since nine people were confirmed dead yesterday from the destructive Camp Fire raging east of Chico.

The Washington Post reports that the Camp Fire is now the most destructive, and third deadliest wildfire in state history, claiming the lives of 23 people so far.
Calfire reports that the fire is now 25 percent contained, but that strong winds continue to fuel the 109,000-acre blaze.
"Last night the fire conditions were moderate to extreme due to the wind event," Calfire stated in its incident information update this morning. "Crews continued to protect structures and fight fire aggressively. Fire lines are strategically being put in ahead of the fire to improve roads and provide barriers to the fire."
As of this morning, 6,453 residences and 260 commercial buildings have been destroyed by the fire. More than 4,000 firefighters, 512 engines, 23 helicopters, 79 dozers and 33 water tenders have been dispatched to the area.
"Today the fire and firefighters will continue to be impacted by the strong winds," Calfire stated. "With the northeast wind pushing smoke to the southwest air operations will take advantage of the clearer air on the eastern side of the fire as long as weather and smoke conditions permit. Firefighters and cooperating agencies are continuing to mitigate many hazards within Paradise, Calif."
In an area completely devastated by fire at the #CampFire ,SFD Fire Chief Loesch and his firefighter came across these two donkeys walking down the center of the street looking very sad, thirsty and hungry. Animal control was dispatched and they fed them apples while they waited. pic.twitter.com/mi910NR0Zi

— Sacramento Fire (@SacFirePIO) November 10, 2018
Humboldt remains mostly unaffected by the wildfire smoke, while Mendocino County is still dealing with hazardous air quality according to the Mendocino County Air Quality Management District.
The cause of the fire, which began on the morning of nov. 8, is still under investigation.
Wildfire activity is clearly evident across California this afternoon. Current visibilities less than a mile for some spots. #CAwx #CampFire pic.twitter.com/wpgOKxYxEA

— NWS Sacramento (@NWSSacramento) November 10, 2018