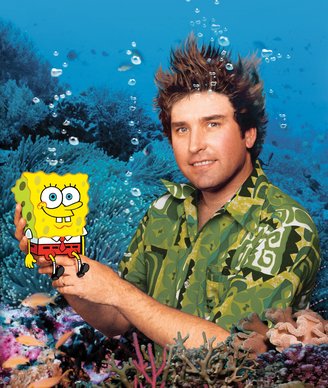 Stephen Hillenburg, creator of the zeitgeist-capturing Nickelodeon cartoon SpongeBob SquarePants and a graduate of Humboldt State University, died on Monday at the age of 57.

Hillenburg revealed in March of 2017 that he had been diagnosed with ALS, also known as Lou Gehrig's disease, a terminal illness that weakens muscles and inhibits body movement.
The undersea setting of Hillenburg's blockbuster cartoon was a natural extension of his studies at HSU. He graduated in 1984 with a bachelor's degree in Natural Resource Planning and Interpretation, emphasizing on marine resources.
He went on to become a marine biology teacher in southern California, where he used his artistic skills as an instructional aid, illustrating lessons with ocean-dwelling characters like those from Bikini Bottom, the fictional home of SpongeBob (a joyous sea sponge), Squidward (a pretentious octopus), and Patrick (a dimwitted starfish).
Less than three months ago Hillenburg endowed HSU's with $135,000 to provide grant awards for student research projects in marine biology, oceanography, and marine fisheries.
Nickelodeon issued the following statement:
We are incredibly saddened by the news that Steve Hillenburg has passed away following a battle with ALS. He was a beloved friend and long-time creative partner to everyone at Nickelodeon, and our hearts go out to his entire family. Steve imbued 'SpongeBob SquarePants' with a unique sense of humor and innocence that has brought joy to generations of kids and families everywhere. His utterly original characters and the world of Bikini Bottom will long stand as a reminder of the value of optimism, friendship and the limitless power of imagination.
SpongeBob SquarePants premiered in 1999 and went on to become Nickelodeon's top-rated series, spawning a 2004 feature film, a 2015 sequel, a Broadway musical, and more than $13 billion in merchandising revenue. The series won loads of accolades including six Annie Awards, eight Golden Reel Awards, four Emmy Awards, 15 Kids' Choice Awards, and two BAFTA Children's Awards.
Here's a SpongeBob short for those of you who are unfamiliar (if there are any such people), and those who'd like to reminisce: