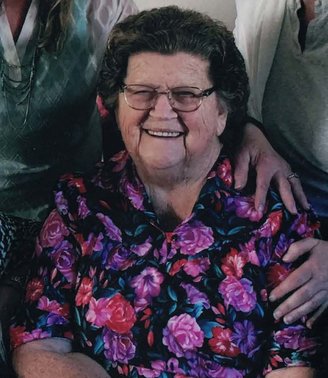 Thelma May Miller, born on March 11, 1936 at General Hospital in Eureka to William Leonard Dokweiler and Edith May (Crowl), passed away on October 31, 2018 in Fortuna.

Thelma's parents moved around a lot when her father worked for Toby & Prior Ranches. Thelma started school in a one-room school house near Deer Field Ranch on Buck Mountain. They later moved to Harris and on to Alderpoint. Thelma attended high school at South Fork High in Miranda. In her senior year she met David Miller Jr. from Fort Collins, Colorado. Dave came to Alderpoint when some friends (Bob & Margaret Saxen) told him there was lots of work here and that they had met the perfect girl for him. Thelma met the love of her life at one of the many dances held in the community. Dave and Thelma were married on June 19, 1954 in the little gray church in Alderpoint.

They had four daughters : Cynthia born March 1956, died September 1956; Katherine (Neil) Wildgrube, Rio Dell; Karen Hower (Rick Parsells) Rio Dell; and Cheryl (Todd) Patterson, Kalispell, Montana. They had five grandsons: Travis Wildgrube (April Daniel), Rio Dell; Chad Hower, died 2008; Kenny (Rechelle) Hower, Fortuna; Lee (Sara) Morgan, Germany; Clay (Erin) Morgan, Kalispell, Montana. They had great-grandchildren Jace Hower, Boonville; Chase & Gage Hower, Fortuna; Haden & Lacey Morgan, Germany; Maddie Burch & baby on the way Morgan, Kalispell.

Thelma leaves behind her brother Roy (Judy) Dokweiler of Carlotta, sisters-in-law Silvia Miller of Fort Collins and Erma Peterson of Arizona. Thelma also leaves behind numerous nieces and nephews, along with extended family and close friends.

Thelma went to work for the Postal Service in Alderpoint in June of 1969 as a clerk. While she was a clerk she also filled in at other offices when needed. She worked Zenia, Blocksburg, Bridgeville and Garberville. In 1985 Thelma was made postmaster at Alderpoint and retired there in 1999. Thelma really enjoyed working at the post office. She had several customers that would come in every day and have coffee with her and her co-worker Georgia Hespen. Alderpoint was a tight-knit community that always watched out over each other. There was a couple of occasions that a customer would call to check on her if they thought something was just not right.

After Thelma retired, Dave and her took a cruise to Alaska, and made a trip to Arizona, and Colorado. They were both happiest at home riding their four-wheelers and working on their property. Thelma loved working in her yard and canning the veggies from their garden. Most of all she loved when her children came to visit.

After Dave passed away in 2012, Thelma moved to Rio Dell to be closer to family. Thelma suffered from Alzheimer's the last few years and moved in with her daughters up until the end. The Family would like to thank the are givers at Fortuna Wellness & Rehab in Fortuna for taking such good care of Thelma this past month. Thelma leaves behind so many good friends and family. She always said she had a good life and was ready to be reunited with Dave.

On Thursday, November 29th at 11 a.m. the family and close friends are invited to join us at Ocean View Cemetery in Eureka for graveside services for both Thelma & Dave. There will be a celebration of life held later at 1:30 p.m. at the Fortuna Fire Hall. The family hopes all will come and share special memories and stories.
###

The obituary above was submitted by Thelma Miller's family. The Lost Coast Outpost runs obituaries of Humboldt County residents at no charge. See guidelines here.