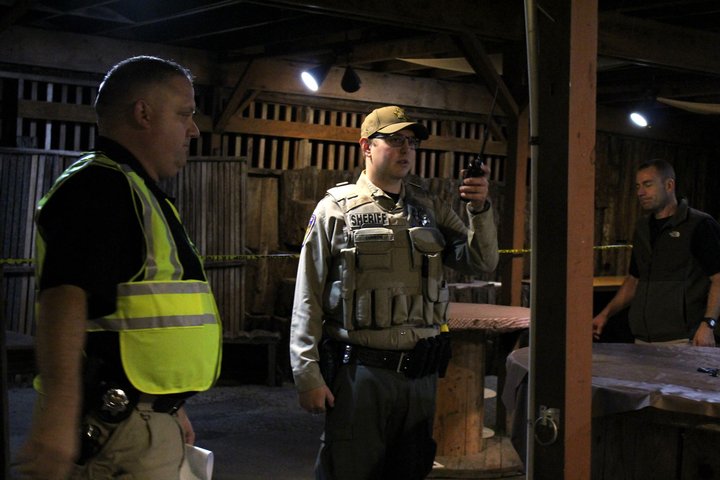 Press release from the Humboldt County Sheriff's Office:
On Thursday, Oct. 25, 2018, emergency responders from across the county gathered at the Humboldt County Fairgrounds to learn more about a new set of guidelines created to help save lives faster in the event of a criminal multi-casualty incident.

The Humboldt County Criminal Multi-Casualty Incident (CMCI) Response Protocol is a set of common guidelines for the initial four to eight hours of law enforcement, fire and emergency medical services coordinated response to a mass casualty incident, like an active shooter situation. The protocol outlines topics such as roles and responsibilities of responding agencies, response tactics, incident assessment, and emergency treatment and extraction of victims.

The protocol was first adopted in 2015 by North Humboldt Bay agencies: Arcata Fire, Arcata PD, Arcata-Mad River Ambulance, North Coast EMS and Humboldt State University PD. This year the Humboldt County Sheriff's Office adopted, updated and is reissuing the protocol as a countywide guideline for response.

On Thursday, approximately 129 first responders completed a four-hour training on the protocol, which consisted of classroom instruction and realistic scenario walk-throughs.

"This collaborative training is extremely important," CMCI Response Protocol Coordinator Tom Dewey said. "By training together, we become better equipped to seamlessly handle a coordinated emergency response in the event of a criminal mass-casualty incident."

CMCI Response Protocol and training directly addresses the concerns of AB-1598 (August, 2014) which requires the development of collaborative response protocols to active shooter incidents and subsequent training on those protocols.

The Humboldt County Sheriff's Office would like to thank the Humboldt County Fairgrounds for providing a space for this training and the Ferndale Volunteer Fire Department for providing a free meal to all first responders in attendance.

The Sheriff's Office also offers an Active Assailant Readiness Training to local businesses and organizations. As part of this training, Sheriff's personnel provide a complimentary readiness assessment and assist in creating an active assailant response plan for your business or organization. If you are interested in bringing this training to your workplace, contact Lt. Kevin Miller at (707) 445-7251.