Measure Z, the countywide half-a-percent sales tax approved by voters in 2014, seems pretty popular. It passed with 56 percent of the vote, and a survey of 500 likely voters conducted in April suggests that support has only grown in the years since.

The question is whether it's popular enough for voters to approve it indefinitely.
Measure O, which appears on ballots countywide this midterm election, asks voters to remove the original sunset date for Measure Z (March 31, 2020), leaving all other provisions intact. In effect, this would make the tax permanent — unless voters repeal it down the line with another ballot measure.
Z was sold to voters as a way to fund public safety and "essential services," though the emphasis was definitely on public safety. And that's where the largest portion of revenues has gone. (Annual revenues from Measure Z, by the way, have been significantly higher than the $6 million originally predicted.)
For the 2018-19 fiscal year, more than half of the projected $12.89 million in revenues has been allocated to "law and justice" efforts, including $4.87 million to the Humboldt County Sherif's Office, $1.24 million to the District Attorney's Office and more than half a million to the Probation Department.
This year's Humboldt County Grand Jury examined how Measure Z has "measured up" thus far, and while it had some concerns about transparency and accountability, the final report (which you can read here) found Z to be "generally well implemented and successful" in its goal of enhancing public safety and essential services.
According to county staff, more than 70 new public safety projects have been funded by Measure Z and nearly $34 million has been spent since it took effect. Nearly 60 agencies around the county have received funds, including 35 volunteer fire districts.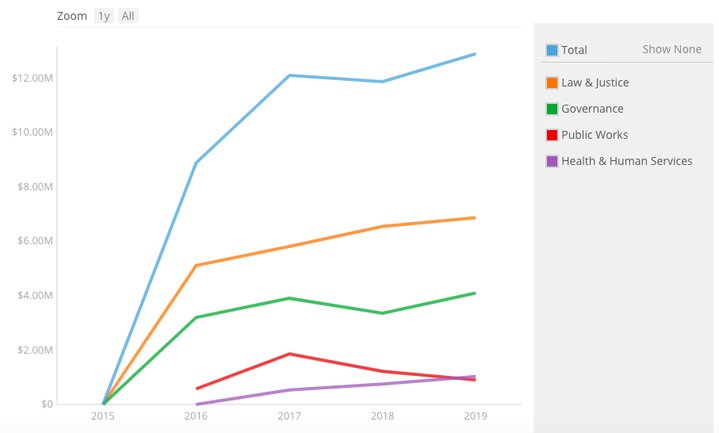 The authors of the "Yes on O" ballot argument — who include the Fortuna fire chief, the president of the Humboldt Deputy Sheriff's Organization, and the chair of the Citizens' Advisory Committee for Measure Z, which makes funding recommendations to the Board of Supervisors — again highlight the public safety stakes. Approving the measure, they say, will help fight drug use, protect abused children, maintain 911 emergency response times, and repair crumbling roads.
Taking up the "No on O" argument is Kent Sawatzky, Humboldt County's most prolific public commenter and Vice President of the Humboldt County Taxpayers League. His case involves some confusing math as he invokes Measure S, the cannabis cultivation tax passed by voters in 2016, noting that it, too, was sold as a means to fund essential services and public safety.
Sawatzky suggests that the projected $7.8 million in revenue from the weed tax renders the Measure Z revenues somehow redundant or unnecessary. However, Measure S was also intended to cover "environmental cleanup/restoration; children/family mental health; drug rehabilitation; [and] other County services."
Sawatzky's numbered argument brings up some of the same criticisms as the Grand Jury report, including inadequate transparency and accountability as well as the lack of specific definitions for what constitutes "public safety" and "essential services."
The Grand Jury began examining Measure Z processes following a citizen complaint about the Board of Supervisors' 2016-17 allocation of Measure Z funds to the Boys and Girls Club of the Redwoods.
"The complainant asked how staffing the club in McKinleyville was an appropriate use of public safety funds," the Grand Jury report notes. "The organization's application, which cannot be located on the Measure Z website, was not recommended to the [Board of Supervisors] by the [Measure Z Citizens' Advisory Committee]."
While the report found that there was no clear consensus on what programs and services qualify for Measure Z funding, it also notes, "For the most part, recommendations made by the [Citizens' Advisory Committee] have been indisputably related to public safety/essential services … ."
Sawatzky mentions another Grand Jury report finding: that voters were told in 2014 that Measure Z "would be subject to annual independent audits, but no such audits have taken place to date which compromises transparency and public trust."
Sean Quincey, public information officer with the County of Humboldt, said that the county budget, including Measure Z funds, are already independently audited every year, as part of the county's routine budget audits. But he said the Board of Supervisors agreed with the Grand Jury's call for even more clarity.
"As a fiscally responsible county, our Board agrees the more transparency the better and voter-approved funding will be audited separately moving forward," Quincey said via email. He also pointed out this tidbit from the Grand Jury report: "A loss of Measure Z funds could be catastrophic for Humboldt County since the anticipated revenue is necessary to maintain our current level of public safety."
The county produces a report each year describing each of the projects funded through Measure Z and describing the outcome. Here's the report for last year.
The eighth point in Sawatkzy's argument says, "Humboldt County taxpayers pay a high [sales] tax with only 12 of 58 California counties paying more." While his figures are correct, this is misleading.
Here's why: The dozen counties with a higher sales tax rate than Humboldt's 7.75 percent have a combined population of more than 19 million people. Their rates go as high as 9.5 percent, and even higher when you tack on the municipal taxes applied in many cities. Meanwhile, the 29 counties with a lower rate than ours all charge at least 7.25 percent (the state minimum) and have less than a quarter the population — about 4.6 million people. So we actually pay a lower sales tax rate than most Californians.
Sawatzky notes that Measure Z (and, by extension, Measure O) is a "regressive tax," meaning poor people pay disproportionately more of their income than rich people do. This is a concern that's been brought up by others, including the Humboldt & Del Norte Central Labor Council. But the Labor Council wound up endorsing Measure O — albeit "reluctantly" — with organization President Mike Hetticher explaining, "[W]e also understand the immediate and substantial impacts to essential services that the citizens of the county at-large would face if Measure O is not passed."
One last element of Sawatzky's argument that we want to examine: He says Eureka's not getting its fair share of the spoils. This is a point that's been made by Eureka's own staff and elected representatives. Eureka City Councilmember Austin Allison said talks between the city and the county have been ongoing, and the county has encouraged Eureka to submit more applications.
"They definitely want this measure to be equitable for everyone," Allison said.
Councilmember Natalie Arroyo said the city will indeed apply for more funds in the next cycle and "push a lot more heavily to have those projects be funded."
While Arroyo has not endorsed Measure O, she has stated publicly that she intends to vote for it.
Below we've reproduced the ballot arguments for and against Measure O in their entirety, along with the rebuttals to those arguments.
We start with the argument in favor of Measure O:
Protect Public Safety and Essential Services – Vote YES on O!


Over the past 25 years, Sacramento has taken $368 million in revenue from Humboldt County. We must renew existing voter-approved, locally-controlled funding – without raising taxes – that cannot be taken by Sacramento. We must keep OUR money LOCAL!

YES on O will continue to:

Maintain 911 emergency response times
Provide services for victims of child abuse
Maintain/prevent cuts to rural ambulance services
Provide mental health services for children
Ensure there are sheriff's deputies on-duty 24 hours a day
Repair deteriorating roads

Did you know? With limited funding, volunteer fire departments/firefighters play critical roles in protecting life and property in Humboldt County. Renewing YES on O will continue to support these volunteers and maintain resources/training that better – and more safely—protect County residents.

YES on O restores protective and counselling [sic] services for victims/witnesses of child abuse – funds that have been severely reduced in recent years. Measure O will help protect children that have been victims of horrible crimes.

YES on O fights drugs/narcotics like heroin in our County, which continue to be a problem. Measure O helps fight drug-related crimes, stop the flow of heroin in to our community and provide drug prevention/rehabilitation services. Measure O will continue to prevent illegal, industrial marijuana farms that destroy our environment, and risk public health/safety.

YES on O is fiscally accountable. Measure O continues to require Independent Citizen Oversight and financial audits to ensure funding is spent efficiently and as promised to voters.

Measure O simply renews existing voter-approved local funding for sheriff's patrols, rural ambulance, fire protection, crime/drug prevention, road repair, service for abused children, and mental health services – without raising taxes.

Join a unanimous Board of Supervisors, public safety professionals, businesses, and community leaders in keeping Humboldt County safe – Vote YES on O!

/s/ Jamie Barney, President, HDSO [Humboldt Deputy Sheriff's Organization]
/s/ Lon Winburn, [Fortuna] Fire Chief
/s/ Monica Rose, Executive Director [Boys and Girls Club of the Redwoods]
/s/ Jonathan Flyer, Chairman, Citizens' Advisory Committee for Measure Z
/s/ Charlotte McDonald, Eureka Main Street, Executive Director
###
And here's the argument against Measure O:
1. Don't let Humboldt County fool you that essential services for public safety would need to be cut if Measure "O" is not passed. The projected income from Measure "S", passed after Measure "Z", is $7.8 million, which lists "public safety" as its purpose. The current Measure "Z" expenditures for sheriff, district attorney, probation and fire total $6,532,360, leaving $1,267,640 available beyond their current funding for other safety concerns.

2. In twenty years, if revenue stays the same, the taxpayers will pay approximately $240,000,000 that the supervisors can use for "general purposes" (anything).

3. Of the approximate $4.4 million the City of Eureka contributes, they get back $419,140, yet Eureka bears much of the negativity associated with County government.

4. The only change proposed in Measure "O" is to give Measure "Z" no sunset, rather than its current five year sunset. This eliminates citizens' rights to vote every five years on whether we approve how our tax dollars are spent. Is this good?

5. Measure "Z" was sold to us as "generating 6 million dollars". Why is this nearly 12 million after a few years?

6. The Humboldt County Civil Grand Jury 2017-2018 final report summary states "Measure Z Citizens' Advisory Committee has not been included in the Board of Supervisors process of allocating secondary funds, which is detrimental to transparency and accountability." Additionally, "The public was told Measure Z would be subject to annual independent audits, but no such audits have taken place to date which compromises transparency and public trust." This speaks for itself.

7. This is a regressive tax.

8. Humboldt County taxpayers pay a high tax with only 12 of 58 California counties paying more.

9. Honesty with trust is the basis of this tax. Has it been earned?

VOTE NO ON MEASURE "O"

/s/ Kent Sawatzky, Vice-President, Taxpayers League and Concerned Citizen
###
Next, the rebuttal to the "No on O" argument:
Did the opponent even bother to check the facts? Don't be fooled by fuzzy math and misleading rhetoric.

YES on O simply renews existing, locally-controlled, voter-approved funding for essential services in every Humboldt community – without increasing taxes.

Here are the facts the opposition wants you to ignore:

FACT: The Grand Jury Report stated "The State of California has been reducing Humboldt County's budget to the detriment of public safety for more than 20 years." A whopping $368 MILLION has been taken! YES on O continues locally-controlled funding that cannot be taken by the State.

FACT: The same Report concludes that if this funding is not renewed, it would "be catastrophic, particularly with respect to public safety."

FACT: The Humboldt County budget is independently audited every year, including voter-approved funds. YES on O strengthens fiscal accountability, and continues independent audits, citizens' oversight and local control for local needs. By law, every penny must be spent locally on essential services, and none can be seized by the state.

FACT: Voter-approved funding has been spent as promised and with independent citizen's oversight. Emergency response times are faster, hundreds of miles of roads have been fixed, children's and mental health services have been maintained, crimes are being prosecuted – the list goes on and on. YES on O keeps are communities safer, period.

Vote YES on O – keep Humboldt communities safe and maintain local control!

Get the FACTS about Measure O: humboldtgov.org.

/s/ James A. Glover Jr, Former Grand Jury Foreperson
/s/ Jonathon Flyer, Chairman, Citizens' Advisory Committee for Measure Z
/s/ Ronald Waters, Retired Eureka PD Lieutenant
/s/ Justin MacDonald, President, Humboldt County Fire Chiefs' Association
/s/ Monica Rose, Executive Director
###
And, finally, the rebuttal to the "Yes on O" argument:
"O" NO!


This is another last-minute tax. We can pass a specific measure, which requires a 2/3 voter approval, that addresses the issues raised by the proponents of Measure "O", which only requires a "50% plus 1 vote" approval.

The estimated revenue from Measure "S" could be used to address those issues raised.

Why isn't the $197,000,000 per year Health and Human Services budget (41% of the County budget) sufficient to deal with "services for abused children and mental health services" without this tax?

The Executive Director of the Boys and Girls Club was one of five signing the measure statement. The Boys and Girls Club do great work. However, $50,000 was already granted to this organization twice (and not to other equally great organizations) on last-minute, late applications, without the Citizens Oversite [sic] Committee approval. Further, this expenditure has not been audited because the promised audits have not been done at all. This is only one example of the Supervisors' preferential treatment.

This is not a new tax, just a bad tax! With no sunset! Let's pass a measure in the future with 2/3 voter buy-in that is an approved tax with a reasonable sunset.

"O" NO!

/s/ Kent Sawatzky, Concerned Citizen