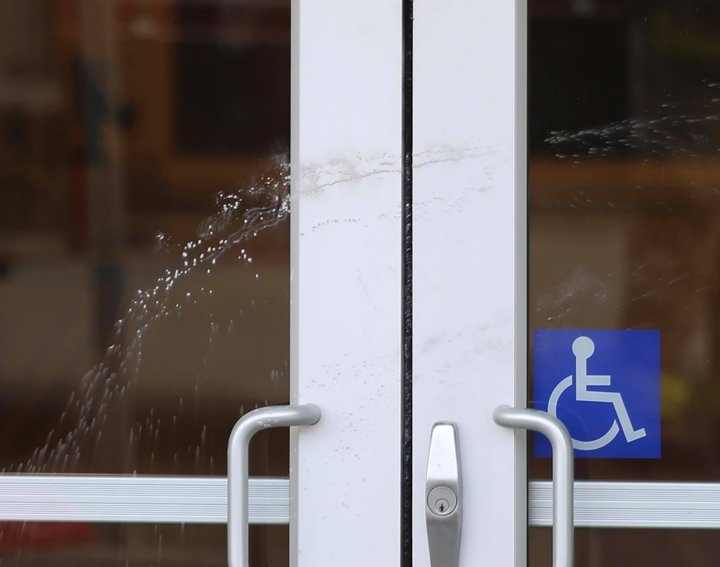 UPDATE, 12:20 p.m.: The county has issued a press release:
This morning around 9 a.m. the county was notified that there is a white substance on the door and entrance to the Court Clerk's entrance of the County Courthouse, located at the 421 I Street.

County Public Health is on site and has performed field tests and ruled out most common threats, including biological and chemical agents. Staff is taking samples of the material to an out-of-area lab for further testing. There was no indication of criminal activity or threats on the facility. Staff has also contacted the FBI, who has approved initiation of clean-up of the material.

Out of an abundance of caution the public entrance to the Court Clerk's office has been closed. All other functions of the courthouse remain open. We will provide more updates when more information becomes available.
###
UPDATE, 11:40 a.m.: Not much else going on at the scene at this time, but traffic is flowing on I Street.
###
UPDATE, 11:19 a.m.: Humboldt County Public Information Officer Sean Quincey, speaking outside the scene, says that the county is "securing additional resources" in an attempt to determine what the substance is. Audio below.
###
UPDATE, 10:36 a.m.: Hazmat workers have taken a sample of the offending substance, says the Outpost's Andrew Goff.
###
UPDATE, 10:30 a.m.: Hazmat crews have suited and are discussing their next move with Humboldt Bay Fire and the Department of Environmental Health. Several people have expressed their frustration with not being able to handle their court business
###
A HAZMAT crew has been dispatched to downtown Eureka, and I Street between Fourth and Fifth has been closed, after someone discovered a "powdery substance" on or near an entrance to the Humboldt County Courthouse.
The Humboldt County Sheriff's Office tweets:
#happeningnow A suspicious powder substance was discovered near the entrance to the county Court Clerks Office. I Street between 4th and 5th Streets in Eureka shut down as emergency crews work to determine what the substance is. Please avoid the area. pic.twitter.com/nuxIvq4FAO

— Humboldt County Sheriff (@HumCoSO) October 29, 2018
The Outpost's Andrew Goff, who is at the scene, says that the first responders' attention seems to be directed at the courthouse's side door, which leads to the offices of the clerks of the Humboldt County Superior Court.
We'll update as we learn more.