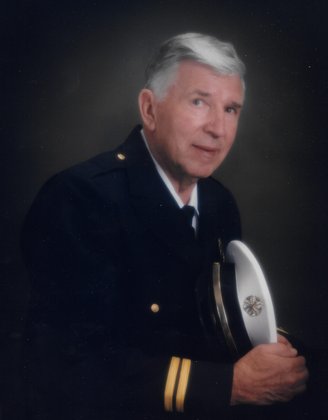 Robert "Bob" Somerville
1/30/1932 – 9/7/2018
Robert — also known as Bob, Bobby, Mr. Mom, or Leroy (depending on your relationship with him) — passed away peacefully with his family by his side at the age of 86.
Robert was born and raised in Rohnerville, California. He attended the old school house on School Street in Rohnerville, where he graduated from eighth grade. He then attended Fortuna High School, where he played football for the Huskies, graduating in 1950. After graduation he enlisted in the Navy and served four years during the Korean conflict. Part of that time was spent aboard the U.S.S. Hector, serving as a machine repairman. He met his future wife, Valerie Twaddell, at Knott's Berry Farm in 1953. His Navy days ended in December 1954, and he and Val were married six months later. They honeymooned at Disneyland during the grand opening in 1955, and then made their home in Rohnerville.
Bob immediately began his career at Hughes Chevrolet, which transitioned to Patton Chevrolet within three days of his employment, and then Timberland Chevrolet, as the parts manager. After work in those early days he would come home and work on his house, which he built from the ground up and lived in for the remaining 62 years of his life. He retired from Timberland Chevrolet after 44 years.
Bob and numerous friends could be found shooting the breeze and solving all the world's problems at various places in Fortuna over the years: Johnny's Cookhouse, Aggie's Donuts, Fortuna Wheel and Brake, Joe's Auto Glass, Dave's 76 and, most recently, Burger King. He also enjoyed fishing, deer hunting and vacationing with his family and sister Lucille and family, traveling as "lady bug" and "yellow jacket" when communicating by CB radios (no cell phones back in those days!). The traditional annual trip to the Red Bluff Round-Up with his buddies was always an adventure and what happened in Red Bluff stayed in Red Bluff! He could often be found hanging out at job sites with his son-in-law, Jim, where he enjoyed watching the progress on his various construction projects.
Bob was very active in his community, serving on the Fortuna Volunteer Fire Department for 37 years, sixteen of them as the fire chief, retiring from the department in 1998. He served over 40 years on the rodeo board, and was a member of the V.F.W. until his death. He was honored by the community several times with awards for the Chamber of Commerce's Citizen of the Year in 1998 and was also the Grand Marshall of the rodeo parade, and he was inducted into the Hall of Merit at Toddy Thomas School. The Somerville Pocket Park located near the Fortuna Library was named for him and his wife Val for their dedication to the citizens of Fortuna. He was awarded a certificate from the National Fire Academy for commitment to reduce the nation's loss of life and property from fire.
Bob was preceded in death by the love of his life, Valerie, in 2002. He is survived by his two daughters, Brenda Hiscox (Jim) and Sharon Somerville, his sister Lucille Bonnikson, grandchildren, Josh (Stephanie) and Shannon (Eric), five great-grandchildren: Annabelle, Owen, Emmy, Parker and Alex, as well as numerous nieces and nephews. He will be greatly missed by his lifelong buddies Frank, Joe, Tom, and Helen aka the pie lady.
Please join his family for a Celebration of Life at the Fortuna Fire Department at 320 S. Fortuna Boulevard in Fortuna on September 23, 2018 at 2 p.m.
In lieu of flowers donations can be made to the Fortuna Volunteer Fire Department Scholarship Fund.
###
The obituary above was submitted on behalf of Bob Somerville's family. The Lost Coast Outpost runs obituaries of Humboldt County residents at no charge. See guidelines here.