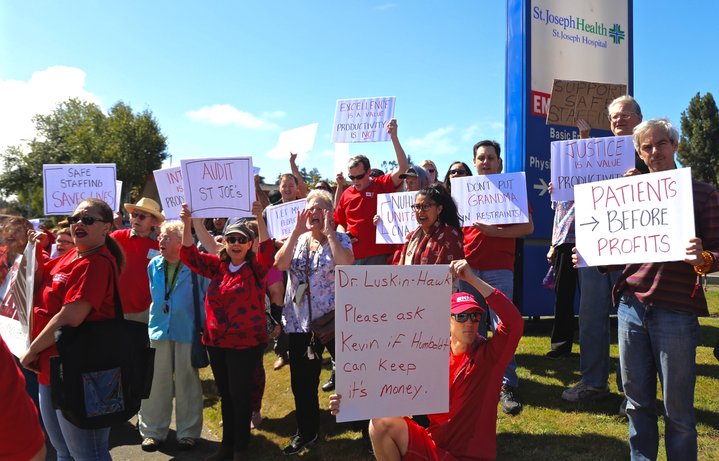 Nearly 100 people gathered in front of St. Joseph Hospital Monday afternoon to bring attention to what they say is a dangerous staffing crisis at the hospital which is affecting the quality of care patients receive.

Hospital employees, members of the National Union of Healthcare Workers and the California Nurses Association and their supporters waved signs and chanted at passing motorists before settling in for speeches from concerned members of the local healthcare community.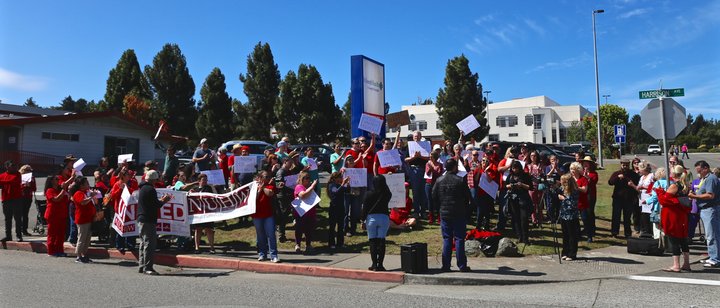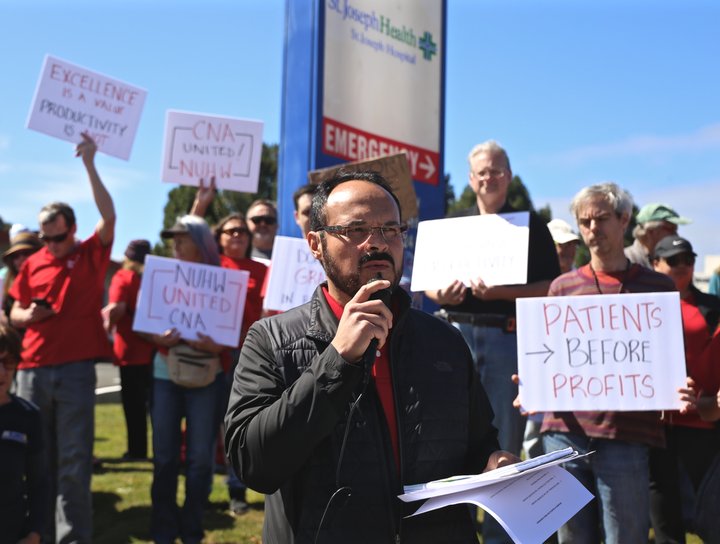 Allen McCloskey, Union Steward with NUHW and a St. Joe's Lab Tech, said that since the purchase of St. Joseph Health by Providence Health and Services in 2016, he and other employees hear more from management about "productivity and profits than we do about patient care." McCloskey said there are currently open investigations into two patient deaths at the hospital that "directly correlate" to the current staffing issues.
"The leadership has gone so far as to begin a practice and a policy of restraining patients to their beds using bed alarms and other remedies rather than putting our sitters and our care attendants with those patients," McCloskey said. "Both unions … have presented concrete proposals to remedy the current crises and we have been blatantly ignored and disregarded. The new president, Roberta Luskin-Hawk, and the health care leadership are more concerned with their profits than they are with our liberal local community and our patients."
But the St. Joe's staffing squeeze is not just negatively affecting patients. Ruby Sierra, a cardiac monitor technician in St. Joseph's Progressive Care Unit (PCU), shared a story of how the crunch has affected her personally. On Tuesday, Sept. 4, Sierra says she informed her manager she felt staffing ratios were unsafe only to be be told that management was trying to decrease employee overtime. Later, when no other PCU employees were able to relieve her for a bathroom break, Sierra says she urinated "all over" herself at her station.
"I soiled myself," Sierra told the crowd. Hear her story in the clip below.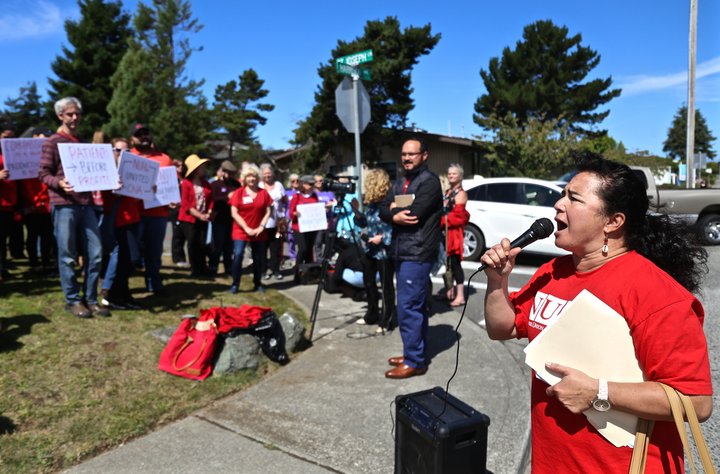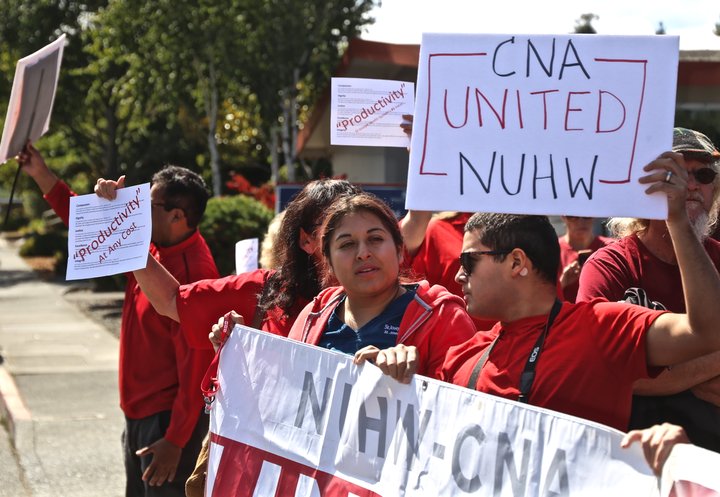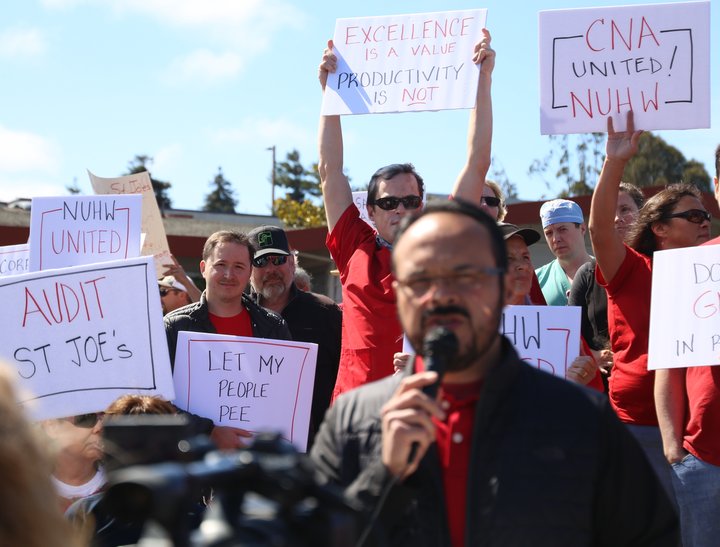 Other speakers noted that St. Joseph and Redwood Memorial Hospital have turned healthy profits in recent years and called the current situation unjust.

For their part, St. Joseph Hospital released the following response to today's action from Chief Executive Roberta Luskin-Hawk, MD:
As a physician leader, patient safety and quality care are my highest priorities. Since my arrival, the leadership team and I have been focused on ways we can enhance the care of our patients and support our caregivers in this work. The willingness to evolve as health care is transformed across the country and the commitment to safety and quality care are some of the things that most attracted me to St. Joseph Health, an organization that has been committed to caring for the health and well-being of this community for nearly 100 years. Our work helps the people of this community live better, healthier lives.

These facts are why it was all the more disappointing to read the latest misleading claims by the unions, many of which have been addressed previously. Indeed, our hospital recently underwent a site visit and review by the California Department of Public Health, which found we are in full compliance regarding staffing. And under no circumstance has a patient death occurred in our facility due to the use of bed alarms.

As health care in our country evolves, so too must our work. We are challenging the way we have done things and seeking opportunities to make the work we do easier and more aligned. We are making changes to some of our processes, programs and services and understand that these changes are difficult for the unions to understand. Rather than fighting change on its face, we invite the unions to consider certain change will benefit this community, our patients and caregivers. We invite the unions to share their ideas as we respond to the rapidly evolving health care climate, move toward the future, and work to ensure the sustainability of our organization.
# # #
More video from today's event, below, posted to Facebook by North Coast News' Nazy Javid: