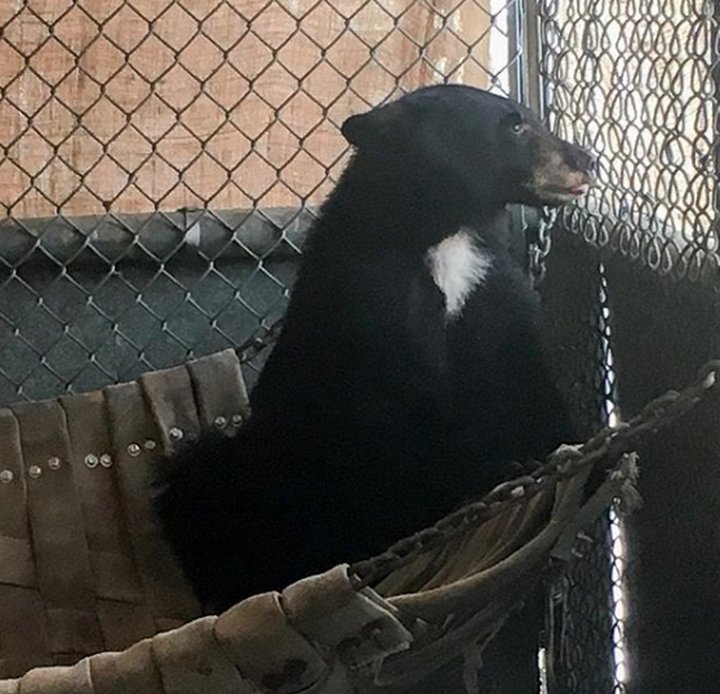 California Department of Fish and Wildlife:

A young female bear whose paws were badly burned in the Carr Fire was successfully released back to her natural habitat this week.

CDFW Senior Wildlife Veterinarian Dr. Deana Clifford and UC Davis Veterinary Medical Teaching Hospital veterinarian Dr. Jamie Peyton have been collaborating on the bear's treatment since she was found lying in ashes near Whiskeytown on Aug. 2.

She was transported to the Wildlife Investigations Lab in Rancho Cordova, where she became the third wildfire-injured bear this year that the vets have treated with an unusual and innovative technique involving the use of sterilized tilapia skins as biologic bandages.

This bear weighed only 50 pounds when she was found, but tipped the scale at 78 pounds Wednesday morning, and all four paws were sporting a healthy growth of new skin.

After a month in captivity, the bear was growing feisty and restless – a good sign that she did not become habituated and was ready for release. CDFW staff from the Redding office scouted out an appropriate release site for the bear that offered all the necessary amenities (a creek with flowing water, and unburned habitat where she could find shelter and food) on Bureau of Land Management property.

The location is far off the CA-299 highway and is not easily accessible to the public. The majority of the areas to the northeast, east and south have already burned, which means that ironically, the same fire that injured her, has created the fire break that will now protect her.

On Sept. 12, the scientists' car caravan and their precious cargo traveled several miles into the forest, where the door to the metal transport carrier was lifted. The bear wasted no time in bolting away from her caretakers, across a small stream and into to the trees.

She takes with her a solar-powered wildlife telemetry ear tag that transmits GPS locations over cellular networks. This will allow CDFW to monitor her whereabouts in the coming months, and to better understand how wildlife interact with their environment in the aftermath of a wildfire.

We wish her well!

A free, healthy bear.