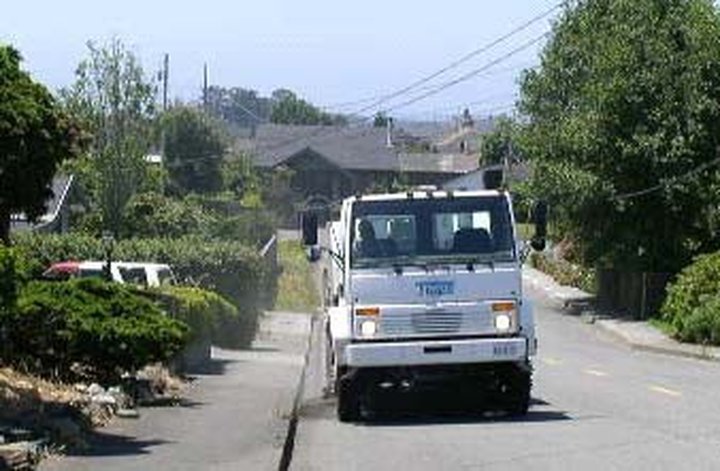 Keeping the city streets sparkly clean is important to the City of Eureka. So much so, in fact, that last year they designed a reusable shopping bag to remind citizens of the City's street sweeping schedule. But, apparently, when people are trying to remember when to move their car so their street can get clean, their first thought isn't "Oh, the schedule is printed on the back of that shopping bag. Wait, where did I put that thing?"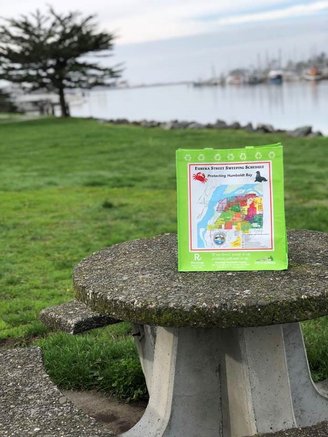 At a special meeting on Tuesday the Eureka City Council will discuss the future of the street sweeping program and whether enacting parking restrictions might help people remember to move their cars.
Eureka Public Works Director Brian Gerving told the Outpost that one idea is to post "no parking" signs, which would list the days and time of street cleaning. If someone was parked there during those times, they would potentially be fined.
Gerving said that this idea definitely has its disadvantages. For one thing, the city has to consider the cost of installing the signage and the paying for enforcement. Gerving told the Outpost that EPD does not already have the staffing to enforce additional parking restrictions.
Also, some residents would likely not be happy about the change. Gerving said people have expressed concern over "sign pollution" (too many signs cluttering the sidewalks) and, of course, folks would have to remember to move their cars if they don't want a ticket.
"Anytime you introduce new parking restrictions, there's the inconvenience of having to abide by those restrictions," Gerving said.
The City of Eureka does already encourage people to move their cars on street sweeping days. That info, along with some other suggestions is on the "How Can You Help" page on the city's website. There is also a street sweeping map and schedule.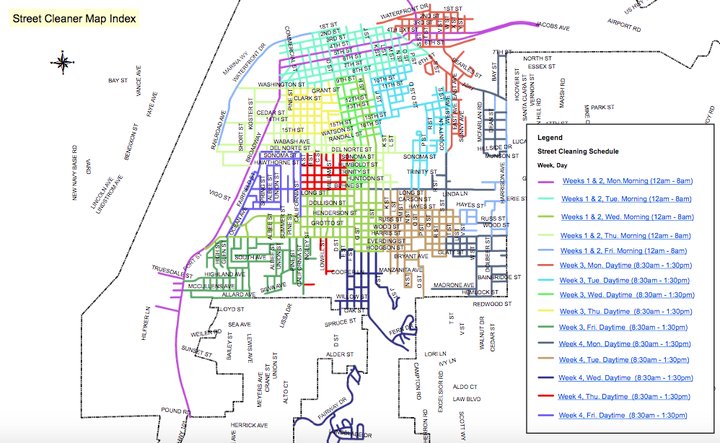 But the website and reusable bag information doesn't always seem to be enough for people to remember to move their cars. Parking restriction signs could be a more constant reminder.

Eureka's street sweeping service is provided by Recology Humboldt County and generally takes place once a month in residential areas and more frequently in commercial areas.
Recology Humboldt General Manager Linda Wise told the Outpost that the company removed 1.4 million pounds of material from the streets of Eureka in the last year with street sweeping alone. Wise said that this material, made up mostly of grit, leaves and cigarette butts, could otherwise end up in Eureka's stormwater drains.
"That in itself makes it pretty obvious why it's a good thing to do," she said
Wise is in support of improving the effectiveness of this important program. But she does understand that changing parking restrictions can be a big inconvenience for some people, especially in neighborhoods that don't have a lot of off-street parking.
Gerving said that the idea is still in its discussion phase and there are many details that would have to be ironed out before any action would be taken by the council. But he does feel that parking restriction enforcement is worth considering.

"I think that any time we can increase the effectiveness of the street sweeping program, it's not only going to make our streetscape more attractive, but also going to help our storm drain system," he said.
The Eureka City Council will hold a special meeting about this issue on Tuesday, September 18 at 4:00 p.m. at Eureka City Hall, 531 K Street.
A regular Eureka City Council meeting will follow at 6:00 p.m.